NFC North Notebook: Can Packers pull together in Week 17 to win title?
The Green Bay Packers have won five consecutive NFC North titles, but their reign of divisional supremacy is in serious danger. They host the Minnesota Vikings in Week 17, and both teams will bring a 10-5 record to Lambeau Field for this Sunday night showdown.
The winner will leave with the 2015 NFC North crown.
Regular-season games don't get much bigger than this. Unfortunately for the Packers, they're coming off their worst loss of the season. After getting blown out 38-8 by the Arizona Cardinals in Week 16, they'll need a lightning-quick turnaround in order to retain the title belt for a sixth straight season.
Packers head coach Mike McCarthy shouldered some blame for his team's poor showing against a playoff-bound team.
Via Tom Silverstein of the Journal Sentinel:
They're very good and we played poor. It starts with me. When a team plays poorly, the head coach is poor. But with that, it's a 15-game season up to this point. We have the opportunity to play a division opponent in Minnesota, and we'll go out and win the game.

This is a league you can build off of stacked successes. We have some things we haven't done very well at pretty much the whole year. These reoccurring things need to be corrected. That was clearly evident today.
The Vikings are coming from the complete opposite direction. Although they've trailed the Packers in the standings all season, they have all the momentum going into this Week 17 matchup. They're coming off their biggest win of the season, a 49-17 throttling of the New York Giants.
That game was on Sunday Night Football, too, so this will be Minnesota's second game in a row playing in the national spotlight. With only one win over Green Bay since 2010, the Vikings are hyped for the rare opportunity before them this weekend. The Packers should prepare for an all-out battle.
Packers quarterback Aaron Rodgers knows last week's performance was a major setback, but he still has confidence in his squad's ability to pull together for a winner-take-all situation like this one.
Via Michael Cohen of the Journal Sentinel:
This was a playoff-style game for us and we obviously played terrible. But we've won a lot of games here. When you play long enough you're going to be on the wrong side of this sometimes. But I have confidence in those guys and myself that when it matters for all of the marbles we're going to show up.
The Packers beat the Vikings 30-13 when they met at TCF Bank Stadium in Week 11. Both teams have already clinched playoff berths, so there's a chance they could meet for a third time after their clash in the regular-season finale.
Vikings play final game at TCF Bank Stadium
The Vikings played their final game at TCF Bank Stadium on Sunday and clinched a playoff berth with a win over the Giants, becoming the first team in NFL history to qualify for the postseason while playing home games in a temporary stadium.
Minnesota won 11 games and lost five in two seasons at TCF. The team will move into a brand new home, U.S. Bank Stadium, next season.
On Monday, the Vikings said so long to the venue that has treated them pretty well the last two years.
TCF, you've been good to us. It's not goodbye, it's see you later. #skol https://t.co/gEvWTtATD1

— Minnesota Vikings (@Vikings) December 28, 2015
Matthew Stafford is on a quiet tear
The Detroit Lions went into their Week 9 bye with the NFL's worst record at 1-7, but they've gone 5-2 since then. Matthew Stafford's quarterbacking has been key to the team's success in the second half of the season.
Stafford's stats over the last seven games have been some of the best you'll find across the league.
Via the Lions' official Twitter account:
Since bye week, Matthew Stafford ranks 2nd in cmp % (69.7), T-3 in TD/INT ratio (16/2) & 4th in QB rtg (108.7) pic.twitter.com/73cbwXkrcd

— Detroit Lions (@Lions) December 29, 2015
The future is uncertain in Detroit, but this 27-year-old quarterback should definitely be part of the plan moving forward.
The Bears might miss Brandon Marshall a little
The Chicago Bears traded wide receiver Brandon Marshall to the New York Jets last March. With the season nearing its end, they may want to take a peak at his production for the year.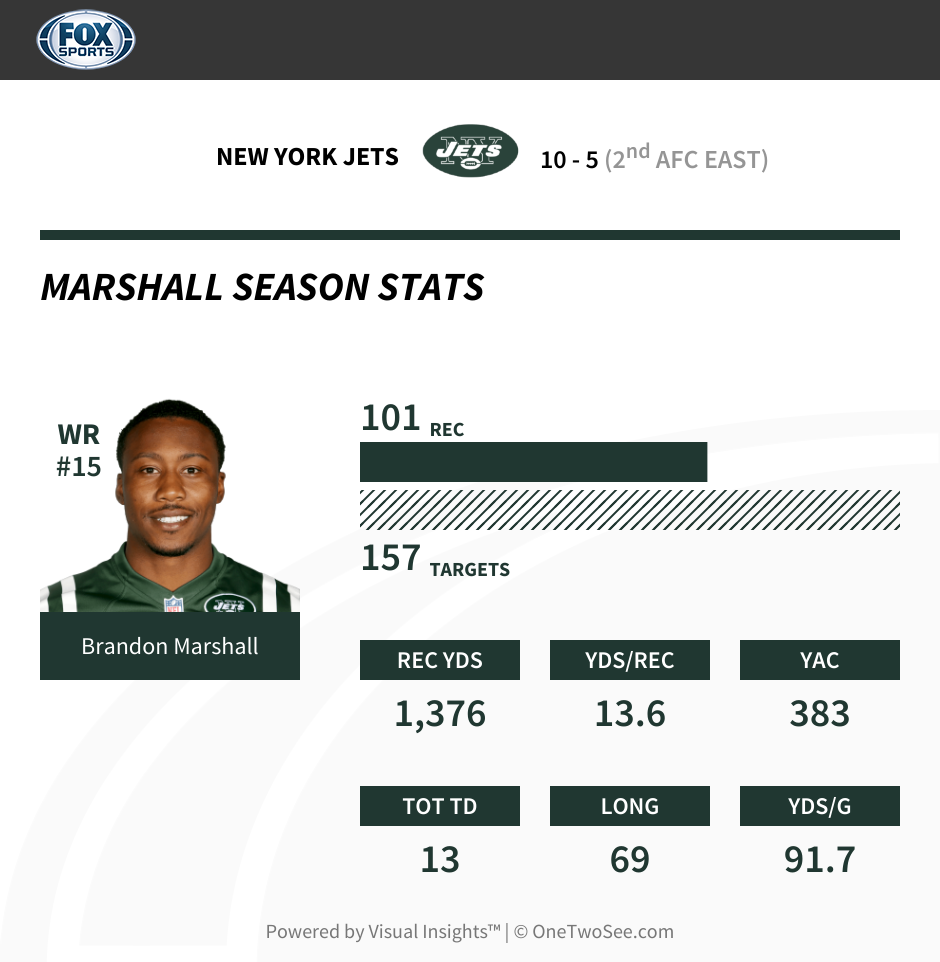 Ouch.
The pain is doubled when you consider the fact that Alshon Jeffery has missed six games this year with multiple leg injuries. It's tripled when you consider the fact that first-round rookie Kevin White (seventh-overall pick) missed the entire season with a shin injury.