Fantasy Football Week 10: Trust Michael Thomas to Dominate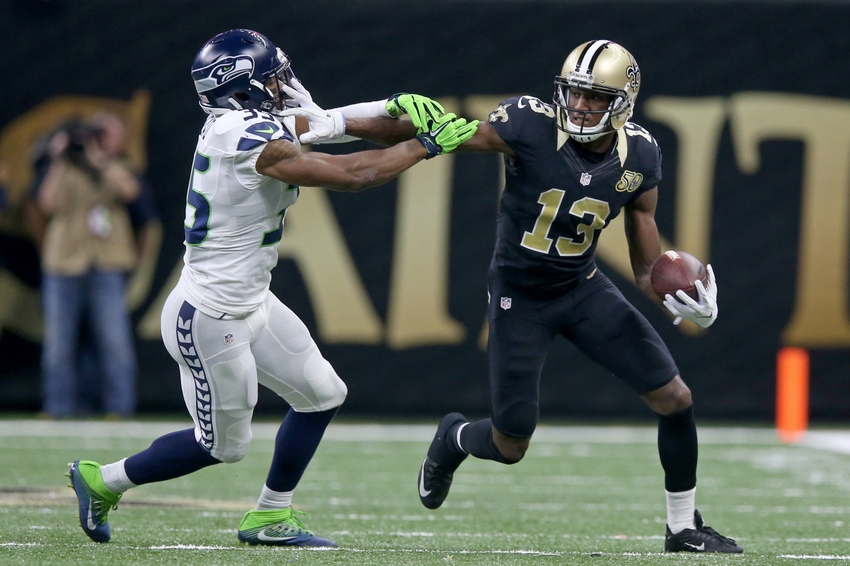 There is a rookie bias in fantasy football plaguing wide receivers, but don't fall victim. Trust Michael Thomas to dominate fantasy football Week 10.
There is a rookie wide receiver who has developed into a more reliable fantasy football option than a number of the biggest names at the position. Veteran experience means nothing when production doesn't follow. That is why Michael Thomas of the New Orleans Saints is a must-start in fantasy, ahead of super names like Dez Bryant and Brandon Marshall.
As former stars continue to slump, rookies like Thomas are dominating. He finds himself another solid matchup in fantasy football Week 10, so don't fall victim to rookie bias. Be a wolf, not a sheep.
Two brothers from New York, Dan Salem and Todd Salem discuss Fantasy Football Week 10 in today's NFL Sports Debate.
Todd Salem:
In Week 10 expert consensus rankings, Thomas comes in way down the list of wide receivers, ranking 28th-overall. There are two reasons for this and both are misguided. First, Thomas is a rookie who doesn't have a baseline of production built up over years. People are still not believers. Second, the Saints face the Denver Broncos this week, one of the premiere pass defenses in the NFL.
The first argument is ludicrous. Thomas has been one of the steadiest receivers in the sport this season. Ever since his third game in the NFL, Thomas has averaged more than 12 fantasy points per week, dropping below double digits just once. He has five touchdowns in his past six games and has yet to see fewer than five targets. With the rate he is hauling in passes, five targets is enough to produce. Just look at what he did in Week 6 against Carolina. On five targets, he caught five passes for nearly 80 yards and a touchdown.
Besides being reliable, Thomas is also not loaded up against as a defense's key matchup. That distinction, and thus an opponent's best cover corner, is put on Brandin Cooks. Not to mention the fact that Denver has been playing without Aqib Talib for a few weeks now. That could mean a third or fourth corner is tasked with stopping Thomas one-on-one.
And yet, veterans like Bryant and Marshall are way ahead of him in the rankings. I don't get it. Bryant was a nonentity against the hapless Cleveland Browns last week. Dallas is succeeding completely without him this season, and Dak Prescott's favorite target is Cole Beasley, not Bryant. As for Marshall, his future is hopeless with what the Jets are trotting out at quarterback and the protection he has around him. It's not his fault, but he is a bad fantasy option.
I know owners are hesitant to trust rookies, especially those who were not first-round selections. But Thomas is the exception. He is a week-in and week-out performer that has become a better option than names we are overly familiar with in fantasy circles.
Dan Salem:
Fantasy owners would be foolish to care whether a player is a rookie or not. Ezekiel Elliott is a rookie running back and just so happens to be the best in the sport right now. Todd Gurley dominated as a rookie last season, so perhaps this is simply wide receiver bias when it comes to rookies. Yet Michael Thomas can and should be trusted to produce.
Not all situations are created equal. But with Drew Brees at quarterback, the New Orleans Saints are a pass-happy offense that loves to throw if possible. Thomas has stepped in and stepped up, producing week after week. While the Saints appear to be an average football team at best, their poor record has no barring on the fantasy dominance of its players. Much to the contrary in fact. Because New Orleans has been playing from behind, its passing more and that means higher value for Thomas.
This fantasy trap you speak of is unfortunately a recurring theme of the sport. Owners struggle year after year with accepting the fact that star players are no longer star fantasy performers. Hell, in Brandon Marshall's case, we must all accept that his dominance from the first month of the season is gone.The Jets offense changed and thus so did Marshall's production and value. Dez Bryant hasn't been a good fantasy option since 2014.
If we were to compare the top 10 fantasy receivers from last year to the top 10 of this season, I doubt more than half of players find themselves on both lists. The issue with relying on rookies is whether or not they can maintain their production. But to win your fantasy league means riding hot streaks and swapping guys constantly. Sterling Shepard looked like a stud over his first three weeks. Then nothing for a month, until he finally had himself a game last week. Overall his rookie year will look great, but he's no Thomas for any given week. More to the point, Shepard has been on my bench nearly every week. I drafted him for next year.
This article originally appeared on