Falcons Post-Week 9 (and week 8) Fantasy Outlook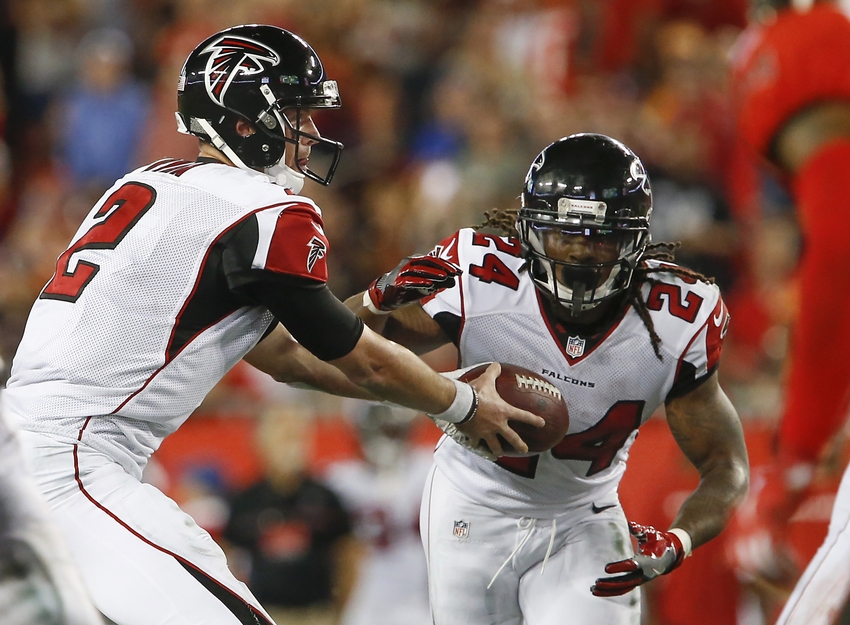 The Atlanta Falcons' offense once again exploded, this time twice in the span of five days, scoring 33 points against the Green Bay Packers and 40 point against the Tampa Bay Buccaneers. The fantasy points were fruitful as usual.
The Atlanta Falcons are on a mission to not let the nightmares of the 2015 collapse repeat themselves. After sputtering in back to back defeats at the hands of Seattle and San Diego, many fans looked on with horror in their eyes and the potential of a collapse in the back of their minds.
Matt Ryan and company refused to let that happen, however. With two big NFC wins against the Green Bay Packers and Tampa Bay Buccaneers, the Falcons are putting those fears to rest.
Since this was a short week, I thought to do something new — instead of doing individual fantasy reviews for the games, this article will be a combination of the fantasy points piled up in the past two weeks. Every stat will be a combination of what was achieved in both games.
Here is the week 9 (and week 8) Falcons fantasy review, and outlook heading into week 10.
(Note: This is based on NFL.com standard scoring)
1. Devonta Freeman
Stepping into the Featured Role: Devonta Freeman (28 carries, 112 rushing yards combined, 1 total rushing touchdown, 51 receiving yards combined, 1 total receiving touchdown: 28.30 points combined)
RB Tevin Coleman missed both of these games, putting Devonta Freeman into a featured role he enjoyed last season (with some Terron Ward carries peppered in there as well). The result was one solid, and one really good, day on the fantasy stat sheets.
Against the Packers Freeman was very inefficient with his opportunities — only averaging 3.18 ypc on 11 carries. However, the two touchdowns he scored in that game, one rushing and one receiving, really turned this into a good fantasy outing which featured 17.80 points.
His day against a weak Buccaneers defense, while more efficient, was nothing more than solid because of the failure to score a touchdown. Fantasy owners were probably livid when Matt Ryan opted to go play-action on 2nd-and-goal from the Tampa 1-yard line, and throw a touchdown pass to FB Patrick DiMarco instead of handing it off. That play potentially cost Freeman 6 points.
The biggest disappointment in these two games is the fact that the Florida State product couldn't muster up many receiving yards — being held to under 30 both times.
Analysis: With 10 days of recovery time before the next game, Tevin Coleman has a good chance of suiting up against the Philadelphia Eagles in week 10. If he's close to 100% for that one consider Freeman a low end RB2, as the Eagles boast a good front 7.
2. Julio Jones
Up and Down: Juio Jones (11 catches, 140 receiving yards combined, 1 total receiving touchdown: 20.00 points combined)
It was a tale of two games for Julio Jones over the course of these few days. A knee injury and consistent double coverage aided Green Bay's efforts in holding him to under 30 receiving yards (the Falcons are 3-0 when that happens). Against the Bucs' single coverage he went off for over 100 yards and a touchdown.
Jones came back into the Green Bay game following his injury but was visibly not 100%. Before the injury he had 3 catches for 29 yards; after the injury he didn't have a catch. Instead the Alabama alum served as a great decoy and let Mohamed Sanu be the primary beneficiary of afternoon long single coverage.
Is it a sign of disrespect if a team single covers Julio Jones with a rookie? If Jones did feel disrespected, he made Tampa Bay pay dearly for it with a sequence of catches on four straight plays for a total of 59 receiving yards on the first drive out of halftime.
Julio capped off a great statistical night with a redzone touchdown catch that was an absolute thing of beauty, from 3 yards out. 17.10 of these 20.00 points came in the game against Tampa Bay.
Analysis: There will be games where Jones is underwhelming because of all the extra attention he generates from the defense, that's just a way of life this season. However, even with his three massively underwhelming statistical games this season, he's still the number 1 scoring receiver in fantasy football this year (he was number 1 coming into the TNF match against the Bucs).
You're not benching Jones in any matchup — fire him up as a WR1 next week against a very burnable Eagles secondary.
3. Matt Ryan
MVP Front-runner: Matt Ryan (53-69, 632 passing yards combined, 7 total passing touchdowns, 0 interceptions, 4 carries, 9 rushing yards, 1 lost fumble: 52.18 points combined)
Matt Ryan really is having a season to savor. As the quarterback and captain of this ship, you can bet he was hearing that talk of "collapse" just as much as anybody else.
Unlike last season, however, Matt Ryan marshaled the team to two huge wins which propelled the team back in the right direction.
Against the Green Bay Packers he was incredibly efficient — completing 71% of his passes and leading four touchdown scoring drives, three of which ended with a passing touchdown. We saw Mattie Ice's trademarked clutch gene on display in the form of a game-winning 75-yard touchdown drive, culminated with an 11-yard touchdown pass to Mohamed Sanu.
Ryan was even better against the Tampa Bay Buccaneers — slicing and dicing them to the tune of 344 passing yards, 4 touchdowns and 0 interceptions. He led the offense to a 40-point output for the third time this season (all three have been against different NFC South teams). Had the game not been well in hand, the Boston College product could have easily thrown for over 400 yards.
Analysis: There is no question that Matt Ryan would be the MVP if the season ended today, both in real life and in fantasy football. Start him every week with confidence, as he is one of the truly elite fantasy options at QB.
4. Mohamed Sanu
Beginning to Break Out: Mohamed Sanu (14 catches, 158 receiving yards combined, 1 total receiving touchdown: 21.80 points combined)
These two games showcased exactly why Atlanta spent the big bucks to sign Mohamed Sanu on as the WR2 of this team.
With Julio Jones hurt and harassed against the Packers, Sanu stepped into the featured receiving role and proceeded to put up a season high 84 receiving yards. On the game-winning touchdown drive Matt Ryan completed five passes to Sanu for 50 yards, including the crucial 11-yard score.
The Rutgers product was once again very much involved in the passing game against the Bucs — having 74 receiving yards on 5 catches in that one, good for second on the team behind Julio Jones.
Analysis: Sanu is well worth a pickup in any league if he's on the waiver wire. He's a worthy bye week fill-in play against the Eagles next week.
5. The Others
Austin Hooper (8 catches, 87 yards combined, 1 total receiving touchdown: 14.70 points combined)
Filling in for the injured Jacob Tamme, Austin Hooper provided Falcons fans a glimpse into the future at the tight end position. He was phenomenal in his role as the starter and should be picked up in dynasty leagues. If Tamme's out next week, Hooper can be looked at as a desperation plug in play.
Taylor Gabriel (8 catches, 120 receiving yards combined, 1 total receiving touchdown, 2 carries, 24 rushing yards combined, 1 total rushing touchdown: 26.40 points combined)
The explosive Taylor Gabriel has emerged as Atlanta's clear number 3 receiving option. He was very impressive in both games, scoring in each one, and has proven to be a very valuable free agency pickup. Due to how deep Atlanta's offensive arsenal is, however, I would not advise starting Taylor Gabriel in any league.
Patrick DiMarco, Justin Hardy, Levine Toilolo (3 catches combined, 46 receiving yards combined, 2 TDs combined: 16.60 points combined)
Move along, nothing to see here.
6. Matt Bryant and the Defense
Matt Bryant (7 PATs, 1-1 20-29, 1-1 30-39, 2-2 40-49, 1-1 50+: 24.00 points combined)
There really isn't much to say about Matt Bryant at this point. He was perfect on all 12 of his kicks in the span of these five days, and continues to defy father time.
He got plenty of opportunities against the Buccaneers especially — totaling 15 fantasy points and seven total kicks in that one.
Analysis: Matt Bryant has officially moved past Adam Vinatieri as the highest scoring kicker in fantasy this season. Slot him into your starting lineup and forget about him until the week 11 bye.
Defense (6 sacks, 0 interceptions, 2 fumble recoveries, 60 points allowed: 8.00 points combined)
The defense was really shredded against the Green Bay Packers, and then let a garbage time scoring fest take away some good work against the Tampa Bay Buccaneers.
The two forced fumbles (and recoveries) against Jameis Winston and Antone Smith on Thursday Night was an encouraging sign, but the 28 points given up really undid a lot of that good work.
Analysis: With a bye week coming up after a good Eagles offense your best bet is to just let the Falcons stay on the waiver wire, there are a better options out there.
This article originally appeared on