Eagles defense remains impossible to predict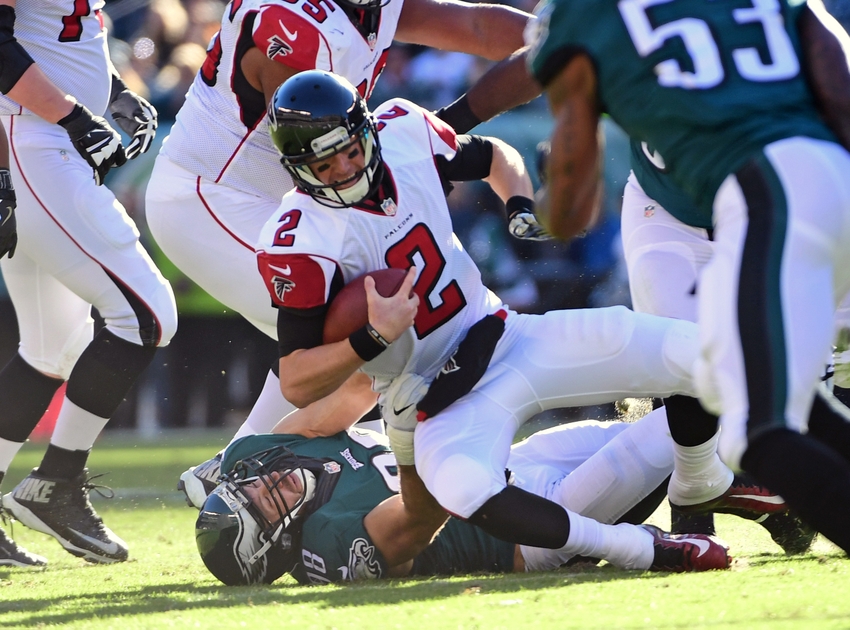 The Philadelphia Eagles have been a mixed bag on defense this season, making them almost impossible to predict.
A week after looking confused in New York, the Philadelphia Eagles defense was in total control Sunday against the Atlanta Falcons. Aside from allowing a 76-yard touchdown pass from the hand of Falcons QB Matt Ryan, the Eagles dominated the red-hot Atlanta offense. It's clear that the Eagles are much more comfortable playing at home than on the road. The team is undefeated at home. All four of their losses have occurred on the road.
The Eagles held Atlanta to just 11 first downs on Sunday afternoon. The "Dirty Birds" went just two of 11 on third downs against the stout Philly defense. The Atlanta run game was held to just 3.7 yards per carry. Players like Brandon Graham, Bennie Logan, and Malcolm Jenkins received the majority of the credit in Sunday's victory, and rightfully so. Graham made his usual presence felt while Logan looked great coming back from an injury. Jenkins did a great job in coverage and made several drive-ending tackles.
More from Inside the Iggles
The usual crew led the defense to victory, but a few other players quietly had a positive impact. Rookie corner Jalen Mills had a gutsy performance against the league's best receiver. Mills will never have great speed and will allow quite a few catches because of it. However, he is physical and does not get discouraged. He remains confident in his abilities. He was a big reason Julio Jones was held out of the end zone. Mills has improved each week he has played. With Leodis McKelvin struggling mightily, Mills may just remain a starter for the Eagles defense.
Nigel Bradham has continued his under-the-radar success this season as well. The linebacker has impressed just about everyone so far with his pass coverage ability. He deflected a pass on Sunday that kept the ball out of Jones' hands. He's been a vital part of success for the Eagles.
Everyone is now wondering what to expect from this Eagles defense. Will they be the dominant unit they were on Sunday, or will they be the confused team that got embarrassed in New York? What we know for sure is that the team is much better at home than on the road. Hopefully for the sake of Eagles fans, the defense that showed up on Sunday is the defense that shows up for the rest of the year.
This article originally appeared on