Colin Kaepernick Benched for Blaine Gabbert vs. Bears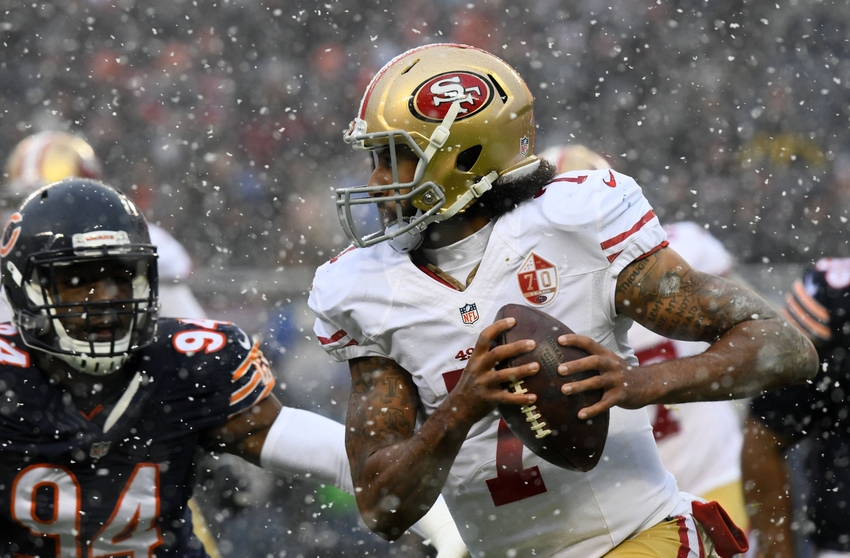 The San Francisco 49ers benched Colin Kaepernick in the second half against the Chicago Bears after he'd thrown for four yards.
If a quarterback goes 1-of-5 for four yards on a drive, the head coach is not going to be happy. However, it's just one drive. You can shake that off and redeem yourself. When a quarterback puts up that stat-line through three quarters, you're not going to be around to see the fourth frame. That was the lesson that San Francisco 49ers quarterback Colin Kaepernick learned on Sunday in Week 13 against the Chicago Bears.
Playing in snowy conditions at Soldier Field, the quarterback play was abysmal from the start. The two teams combined for zero completions through the first quarter. However, Bears quarterback Matt Barkley found somewhat of a rhythm in these conditions. Meanwhile, Kaepernick continued to struggle mightily.
With the Niners getting waxed by the Bears, Kaepernick's four yards were all that Chip Kelly needed to see. The head coach yanked the much-maligned quarterback and put Blaine Gabbert back into the game:
The quarterback situation in San Francisco continues to look worse by the day. Gabbert began the year as the starter, but couldn't hold off Kaepernick amidst his struggles. And though Kap looked decent over the past couple of weeks, he looked far from passable on Sunday.
Entering this week, you could have talked me into the 49ers looking somewhere other than quarterback with what's likely to be the No. 2 overall pick in the 2017 NFL Draft. After seeing this debacle unfold in a winter wonderland, though, I don't know if a pick that's not a QB is defensible.
This article originally appeared on