Baltimore Ravens vs. New England Patriots: 3 Key Match-ups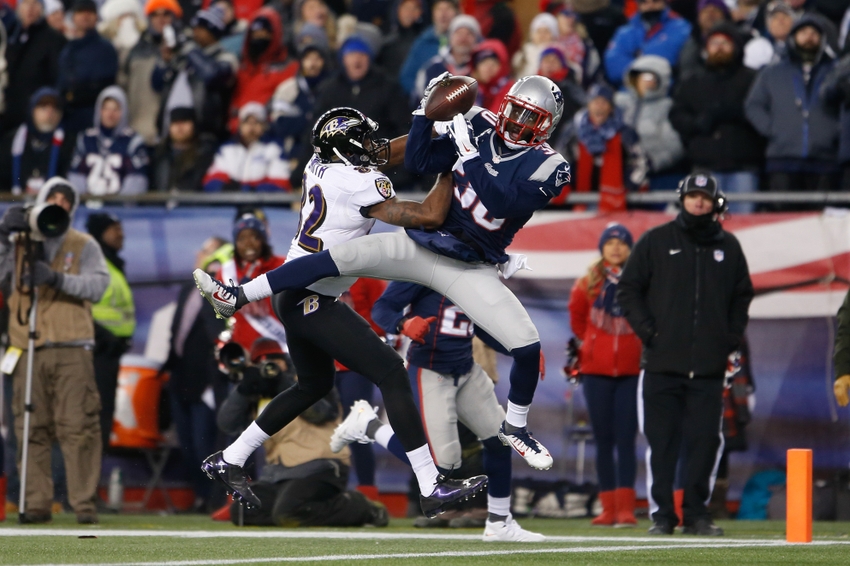 A potential playoff preview will take place on Monday night football this week. Joe Flacco and company travel to Foxborough to take on Tom Brady and the New England Patriots.
These two teams have had some heated games in recent years and it is always a good one when they play.
The Ravens started off the season hot with a 3-0 record, but cooled off with 3 straight losses. They have bounced back and are winners of 4 out of their last 5 games. Both the offense and defense are heating up at the right time and the Ravens will be able to showcase them on the national stage.
The Patriots are out to prove something this season. Many felt that Tom Brady was unfairly handed a 4-game suspension by the NFL in the deflate-gate debacle two seasons ago. Since he has come back, he has been on a tear. Brady has thrown 19 touchdowns to only 1 interception, which is ridiculous. At the age of 39, he looks to have 3-4 good more years in him. The team sits at an impressive 10-2 and are ready to make another deep playoff run.
There will be many match-ups to watch on Monday night but here are my 3 key ones to look out for. Match-up #1: Terrell Suggs vs. Tom Brady
If you are familiar with recent Ravens and Patriots games, you know that the match-up between these two is always one to watch. It is clear that the two do not like each other and Suggs has especially  been vocal about it publicly. During a press conference this week, he praised the quarterback, but refused to use his name. Even in the past, Suggs has had some very colorful quotes when asked about Tom Brady.
In a quote from CBS, Suggs said,
"I don't think it's appropriate for camera," Suggs said. "I don't like him. He don't like me. I don't like his hair. I don't know. I don't like his smug attitude. But then again he probably doesn't like my a—— attitude. … Everybody just seems to worship the guy, not me though."
At the age of 34, Terrell Suggs can still get to the quarterback. The outside linebacker is currently playing with a torn bicep, but still has recorded 8 sacks and 3 forced fumbles this season. He is sure to create disruption in the New England backfield.
Brady has played against Suggs enough to know the kind of damage he can do on the field. If the defense wants to have any success, Suggs especially will need to get to the quarterback. Against the Patriots, the Ravens have a knack for doing that. In 5 games against the Ravens, Tom Brady has had a QBR of 72.7 and has thrown 10 interceptions. These are not Brady like numbers. He usually is the one to carve through opposing defenses. If the defense cannot get to him and create pressure, Brady is going to have a field day.
I expect him to be getting rid of the football fairly quick on Monday night, as he usually does
.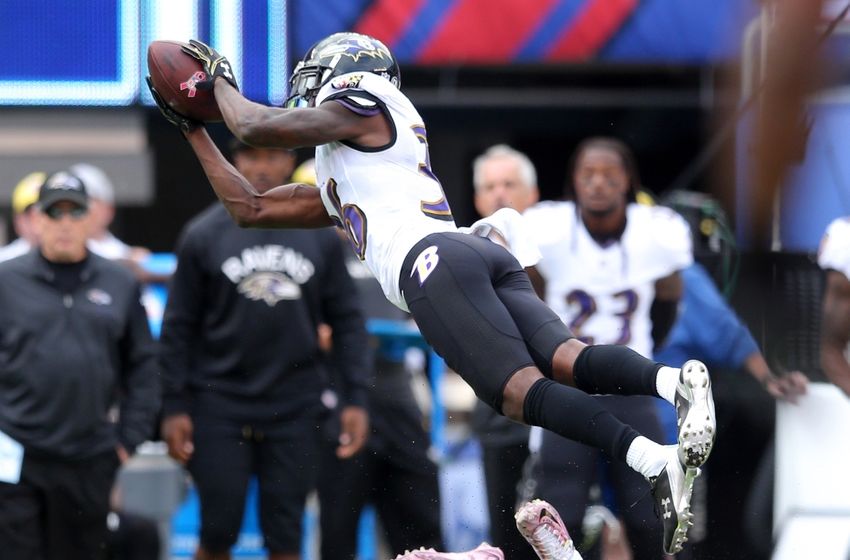 Match-up #2: Tavon Young vs. Julian Edleman
Tavon Young has contributed immediately to the Raven's secondary after being drafted in the 4th round in the 2016 draft. The rookie has been impressive to say the least. Through 12 games, he has recorded 39 tackles and 2 interceptions.
He has had his success, but has also faced troubles. At only 5'10" he does match-up well against some of the perennial wide receivers. With the absence of Jimmy Smith earlier this season, Young has had to cover the likes of Odell Beckham Jr. and Dez Bryant. To say the least, he struggled. Monday night Young will finally have a test against a wide receiver similar to his stature.
Julian Edleman is one of the most shifty receivers in the NFL. The 8 year pro has been a security blanket for Tom Brady. In the slot, he is a match-up nightmare for opposing linebackers and safeties. It is expected that Young will have most of the coverage duties on Edleman Monday night.
Physically, the two stack up well against each other. Both are 5'10" and around the same weight. Edleman can be a tricky player. He played quarterback in college and the Patriots have used him in trick plays before. In the 2014 playoff game against the Ravens, Edleman threw a 51 yard touchdown pass to fellow wide receiver Danny Amendola. With Amendola and Gronkowski both out, Amendola is the receiver that Tom Brady trusts the most. Tavon Young will need a heck of a performance to stop him. Match-up #3: LeGarrette Blount vs. Ravens front 7
LeGarrette Blount's second tenure with the New England Patriots has proved to be a successful one. He is the only true running back on the roster for the Patriots. James White and Dion Lewis are primarily pass catchers who do not run see much time in-between the tackles.
Do not let the 250 pounds fool you, Blount is not just a bruiser. The running back has the speed to get to the outside of defenses and create havoc. Out of the 3 match-ups, this will be the best one to watch.
The Raven's front 7 has played very well this whole season. The defense ranks first in run defense averaging opposing running backs under 75 yards per game. They faced a similar size running back in Jay Ajayi last Sunday and held him to only 61 yards. Potential MVP candidate Ezekiel Elliot was also held to under 100 yards. Obviously every match-up is different, but the Raven's front 7 has proved that they can stop opposing running backs.
Elvis Dumervil and Terrell Suggs must set the edge and force Blount to run in-between the tackles. If they can do this, Brandon Williams and Timmy Jernnigan will do the rest. It is going to take more than one player to bring him down at a time. The Ravens missed tackles on Ajayi in the first half, which led to some big runs. Dean Pees will need to have his defense tackling in packs if they want to bring down Blount.
This article originally appeared on