4 trades Chiefs should make before NFL trade deadline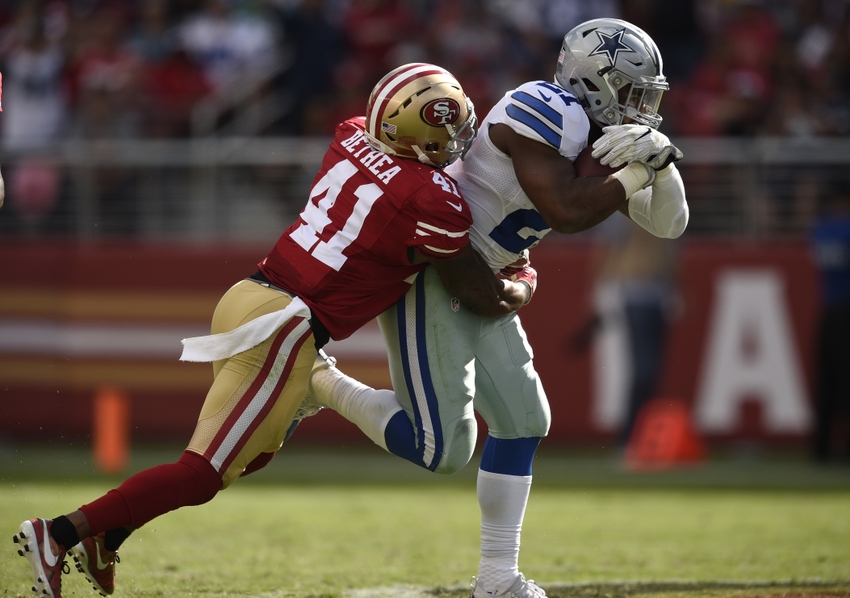 The Kansas City Chiefs are contending for a Super Bowl, but they could use some help. Here are five solid options to trade for.
Kansas City is a good football team. Some would call the Chiefs a very good football team, depending on thoughts of where Alex Smith and Andy Reid can take them. Still, flaws remain for this group, which at 3-2 looks poised to go on a run in the next few weeks.
In related news, the NFL Trade Deadline is on Nov. 1. Kansas City has already made one in-season trade, dealing running back Knile Davis for a conditional 2018 draft pick from the Green Bay Packers. Could general manager John Dorsey have other ideas in the works?
Here are five options for Kansas City, both large and small. Keep in mind, the Chiefs have $7.2 million of cap space.

4. Trade De'Anthony Thomas to the Arizona Cardinals
Thomas has not been able to contribute much this season. He has two catches – both coming last week – and has yet to return a kick or punt. Thomas has only be active for one game this season, taking the spot of Knile Davis on the gameday roster.
So why move him to the Cardinals? Dorsey has a history of working with Arizona general manager Steve Keim and the Cardinals are dead last in punt return average with only 6.1 yards. Dorsey and Keim already worked out deals involving Anthony Sherman, Marcus Cooper and Javier Arenas in their respective tenures. Why not add Thomas to the list?
Kansas City shouldn't expect much return. At best, a sixth-round pick.
3. Acquire Antoine Bethea from the San Francisco 49ers
The Chiefs could use some help in the secondary, and Bethea would fit the bill. While he would not start at either safety position, he would certainly help the depth. Plus, we know that Dorsey went after him as a free agent a few years ago, so the interest is certainly there in his skill set.
Bethea, 32, is ranked as the 24th-best safety in the NFL by Pro Football Focus. For comparison, he is one spot ahead of Eric Berry and seven spots up the ladder from Ron Parker. Do I believe that he's actually better than those players? No. Do I think he's a very valuable player wasting his time on the 49ers? Yep.
Kansas City could likely get Bethea for nothing more than a fourth or fifth-round pick. Considering his age and the position he plays, the former Colts star is not going to command a huge price tag. Dorsey should consider this move both for 2016 and 2017, just in case Berry does decided to walk.
Bethea has a cap hit of $6.025 million in 2016 and next year, checks in at $7 million. If the Chiefs decided to cut him before next year, only $1.25 million would count against the cap. Again, this is a move to bolster a secondary that needs some help.
2. Acquire Brent Grimes from the Tampa Bay Buccaneers
Should the Buccaneers go in the tank over the next two weeks, they could be looking to move on from some of their old players. Grimes, 33, would certainly fit that bill. After being released by the Miami Dolphins this offseason, Grimes stated in Florida and signed a two-year deal with the Buccaneers, that is really a one-year contract in essence.
Grimes is still one of the better corners in the game. He's small, but he has insane hops and very good speed. While his wife continues to be a terror on social media (seriously, check that out), Grimes might be worth the headache that she causes.
Dorsey would not have to give up a ton to get Grimes. For starters, he is only going to be here for the rest of the 2016 season. His contract has a cap hit of $8 million this year and $6.5 million next season, although none of it is guaranteed. The Chiefs could (and would) walk away from that salary without any issues.
Grimes would probably cost a late-round pick, maybe a fifth or sixth. Kansas City would have to create a little cap space, but that could be done by releasing De'Anthony Thomas.
1. Acquire Vontae Davis from the Indianapolis Colts
If there is clearly going to be a problem down the stretch for the Chiefs, it will be dealing witht eh hole at cornerback. Every team is going to start throwing away from Marcus Peters on a regular basis, as he continues to lead the league in interceptions (Current Total: 5).
If Phillip Gaines was healthy, it wouldn't be a huge deal. The third-year man can really cover. However, he's never able to stay on the field. After tearing his ACL in Week 3 last year, Gaines has already missed one game and was on the sideline plenty last week after having it flare up. There's not guarantee he'll be on the field this week, either.
Meanwhile, the Colts are terrible and could be 2-5 should they lose at Tennessee on Sunday. Vontae Davis is a 28-year-old corner and one of the few pieces on the team that could net them any kind of solid draft pick. This year, Davis's cap number is $8.3 million before a hit of $10.2 million next year. However, the Chiefs could either extend his contract to lower the hit, or cut him with just $1.25 million of dead money.
To get under the cap, Dorsey would have to shave $1 million in cap. Easiest way would be to cut Frank Zombo if the Chiefs are willing.
More from Arrowhead Addict
This article originally appeared on