Atlanta Braves Add Pizzazz Acquire Brandon Phillips
Fred Owens/FanSided via Tomahawk Take

Fansided
Sean Rodriguez' injury forced the Atlanta Braves to make a last-minute trade for the former All Star second baseman. Phillips insures it won't be boring at Sun Trust this year.
Last night's trade for Brandon Phillips – first reported by Ken Rosenthal (Twitter) – came as Alan noted late last night, after they learned that injuries suffered by Sean Rodriguez in the automobile accident two weeks ago would require season ending surgery.
The Braves sent lefty reliever Andrew McKirahan and 29-year-old righty Carlos Portuondo to the Red for Phillips and according to Jon Heyman $13M in cash leaving the Braves just $1M in added payroll this season.
The Braves will honor Phillips contractual no-trade (reported by Jim Bowden) but not his 10-5 rights.
Braves will only honor Phillips limited no trade clause in reds contract (can veto 12) so he no longer has full 10-5 veto

— Jon Heyman (@JonHeyman) February 12, 2017
#Braves honor previous limited no-trade (12 teams) clause in Phillips contract, before he got 10-and-5 no-trade rights. Gets $500K if traded

— David O'Brien (@DOBrienAJC) February 12, 2017
They also agreed to pay a $500k assignment bonus if he is traded. The Braves were quick to point out that this is not a change to their no-trade clause policy.
#Braves Coppy: Since Schuerholz became GM in '91 "we have never granted no-trade provisions & we have no intention of changing that policy."

— David O'Brien (@DOBrienAJC) February 12, 2017
McKirahan had a troubled start to his Braves tenure missing half of 2015 due to a PED suspension. He returned to be a useful bullpen piece late in the season but had to have TJ surgery and missed all of last year as a result.
Portuondo signed in late 2015 as an international free agent in 2015 and split last season between A+ and AAA throwing 34 2/3 innings with a 3.63 ERA. He was seen as a middle innings reliever but his age limited his future in a Braves system full of quality relievers. GM John Coppolella said the Braves were happy to finally have BP on board.
"We are excited to add Brandon Phillips to our club," Braves general manager John Coppolella said. "He is a Gold-Glove caliber defender who will also deepen our offensive lineup. We are thrilled to 'welcome home' Brandon to Atlanta, where he will play in front of his family and friends and many of his fans."
Injury Forces Atlanta Braves to change their plans
Last November the Braves signed super utility man Sean Rodriguez after Phillips blocked a deal with Cincinnati to come to Atlanta. Phillips said afterwards that the Reds hadn't consulted with him ahead of time and we heard this morning from Zach Buchanan that the two contract changes the Braves allowed this time were sticking points in November.
Rodriguez had a breakout year in Pittsburgh and earned a two-year deal with the Braves as a result of Phillips blocking the trade. The January 28th accident sent Rodriguez family to the hospital but at the time it was thought he escaped with only minor injuries.
Since that time however shoulder discomfort led to further medical examinations and Rosenthal tweets that he will probably miss the entire season.
Reds Restructuring
The Reds tried unsuccessfully to move Phillips on more than one occasion – last season alone he blocked trades to Arizona and the Nationals – in order to get playing time for Jose Peraza. Now that Dilson Herrera is ready to step up the need to clear the middle infield log jam became more urgent.
This lead the Reds to virtually give Phillips to Atlanta and it's likely that's the only way the Braves could have done the deal as they are bumping against a $120M payroll with no realistic way to clear any salary.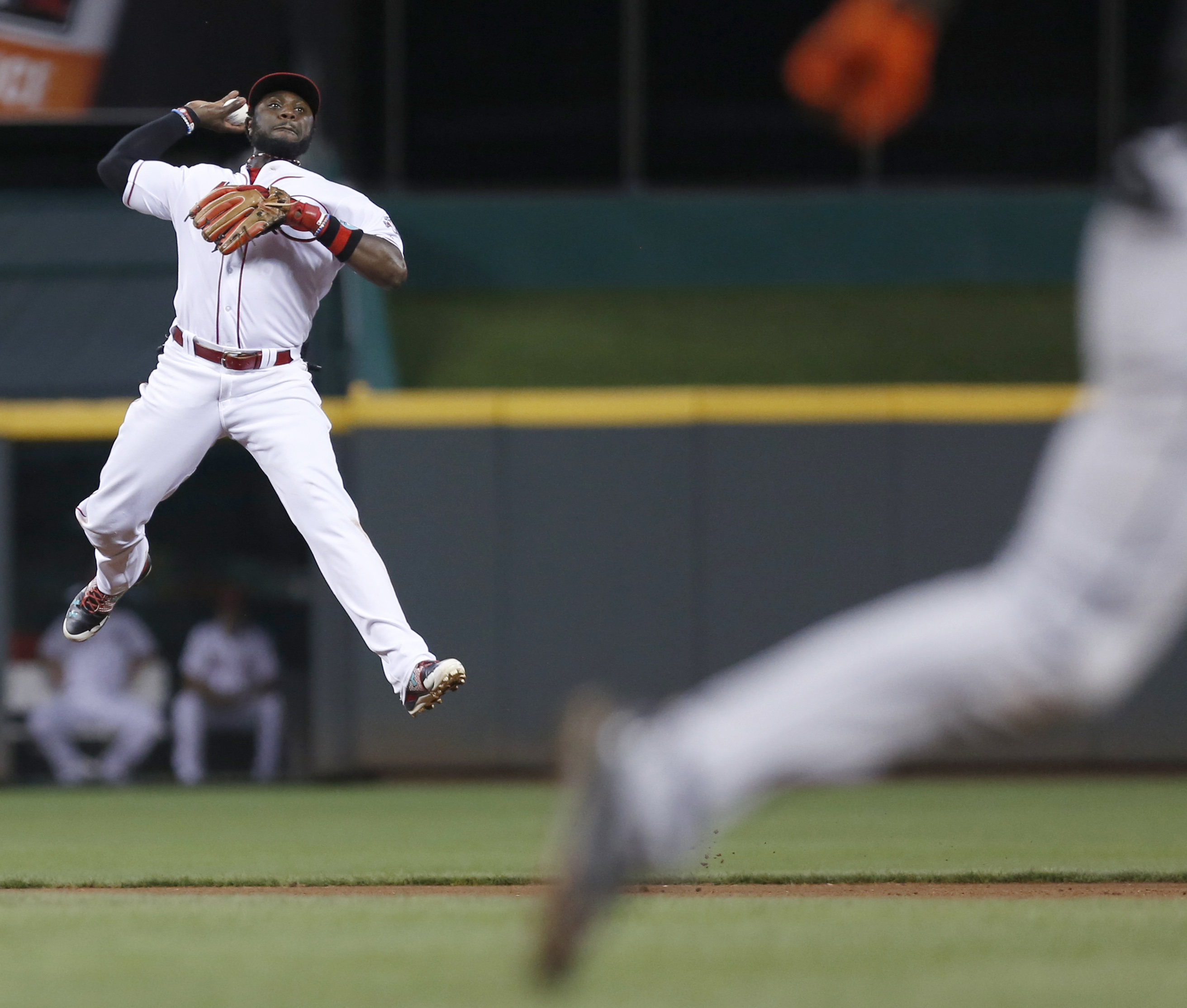 Cincinnati Reds second baseman Brandon Phillips (left) fields a ball hit by Miami Marlins second baseman Dee Gordon (right) throwing him out at first during the fifth inning at Great American Ball Park. Mandatory Credit: David Kohl-USA TODAY Sports
@datdudebp by the numbers
Phillips turns 36 in June and is not longer a consistent contributor to MLB's defensive highlight reel. No matter what flavor of defensive metric you prefer, BP has slowly become a less than stellar defender. The hope is that last year is a defensive outlier and he returns to something like his 2015 form alongside Dansby Swanson and Freddie Freeman.
In many ways BP's offensive stats resemble those of Adonis Garcia. BP doesn't walk much – an average of 25 times a year since 2012 – nor does he strike out often, approaching 100 Ks only once since 2007.
Advanced metrics show tell us that BP hasn't see a wRC+ over 100 since 2012 – he posted a 92 last season – while his wOBA hovers in the low 300's – .310 the last two seasons. Those numbers are a pretty good jump from the Braves' second base numbers last year of .279 wOBA and 70 wRC+.
Compared to who?
BP's traditional .291/.320/.416/.736 line is also an improvement over the Braves' 2016 combined second base line of .229/.306/.325/.631. BP has a reverse L/R split; while he had a good 2015 his numbers against :HP have gone steadily down since 2011 while he continues to hit RHP well.
The L/R split is one of the knocks on Jace Peterson and something the Rodriguez signing was supposed to correct. Phillips numbers are a good deal better than Peterson's so it's likely we won't see a platoon there.
As you might expect his home run power declined with age and he's s no longer a 20 home run middle of the order bat. He does however still chime in with double-digit dingers, 30 or so doubles and a triple now and then and should have a slugging percentage near .400 this year if he stays healthy.
With RISP and in leverage situations BP's numbers have held pretty close to his average and well above league averages for those situations.
| | | | | |
| --- | --- | --- | --- | --- |
| | BA | OBP | Slg | OPS |
| RISP | .299 | .346 | .424 | .769 |
| 2 out RISP | .282 | .339 | .368 | .706 |
| High Lvg | .305 | .360 | .397 | .757 |
| Med Lvg | .279 | .308 | .394 | .702 |
Phillips is then an improvement on offense and probably better on defense but that's not all he brings to the table.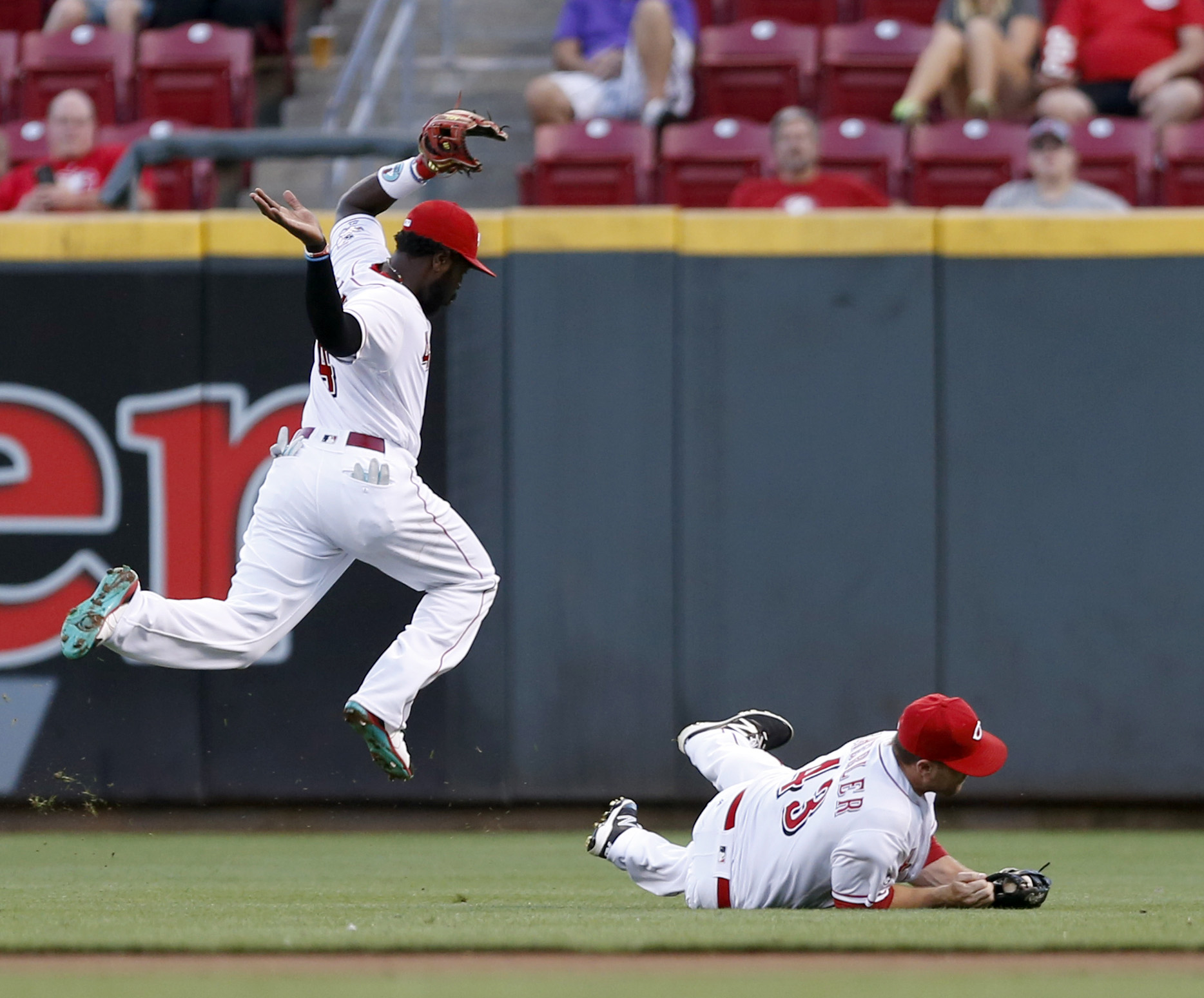 Phillips – Pizzazz Personified
Since David Ross was allowed to leave the Braves haven't exactly been a lively bunch. There have been times of course but mostly it's been quiet and with only flashes of fun. Last year Ender Inciarte changed that and now we have BP too.
Fighting for survival can make a bench staid and often boring. One thing Phillips has never been is boring on or off the field. He smiles nonstop and brings joy and life to the game he loves to play. I'm not sure a remember the last everyday player like that. He an Inciarte will be fun to watch. herewith an introduction to the Braves new second baseman.
And some fun with old friend Juan Uribe
And no look at BP is complete without a highlight reel.
Dansby and Freddie need to stay awake.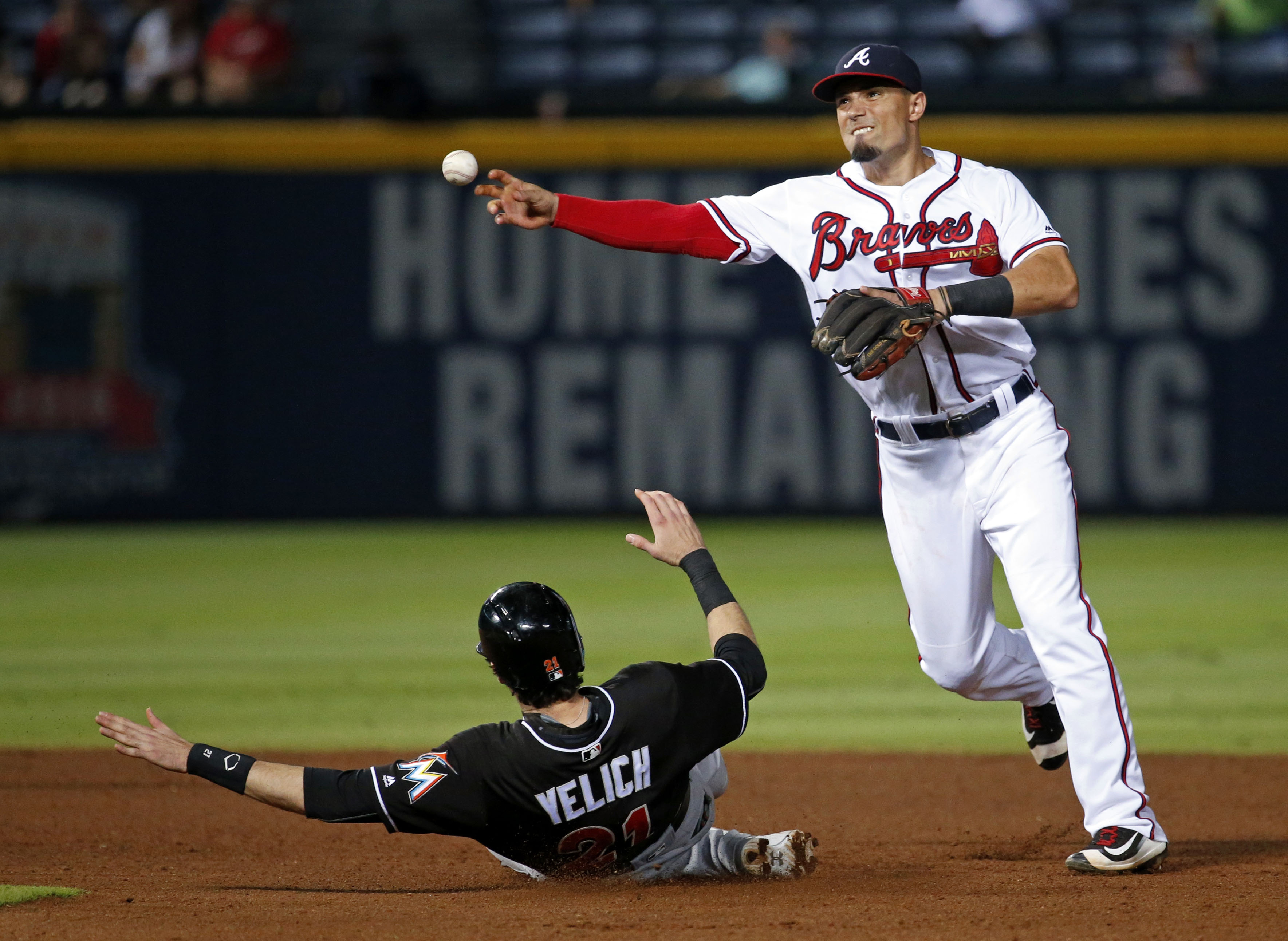 Thoughts
The Phillips trade was forced on the Braves by the awful accident involving the Rodriguez family but the Reds paying the freight in exchange for two relievers who weren't in the Braves plans makes him almost a gift.
For Jace Peterson it confirms what most suspected, his role in the coming season is that of a super utility man. Expect to see Jace getting a lot of reps at third base and most importantly in center field.
Roster resource shows Adam Brett Walker as the fourth bench player and that may happen but Walker is not a center fielder. Mel Rojas is the only real internal candidate but Jace could well be the man to fill the role.
This base isn't a slam dunk for Jace either. While he can fill in for a day or so he's not really a 3b and that might leave the door open for a Kelly Johnson return.
Much depends on whether the Braves go with a four man bench and eight man bullpen instead of the usual five and seven respectively. I think the eight man pen is unnecessary considering the new rotation and hope the Braves were just floating that in order to give them time to see what's happening. I digress.
That's A Wrap
BP may not be the guy whose defensive plays we all marveled to over the years but he will undoubtedly turn in a few gems this year so seeing him play something to look forward to.
He also adds that sought after quality – veteran presence – to the middle of an inexperience infield. I'm sure Swanson will have some fun playing alongside Phillips and he'll make the bench and clubhouse a livelier place as well.
I expect BP to get a new lease on life in Atlanta. Playing for his hometown team where he knows he's wanted has to be uplifting after the constant drumbeat of trade talk that's surrounded him for three seasons.
Welcome to Atlanta and good luck in 2017 BP from the folks here at the Take.
This article originally appeared on