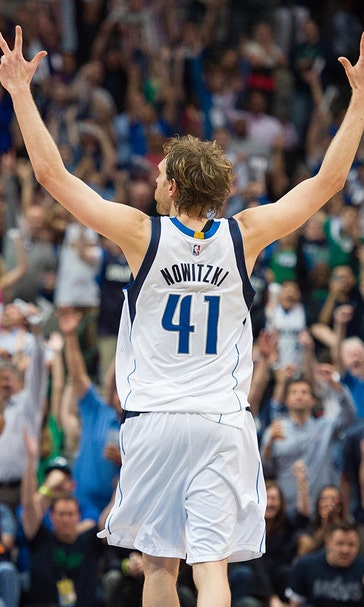 Mavs set for home-opener vs. Raptors after west coast trip
November 3, 2015

The Toronto Raptors have cruised to their best start in seven seasons, but the competition has left something to be desired.
That'll change Tuesday night against the Dallas Mavericks, who seek a fourth straight victory in home openers as the Raptors target the first 4-0 start in franchise history.
Toronto (3-0), beginning a four-game trip with back-to-back games in Dallas and Oklahoma City, last won its first three in 2008-09, but none of those wins came against teams that ended the season over .500 and the Raptors went on to lose 49 games.
They still have plenty to prove this time around considering their wins have come against Indiana, Boston and Milwaukee, who have combined for one win through three games each during the first week of the season.
Even so, after Sunday's 106-87 home win over the Bucks, the victories have come by an average of 12.0 points with the Raptors shooting 42.0 percent from 3-point range and holding a rebounding advantage of 12.7.
While DeMar DeRozan and Kyle Lowry remain key pieces, center Jonas Valanciunas had 19 points with eight rebounds and is averaging 15.3 and 11.0. Newcomer and starting forward DeMarre Carroll has averaged 16.3 points and shot 42.1 percent from 3-point range.
The bench scored 21 of Toronto's 25 fourth-quarter points, with Terrence Ross getting all of his 11 in the final 12 minutes, while Patrick Patterson went 4 for 5 from 3-point range on his way to 16.
"I think we just went out there tonight and played our game," Lowry said. "We are getting a lot more comfortable with each other, feeling out where we are going to be and the spots on the floor where we need to be at."
Dallas won both meetings last season, holding DeRozan to 7-of-29 shooting and 9.0 points per game, while Lowry has shot 13 of 47 an averaged 13.0 points over his previous three in the series.
The Mavericks (2-1) were even more impressive against Kobe Bryant in Sunday's 103-93 win at the Los Angeles Lakers. Bryant was 3 for 15 and Dallas held the Lakers to 36.5 percent from the floor. On their season-opening trip against Phoenix, the Los Angeles Clippers and Lakers, the Mavs limited opponents to 39.8 percent and 27.0 from long range.
"I thought that we really were decent defensively," Dirk Nowitzki told the team's official website.
The veteran forward was also impressive offensively, scoring a game-high 25 points on 10-of-13 shooting, though he was held to 35.1 percent in last season's wins over Toronto. He's shooting 55.3 percent to start the season as backcourt newcomers Deron Williams and Wesley Matthews try to settle in.
Both returned after missing the loss to the Clippers, and the Mavericks also got Chandler Parsons back for the first time since he was shut down after one playoff game and undergoing right knee surgery May 1.
"It felt good. To be out there, it's been a long time coming and a lot of countless hours of rehab," said Parsons, who went 1 of 6 in 12 minutes.
"But I missed some bunnies, and that's going to come. You're going to be a little rusty and you're going to be tired. You can do all the conditioning that you can in the pool and on the treadmill and everything, but you can't ever simulate a game. It's going to take some time, but the good thing is my knee felt fine."
---
---