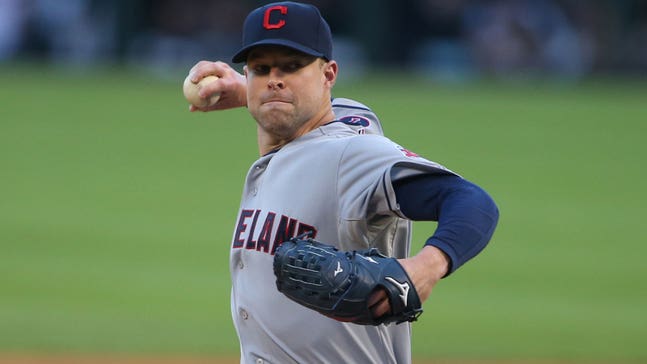 Kluber looks to shutdown former Indian David Murphy and the Angels
Published
Aug. 3, 2015 9:55 a.m. ET

The Cleveland Indians are the bottom of the AL Central, and David Murphy was one of several veterans shipped out prior to the trade deadline.
Corey Kluber, though, isn't giving up.
Last year's AL Cy Young Award winner will try to build on one of his best performances of the season Monday night when the Indians face Murphy and the sliding Los Angeles Angels for the first time since the deal.
Cleveland (48-56) dealt Murphy, Brandon Moss and reliever Marc Rzepczynski away in separate trades before Friday's deadline - moves signaling the Indians were preparing for the future.
Kluber (6-11, 3.44 ERA) doesn't see it that way with Cleveland six games back of Minnesota for the AL's second wild-card spot.
"It's not over yet. We're not eliminated from anything," Kluber told MLB's official website. "So, I think while the front office does their job, we can't really worry about anything but the 25 guys in here trying to come each day and win. Hopefully, we can win enough of them that we get to play in the postseason."
That will require major improvement from the offense, which is hitting .236 and averaging 2.6 runs during a 3-8 stretch. Cleveland had a .202 average and totaled seven runs while settling for a four-game split with Oakland after a 2-1, 10-inning loss Sunday.
"We have to do a better job at manufacturing runs or scoring runs," manager Terry Francona said. "We're getting good pitching but we have to win those games."
Kluber finally got some support Wednesday, tossing a five-hitter in a 12-1 win over Kansas City. That increased his average run support from a major league-low 2.61 to 3.15.
Another strong offensive showing will be tough with All-Star Jason Kipnis - the team leader with a .326 average - expected to go on the disabled list with a sore shoulder.
Murphy, who was hitting .296 with the Indians, is just 2 for 11 in four games with Los Angeles (55-49). However, the team is hitting .194 and has totaled 15 runs during a six-game slide that's part of a 1-9 stretch.
The Angels, who hold the AL's first wild-card spot and are four games behind West-leading Houston, haven't lost seven in a row since April 30-May 6, 2010.
They lost 5-3 in 10 innings to the Los Angeles Dodgers on Sunday, finishing their first winless trip of six or more games since 1999.
"We're the same team that was winning baseball games a week ago," catcher Chris Iannetta said. "It's a rough stretch. We're not pleased with it, we're not happy about it. But there is nothing we can do about the last 10 days. All we've got to do is focus on (Monday) and try to get a win.
"One win turns into two, and then we're back in it. We're still in this race. It's a long way from over."
Garrett Richards (10-8, 3.37) is facing the Indians for the first time, and he's seeking to avoid losing a career-high third straight start. The right-hander has given up seven runs and three homers in 14 1-3 innings over his last two games following Wednesday's 6-3 loss at Houston.
"I have to keep us in the game. I have to give us a chance to win," said Richards, who is 6-2 with a 2.08 ERA in nine home starts.
Kluber struggled there and was charged with a 6-4 loss in his only meeting with the Angels on April 29, 2014. He was tagged for four runs and eight hits with four walks while hitting a batter in 4 2-3 innings.
---
---