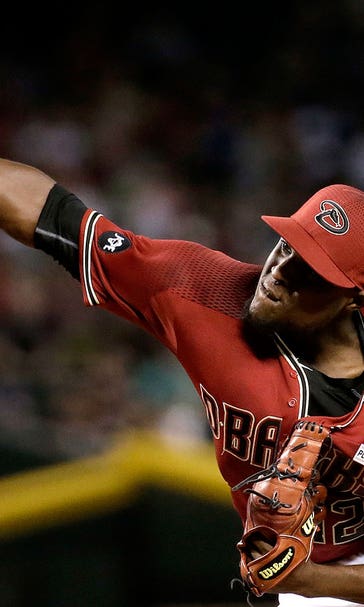 Diamondbacks to skip De La Rosa's next start
May 17, 2016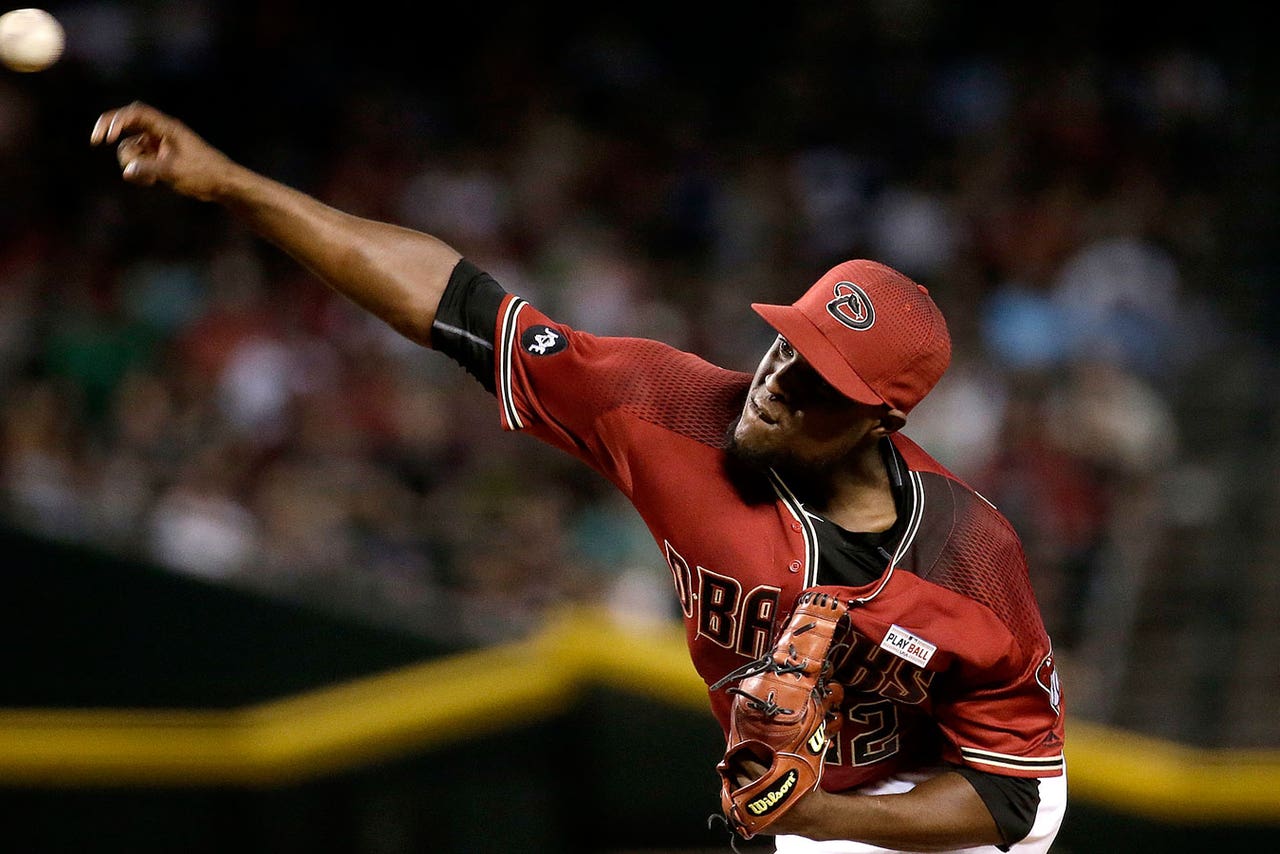 PHOENIX -- When the Diamondbacks host the New York Yankees on Wednesday, it concludes a stretch of 36 games in 37 days for the D-backs.
And it's followed by two days off over the next five days.
It's created an interesting dilemma for manager Chip Hale in managing his starting rotation. If all five starters stayed on turn, some would be looking at six days between starts, instead of the usual four.
Rather than such an unusual disruption of their rhythm, the D-backs have decided to skip Rubby De La Rosa's next start.
"He's got some nagging groin issues, some blister stuff, nothing that would keep him out if we had no days off," Hale said. "It's an opportunity to give him a break. He's obviously pitching very well, but we feel like it's best."
De La Rosa is in the midst of the most effective stretch of his career. He limited the Giants to one hit in 6 2/3 innings on Sunday, and over his last five starts, he's given up seven earned runs and 18 hits in 32 2/3 innings (a 1.93 ERA), striking out 33 and walking 10.
"I don't think any of them felt very comfortable with getting six or seven days off, that's why we did his," Hale said. "There's not one of our starters right now who's not pitching the way we thought they could pitch. Making this decision was hard, but it's easier just because of the nagging injuries."
The realigned rotation for this weekend's three-game series in St. Louis will be Patrick Corbin on Friday, Robbie Ray on Saturday and Zack Greinke on Sunday.
Hale said the D-backs considered adding a 13th position player and sending a pitcher to the minor leagues as the schedule lightens up, but ultimately, they like the flexibility of their roster construction.
"We were really happy with the way our bullpen is performing, and right now with the four guys on my bench, I can tell you making the lineup out is hard, because everybody is deserving of at-bats. I think we're good right now. If we run into trouble, we'll reevaluate."
One of the factors in sticking with 12 position players is the versatility shown by Brandon Drury, Chris Owings, Chris Herrmann and Phil Gosselin.
Drury has played right and left field, second base and third base; Herrmann has seen time at all three outfield positions in addition to catcher; Owings has played center field, second base and shortstop; and Gosselin has played every infield position except shortstop.
Herrmann, who got the start in right field Wednesday, has been surprising in many ways. On Sunday he became the first major leaguer since Brandon Inge in 2008 to start a game in center field and catcher in the same season. And he's forcing Hale to find ways of keeping his bat in the lineup with surprising effectiveness at the plate.
Chris Herrmann entered Tuesday's play with a .590 slugging percentage -- highest on the Diamondbacks and more than twice his career average.
His .590 slugging percentage (in 67 plate appearances) is the best on the team by a large margin.He had nine extra-base hits among his 17 hits -- including a career-best four home runs and two triples. He's also stolen two bases without being caught.
"He's getting very comfortable at the plate, he's getting comfortable in the outfield, we're confident with him out there," Hale said.
Herrmann, 28, came into the season with a .181 career average, six home runs and a .280 slugging percentage over parts of four seasons with the Minnesota Twins. In 566 career minor-league games, he's hit 35 home runs with a .263 average and .384 slugging percentage.
The D-backs acquired him in a barely noticed trade for minor-league outfielder Daniel Palka in November. He beat out Tuffy Gosewisch for the backup catcher job in spring training, in part because his left-handed bat is a better complement for starter Welington Castillo.
"He's very, very athletic," Hale said. "If you watch him take batting practice, he's as strong as anybody, but yeah, the speed part of it I think it has to surprise some people, because just catching slows you down."
Josh Collmenter pitched 4 1/3 innings for Reno in his fourth minor-league rehab appearance on Tuesday and gave up four hits and one earned run. He walked three and struck out two.
Collmenter, on the disabled list since the start of the season with tightness in his right shoulder, has a 7.50 ERA over 12 innings in four minor-league appearances. He'll make one more start in the Pacific Coast League before the Diamondbacks will be forced to make a roster decision on him.
"He looked good today," Hale said. "He gave up one run, a home run, but got out of jams. He was up to 87 (mph)."
---
---