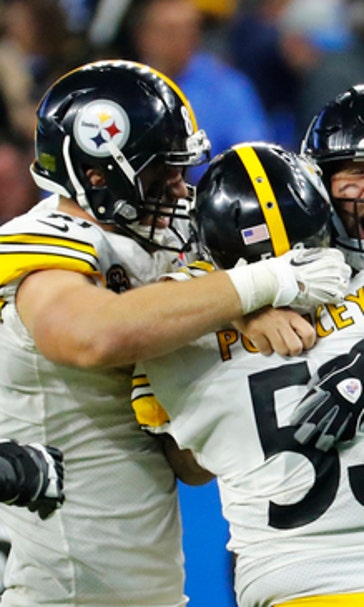 Steelers can relax a bit after outlasting Lions
October 30, 2017

DETROIT (AP) For much of the second half, it felt like the Pittsburgh Steelers were just holding on, trying to make it to their bye week before the Detroit Lions could reach the end zone.
Afterward, Ben Roethlisberger and his teammates could relax a bit. This wasn't their best performance, but it was a win.
The Steelers made one big play offensively - a 97-yard touchdown pass from Roethlisberger to JuJu Smith-Schuster in the third quarter - and that was enough for a 20-15 victory Sunday night. Now Pittsburgh heads into its open date with its two-game lead in the AFC North still intact.
''We find ways to bounce back even when guys aren't necessarily doing everything right,'' Roethlisberger said.
Three times in the second half, the Lions (3-4) had the ball inside the Pittsburgh 10-yard line, but they came away with only three points total from those drives.
''We've got to maximize our opportunities when we're down there. Just very poor, very poor,'' Detroit running back Ameer Abdullah said. ''Got to find a way to score.''
The Lions were down 13-12 in the third when they were stopped on fourth-and-goal from the 1. Then Roethlisberger found Smith-Schuster deep over the middle for the 97-yard touchdown.
Detroit later had to settle for a 19-yard field goal after again failing near the goal line, and at the end, the Lions turned the ball over on downs when Matthew Stafford threw incomplete from the Pittsburgh 8.
''When you can keep them out of the end zone and just give up field goals, that's huge,'' Steelers defensive end Cameron Heyward said.
The Steelers (6-2) have won three in a row, and Detroit has lost three straight.
Here are a few things we learned from Pittsburgh's victory:
WR DEPTH: Smith-Schuster is a capable deep threat if the opponent contains Antonio Brown. Detroit held Brown to five catches for 70 yards, and Pittsburgh receiver Martavis Bryant was inactive after his social media outburst following a victory over Cincinnati the previous weekend. Smith-Schuster, however, finished with seven catches for 193 yards, including the long TD in the third quarter.
''The reason I kept looking back, because of `Madden' my speed is like 82, 83. So I was like, `Nah, I think they're going to catch me, they're going to catch me,''' he said. ''And then next, you know, I pulled away and I swerved to the right and I was able to get the touchdown.''
RUNNING WOES: Part of the reason the Lions struggled near the goal line was because their running game isn't enough of a threat. Detroit finished with 71 yards on 22 carries, and it was hard for the Lions to move the ball near the end zone in situations when the defense could expect a run.
SPLIT CROWD: It probably wasn't the best day for the Lions to try for a ''blue out'' at Ford Field. Detroit encouraged fans to show up wearing blue, but the effect was largely negated because there were so many Steelers fans on hand wearing black and gold.
BETTER PROTECTION: One silver lining for Detroit was the job an injury-plagued offensive line did protecting Stafford. He was sacked only twice.
INJURIES: Pittsburgh can use the open date to rest up. Safety Mike Mitchell hurt his right ankle, and offensive lineman Chris Hubbard was evaluated for a concussion.
Detroit running back Dwayne Washington left with a concussion. Lions wide receiver Golden Tate played despite a shoulder issue that limited him in practice. He had seven catches for 86 yards.
---
For more NFL coverage: http://www.pro32.ap.org and http://www.twitter.com/AP-NFL .
---
Follow Noah Trister at www.Twitter.com/noahtrister
---
---