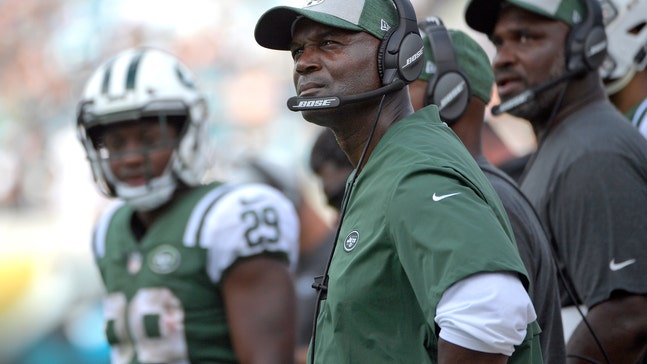 Losses, ugly offenses, QB uncertainty mark Bills-Jets
Updated
Mar. 4, 2020 2:28 p.m. ET
EAST RUTHERFORD, N.J. (AP) — Even the most die-hard of Bills and Jets fans might have a tough time getting fired up about this one.
Struggling offenses, quarterback questions and losing streaks are the ugly story lines marking the latest matchup of AFC East rivals, the first of their two meetings this season.
"It's the NFL and anybody can be beat in this league," Jets safety Jamal Adams said. "You've definitely got to show up each and every Sunday. It doesn't matter what the numbers are."
Well, they aren't very good — for either side — when it comes to offense.
The Bills (2-7) have the 31st-ranked overall unit and have been dealing with a quarterback carousel all season, and were trying to figure out late in the week where it would stop this time.
Rookie Josh Allen has missed three games with a sprained right throwing elbow , veteran Derek Anderson was in concussion protocol, and turnover-prone Nathan Peterman has been healthy but ineffective, to put it mildly. He completed a career-high 31 passes last week against Chicago, but also had three interceptions in the 41-9 rout by the Bears.
It has been a problem all season no matter who has been under center for the Bills, who have lost four straight. They have scored two touchdowns in their last four games, and been outscored 103-20 in its last three.
"Well, you know, the result, obviously, is not what we want it to be on the offensive side," coach Sean McDermott said. "We've got to continue to find ways to create things, to create separation, to create wins in the 1-on-1 game, whether it's the run game or the pass game. You always look at yourself first. I expect myself and our coaches to look at ourselves first, and I expect the players to look at themselves first.
"Collectively, though, we have to do a better job."
The Jets (3-6) know the feeling.
Todd Bowles' bunch has echoed those sentiments during the team's second three-game skid of the season.
"We're kind of realizing that it's a time to come closer together as a team, as a family and as a brotherhood," defensive lineman Leonard Williams said. "When times are starting to get hard, that's when we've got to face adversity arm in arm and face it as a team."
It appears they'll have to do it without rookie Sam Darnold, who is dealing with a foot strain that could sideline him a few weeks. Darnold leads the league with 14 interceptions, so 39-year-old Josh McCown might be what the Jets need to get things back on track for the league's 29th-ranked offense.
"I'll go out and expect to play to my standard and to the standard of this football team," McCown said, "and win a football game."
Here are other things to know about the Bills-Jets matchup at MetLife Stadium:
THE REAL McCOY?
Bills running back LeSean McCoy is off to the worst start of his career with just 267 yards rushing and has yet to score.
He had 10 yards on 10 carries against the Bears, and hasn't been anything close to the dynamic player he has been throughout his career. McCoy was mentioned as a possible piece in a trade leading up to last week's deadline, but remains with Buffalo.
OH, SNAP!
The struggles of Jets center Spencer Long have epitomized the New York's problems on offense.
Long has been trying to play through an injured right middle finger on his snapping hand, and things really came to a head last week when he had several wayward snaps out of the shotgun. Bowles finally pulled him for Jonotthan Harrison late in the game, and Long could find himself on the sideline again this week.
FAMILIAR FACE
The Bills were so desperate for receiver help they thrust Terrelle Pryor on the field five days after signing him. That came two weeks after the Jets cut him with an injury settlement because of an ailing groin.
New York thought he'd be sidelined a while, but Pryor was back on the field last Sunday and had two catches for 19 yards. He'll have a chance to show the Jets how healthy he is Sunday.
ELI RETURNS
Second-year running back Elijah McGuire had 30 yards on seven carries and three catches for 37 yards for the Jets in his season debut after spending the first eight games on injured reserve with a broken foot.
McGuire has stepped into the dual-threat role usually held Bilal Powell, who's out for the season with a neck injury.
"Really nice," offensive coordinator Jeremy Bates said of McGuire's play. "I was really fired up about him last year. A true pro, reminds me of Kevin Faulk. I thought he played very well."
BRIGHT SPOT
Buffalo's defense ranks third overall in the NFL, including third against the pass and 11th against the run.
The Bills were done in by offensive turnovers last week against the Bears, but they allowed only 190 yards of offense by Chicago. It was the fewest allowed since 103 in a 19-0 win vs. Miami in 2013. It was also the fewest in a Bills loss since a 20-6 defeat at Baltimore in 2004.
---
---