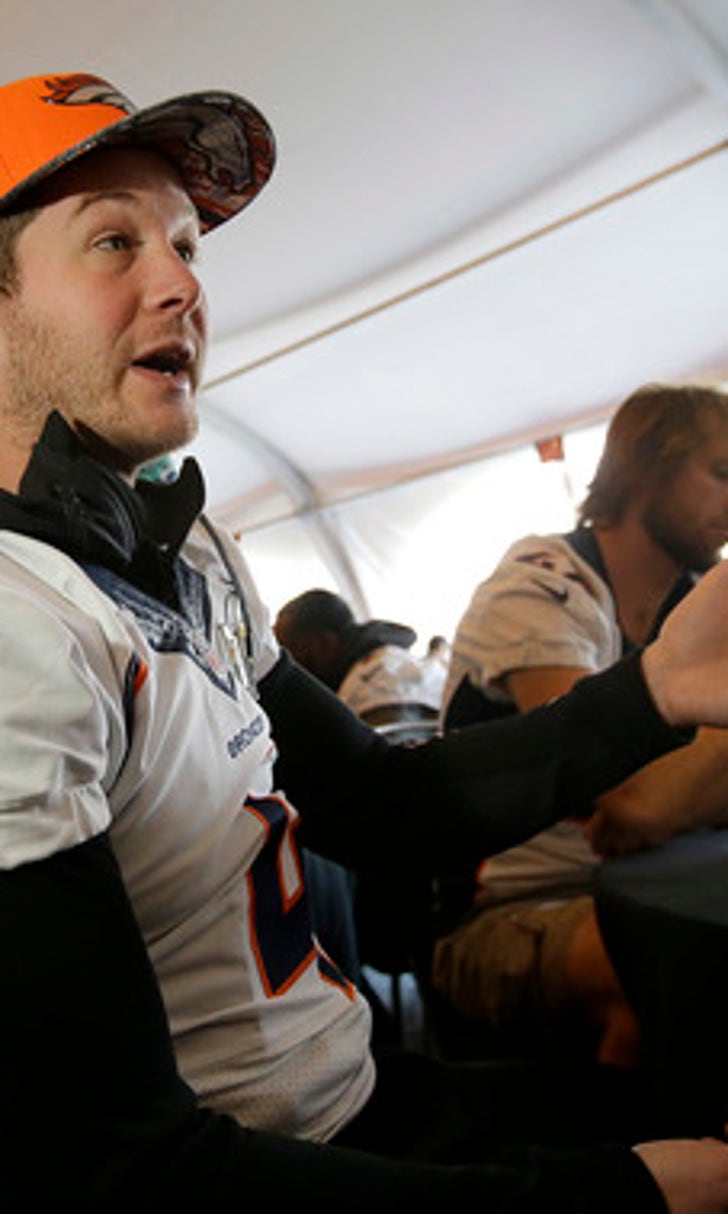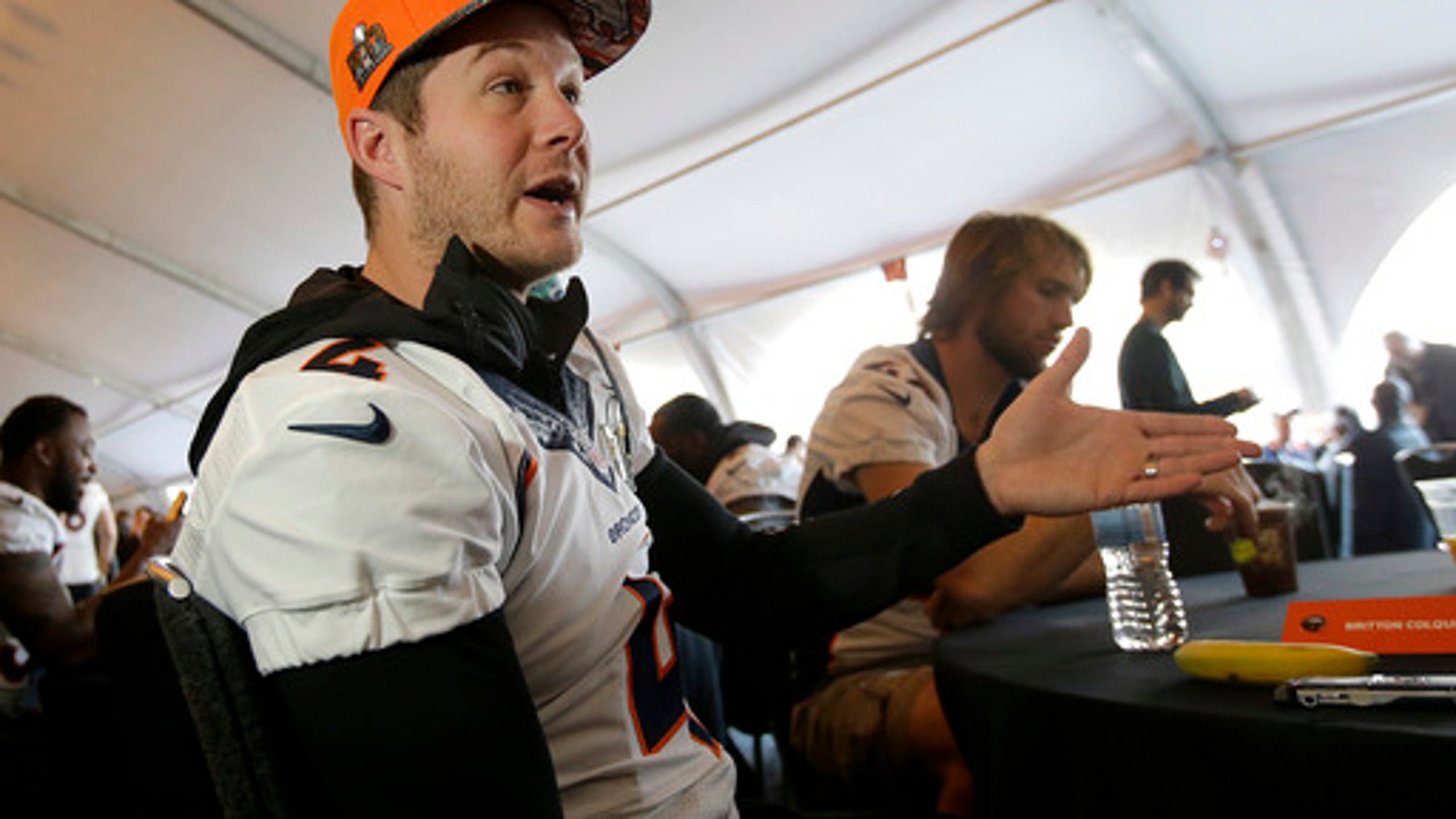 B. Colquitt wants a SB ring to add to the family collection
BY foxsports • February 3, 2016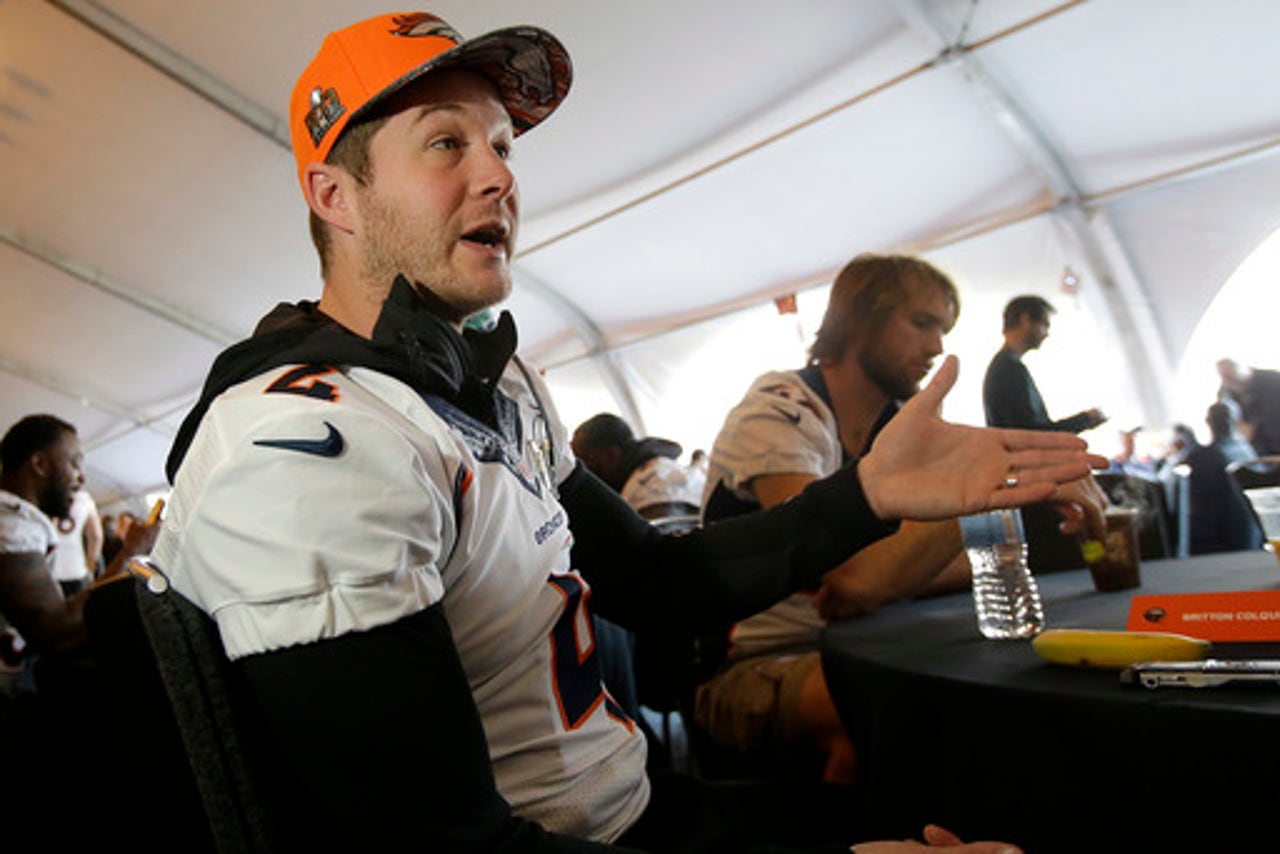 SANTA CLARA, Calif. (AP) Broncos punter Britton Colquitt always knew that he would get a Super Bowl ring someday. The only question is whether it'll be bequeathed to him or bestowed upon him.
Britton, brother Dustin of the Chiefs and their father - two-time Super Bowl champion with the Steelers Craig Colquitt - are the NFL's first family of fourth downs.
Craig once sat the boys down and told them they'd each inherit one of his Super Bowl rings.
Crickets. Of course, they were watching cartoons.
Disappointed in their lack of enthusiasm, Craig retreated upstairs to make lunch. Soon, his youngest boy was tugging at his shirt.
''So, Dad,'' Britton wondered, ''when are you going to die?''
He really wanted that ring.
''Yeah, turns out he could relate to the gold and diamonds after all,'' Craig said.
Dustin, 33, is in line to inherit his father's ring from Pittsburgh's win over Dallas in 1979.
Britton, 30, will get his father's ring from Pittsburgh's victory over the Los Angeles Rams the following year.
If the Denver Broncos beat the Carolina Panthers in Super Bowl 50, baby brother will be getting his hands on his own gaudy jewelry.
''That would be pretty nice,'' Britton said. ''It would be worth a lot more than my dad's old rings, too.''
Britton figures his AFC championship ring, the consolation prize he keeps in its case after losing the Super Bowl to Seattle two years ago, is probably bigger and more expensive than the Super Bowl rings his dad won, though certainly not as valuable.
And just where does dad keep his kids' heirlooms?
''With him,'' Britton shot back incredulously. ''The most braggadocios human being you'll ever meet. He's walking around: `Hey, are you a Steelers fan? You want to see something?'
''When we went to Pittsburgh in December, oh, my gosh, I mean, he was showing homeless people on the street.''
Flashing the first ring on his left hand, the second on the right, a 1-2 punch that sends Steelers Nation into a tizzy.
''It's gotten him in trouble, though,'' Britton said. ''I think a year ago, he actually lost it in a restaurant. He was letting this group of guys check it out and just kind of forgot about it and realized it was gone. So, I think he's a little safer with it now - but he still shows everybody.''
Craig said he found it a week later, jammed into his luggage he'd rolled into the restaurant on a business trip.
''It was just like losing a child,'' Craig said.
He doesn't play favorites with his kids but he sure does when it comes to his rings.
''Thirteen is gaudy and we beat the Dallas Cowboys and I love to show that off,'' he said. ''Fourteen looks like a very expensive class ring, that's all. Super Bowl XIII looks like a Super Bowl ring. I like the ring because Dallas was going to draft me in the fifth round and Pittsburgh took me in the third round. We never lost to the Cowboys.''
The Colquitts are to punting what the Mannings are to passing, although the patriarch had an inauspicious start - a safety on the his very first punt at the University of Tennessee in 1975. Craig went on to rewrite the school record book, averaging 42.5 yards per punt, a mark that would be bested by three more Colquitts.
His nephew, Jimmy, averaged 43.9 yards from 1981-84. Dustin averaged 42.567 from 2001-04 and Britton, 42.569 from 2005-08.
After Craig's senior year in 1977, Chuck Noll personally worked him out before drafting him. He averaged 41.3 yards in six seasons in the pros. He made a brief return to the NFL in 1987 when the players went on strike. He was in financial straits at the time and the chance to get back into the game - and more importantly, to earn an $8,000 weekly paycheck - spurred him to cross the picket line.
In his one game with the Indianapolis Colts, he had the only blocked punt of his pro career.
That was the low point of an otherwise joyful journey across America's football fields.
Britton got his dad tickets for Sunday's game, but he didn't have to splurge for tickets for his brother, who's recovering from surgery on his left knee and isn't coming out to California.
Britton did have to dole out $1,800 for each of his three kids, including his newborn daughter who won't even be 3 weeks old Sunday.
''That baby's costing him more to take her to the Super Bowl than it cost to bring her into this world,'' Craig said.
Maybe one day she'll inherit her father's Super Bowl ring.
''Yeah,'' Britton said, smiling, ''hopefully one with a big Bronco head on it.''
---
AP NFL website: www.pro32.ap.org and www.twitter.com/AP-NFL
---
Follow AP Pro Football Writer Arnie Melendrez Stapleton on Twitter: http://twitter.com/arniestapleton
---
---