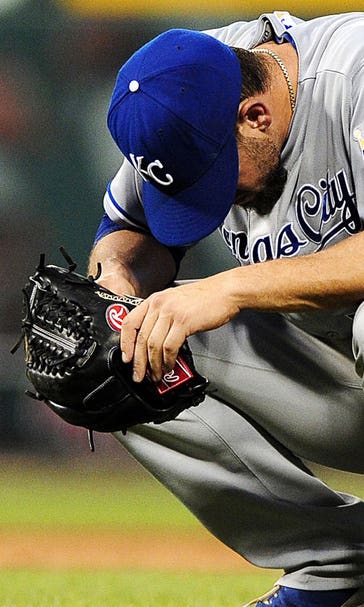 Royals need Big Game James to get back on track
July 4, 2014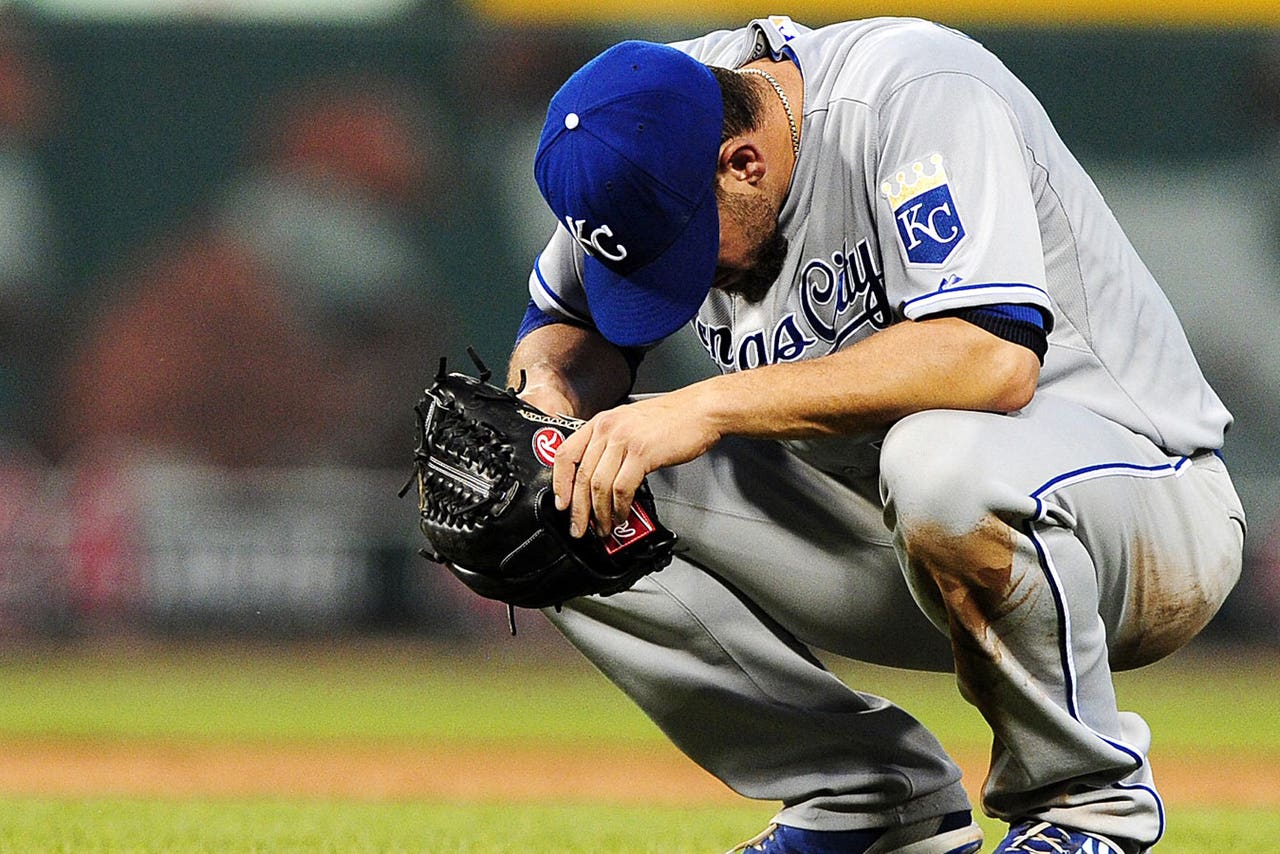 If the Royals make the playoffs, would it justify the controversial James Shields trade from a couple offseasons ago?
In December 2012, Kansas City gave up top prospect Wil Myers in a seven-player trade with Tampa Bay to acquire Shields. Others in the deal were Wade Davis and a player to be named later, eventually Elliot Johnson, to the Royals, while the Rays added Jake Odorizzi and minor leaguers Patrick Leonard and Mike Montgomery.
It's too complicated for a simple answer, which might mean the answer is no. There's a lot to take into consideration. But it has to be noted that, while the Royals are hanging out around the fringes of the race, right now Shields isn't even really helping them. If the idea was to bolster the rotation by adding a bona fide ace, then the Shields trade is more of a failure.
Tuesday night against the Twins, Shields allowed five runs — four earned — in five innings. Everyone's allowed the occasional stinker. In May, Dodgers ace Clayton Kershaw gave up seven runs to the Diamondbacks. In April, the M's Felix Hernandez allowed 11 hits to the A's without one single whiff. Heck, last September, Shields gave up 10 runs to the Tigers and couldn't get out of the fourth.
It's only worth worrying about trends, but now Shields has put together a trend. He's not coming off an isolated stinker. Over his last nine starts, he's allowed fewer than three runs just once. The 32-year-old right-hander coughed up a .323 batting average with a 5.43 ERA.
A season that started well for Shields has taken a dreadful turn. His Wins Above Replacement (WAR), based on actual runs allowed, is 0.7. That puts him in the company of talents like Washington's Stephen Strasburg and Cincinnati's Homer Bailey, but that's little consolation, given their issues.
Though Shields has allowed 51 earned runs, he's also allowed a dozen unearned runs, meaning he's averaged 4.86 runs per nine innings. Of the 140-plus starters who've thrown at least 50 innings, Shields ranks 110th in that stat. While the Royals remain very much alive beyond the halfway point, there's very real concern that the staff workhorse is breaking down.
For Shields, this is bad timing in two ways.
First, obviously, is that his team is counting on him to be the ace of the rotation, and he's not pulling his weight. The Royals aren't a team that can afford having their good players underperform, and if Shields doesn't turn things around, they'll likely again fall short of the playoffs.
Second is a bigger-picture matter as Shields is due to become a free agent after the year. Certainly, Shields is far more focused on the task at hand, but he's months away from the open market, and he's something of a mess. No longer is a nine-figure contract a sure thing. Barring a much-improved second half that erases all worry, Shields will be a guy off an up-and-down year who turns 33 in December. His past durability could make people wonder about his future durability.
So what's the matter? Is it an injury? If it is, that doesn't show up in Shields' velocity. It doesn't show up in his movement, and Shields denies that he's in any kind of pain.
Is it just statistical noise? This possibility can't be dismissed, because there's a lot more random noise than people would like to think, but given that Shields' strikeouts have dropped somewhat considerably, and given that he appears to be laboring, this doesn't seem like nothing. The likely culprit is inconsistent mechanics, but that's not very helpful, because basically all pitching problems come out of inconsistent mechanics.
Some have claimed that Shields is over-throwing. Some feel like he's over-striding. It's been asserted his head is off balance. Shields is trying to get smoother in the bullpen.
FanGraphs can't fix Shields' mechanics, but FG can get an idea of where he's really struggling the most.
FG keeps track of run values by pitch type, and though the numbers need to be used carefully, in theory FG ends up with a ranking of quality and performance. A good pitch — Ex: Kershaw's slider — will have a high run value, because it does a lot more good than bad. Pitches that get strikeouts and don't yield many hits? Those get high run values.
Shields' bread and butter for a while has been an outstanding changeup he's thrown to both righties and lefties. It's long been believed that Shields is in possession of one of the best changeups in baseball. Between 2011-13, by run value, Shields' changeup ranked third among changeups thrown by qualified pitchers. He used it a lot, and it did him a lot of good. The only pitchers with higher-ranking changeups were Philadelphia's Cole Hamels and Seattle's Hernandez. Reasonable enough.
Fast-forward to 2014.
Shields' other pitches are in the vicinity of normal. Most of his run values look OK. But the number for his changeup is eye-popping. By run value, among qualified starting pitchers, Shields' changeup ranks last. By at least one measure, Shields has had the least effective changeup in the majors, in terms of both results and frequency.
Shields, in turn, has reduced his changeup usage, throwing more cutters, but that's just compensatory, and it isn't good news when a pitcher has to throw less of his most highly-complimented pitch. Shields with a worse changeup is a worse pitcher.
The answer is somewhere in his mechanics. He still throws good changeups; he just throws them less consistently. Too many of them have been flat, as Shields has searched for a consistent release point. If Shields' changeup had been just OK, maybe this would be easier to dismiss as nothing. But it's significant to fall from the top of a table to the bottom. This is James Shields without his best weapon.
It's safe to assume Shields will get at least a little better. He should come out of this to a large extent, and as bad as this stretch has been, in his first nine starts he had a 2.54 ERA with 56 strikeouts and just 12 walks. This stretch can't be ignored. Unless he's hiding an injury, there's no reason Shields shouldn't bounce back from his recent nine-game slump and be effective, if less effective than desired. It's doubtful he's going to keep pushing five runs allowed per nine innings.
But there's a bigger trend at play, independent of the actual runs scoring. It started a year ago. A useful metric is strikeout rate minus walk rate — think of it as an improvement on strikeout-to-walk ratio. In this chart, observe Shields compared to the American League starting pitcher league average: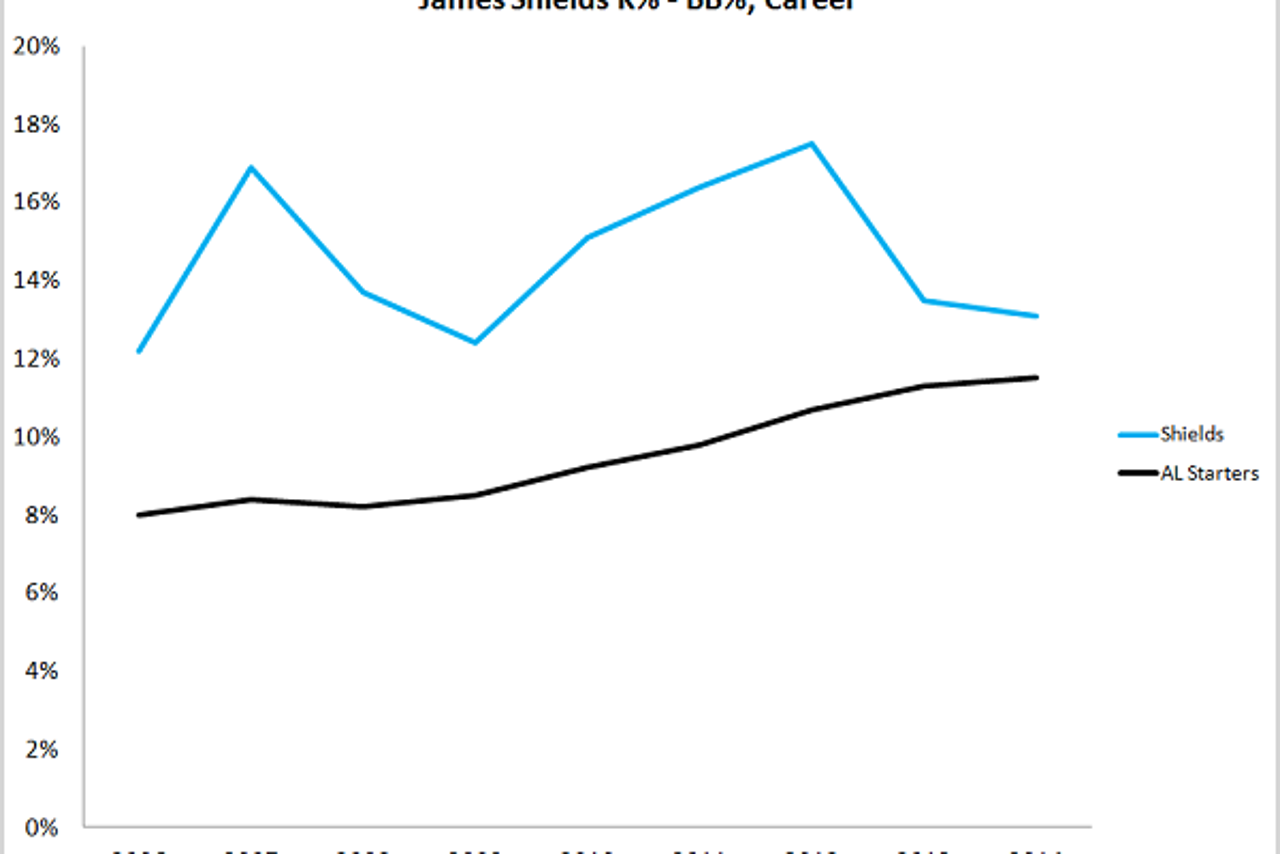 Shields remains better than average, but he's the least better than average that he's ever been, and there's a big dip between 2012-13. At Shields' peak, he was better than the average by about 6 or 7 percentage points. Now he's around 2 percentage points, which means even if Shields picks it up down the stretch, there's still very good reason to believe he's in decline.
It's not a 2014 thing; it's a 2013 thing that's carried over because declines generally don't just stop. As Shields loses his ability to put batters away, he'll be more prone to giving up long hits, and he's never been all that much for home run suppression. Fewer strikeouts mean more balls in play. Balls in play aren't Shields' friend. Especially when they go over the fence and aren't balls in play anymore.
Right now, James Shields is a pitcher without his best pitch. Because of his track record, he still has to be given the benefit of the doubt. He's had slumps before, but the Royals need for this to turn around in a hurry.
Even if it does turn around, the 2013 version of James Shields was a version missing some strikeouts, suggesting that the ability level has begun to sink. While teams will recognize Shields for what he's done when he's a free agent, those same teams can analyze numbers, even should Shields have a better second half.
The more distant concern is Shields' payday. The more pressing concern is Shields' delivery. FG believes a man they call Big Game James is no stranger to pressure.
---
---