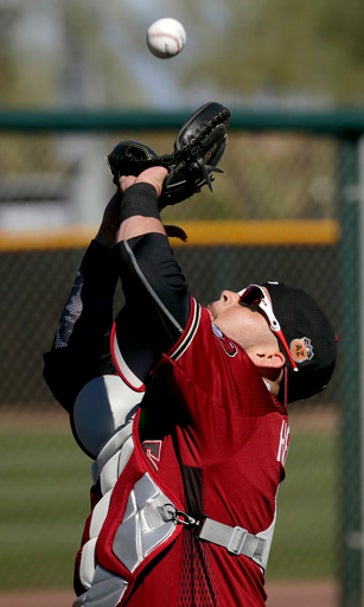 New manager ready for D-backs workouts to start
February 16, 2017

SCOTTSDALE, Ariz. (AP) Torey Lovullo has his full squad together. The next step for the new Arizona Diamondbacks manager is to deliver a speech introducing himself.
That will come on Friday.
''It's the first time that I will be in front of these guys as a group formally,'' he said Thursday. ''I've been thinking about it since the day I was hired.''
Lovullo hadn't put his thoughts on paper yet, but the gist of his message is pretty simple.
''That's that we're a strong family and we're going to compete every night,'' he said.
The talk will be followed by the first full-squad workout. Like every other team, it will start with bunting and bunt defense.
Over the next few days, he wants efficient, crisp practices, although a weekend rain storm may delay that work.
''I don't want to spend all day working on stuff,'' Lovullo said. ''I think that can be counterproductive. I want to set a time limit on each thing we're going to do and these guys are going to know that we're going to operate within that time limit and do it right.''
The weather forecast has led to moving the team's Fanfest, originally set for Saturday, to Monday.
Lovullo said he's talked to all of his players individually, but some only on the phone.
Two big areas of competition will be at shortstop and catcher.
Chris Owings, Nick Ahmed and newcomer Ketel Marte are the candidates at shortstop.
''I think the spirit of competition brings out the most in a lot of guys,'' Lovullo said. ''It's going to be a very competitive camp and that's going to start officially tomorrow.''
The catchers are Jeff Mathis, Chris Iannetta and Chris Herrmann. No one has been designated the primary starter.
''Starting catchers start 100 games now, 110 games. That's the new normal,'' Lovullo said, ''but where that falls for our guys has yet to be determined. We'll kind of be defining that as things unfold. It might start to show itself during the season.''
New closer Fernando Rodney was a late arrival on Thursday. The 40-year-old right-hander was delayed by an immigration hearing. Rodney, from the Dominican Republic, said he is in the process of becoming a U.S. citizen.
He credited his diet for his ability to keep pitching at his age.
''Rice, beans, a lot of seafood, a lot of meat and a lot of water,'' Rodney said. ''No ice cream, no pizza, no Coca-Cola. Just regular juice, water and when I eat, I eat a lot, make sure my stomach's in good shape. Working hard, that's it.''
Third baseman Jake Lamb noted that there were important additions but the core of the team is the same.
''We definitely have talent in this room,'' he said. ''On paper, we've got a great team.''
But that was the case last year, too, and the Diamondbacks wound up winning 69 games.
Lamb said injuries and players having down years led to the team's failure.
And spring is a time for optimism.
''It's a fresh start,'' Lamb said. ''Everyone's got a year under their belt. I really like where we are.''
---
---