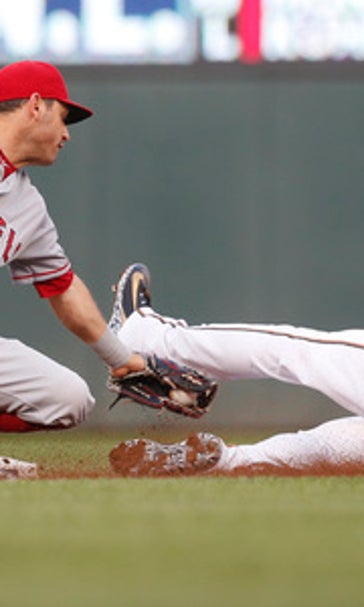 Kinsler, Upton power Angels past Twins 4-2
June 9, 2018
MINNEAPOLIS (AP) The Los Angeles Angels are missing some significant pieces of their team. The Minnesota Twins are down several important players, too.
With a couple of clutch hits and a strong night by the bullpen, the Angels taught a lesson in resiliency. The Twins are still searching for theirs.
Ian Kinsler hit a two-run home run for the lead in the seventh inning and Justin Upton went deep in the eighth, powering the Angels past the Twins 4-2 on Friday after they placed rookie sensation Shohei Ohtani on the disabled list with an elbow injury .
Star shortstop Andrelton Simmons went down this week, too.
''You can't replace those guys, but at the same time, the games don't stop,'' Kinsler said, adding: ''Close ball games build character.''
Blake Parker pitched a perfect ninth inning for his sixth save in seven attempts. Robbie Grossman gave the Twins a 2-1 edge with a solo homer in the sixth against starter Garrett Richards, but Noe Ramirez (2-2) and Jose Alvarez set up Parker with some shut-down relief. The Angels bullpen recorded 11 outs, with five strikeouts.
That's what the Twins were looking for, after six sharp innings by Lance Lynn to continue his rebound from a rough start to his first season with the team. Ryan Pressly (0-1) gave up a double to Martin Maldonado, but he had two outs and two strikes on Kinsler before hanging a curveball that was crushed into the left-field seats .
''I probably should've gone with another pitch, but it is what it is,'' Pressly said. ''I wanted it down.''
Upton, who took Addison Reed deep , has four homers in his last five games. Kinsler has five home runs in his last 10 games, batting .366 over that span.
''Even though Kinsler hasn't had his best year, we still know he's dangerous,'' Twins manager Paul Molitor said.
Said Angels manager Mike Scioscia: ''Hopefully he's turned the corner.''
The Twins haven't yet.
Fifteen of their last 27 games have been decided by one or two runs, and they're just 6-9 in those games. For the season, they're 3-12 in one-run games, which, as Molitor said, ''is a big reason why we are where we are.''
The Angels are 6-1 in June, trying to keep up in the fast-paced AL West race with Seattle and Houston.
''We're going to grind it out,'' Richards said. ''We're going to find ways to win.''
DROPPED DOWN
Struggling Twins third baseman Miguel Sano was moved to seventh in the batting order, the lowest starting spot of his major league career and only the second time this season he's been lower than third. Since coming off the disabled list on May 25, Sano is hitting just .189 in 53 at-bats with four walks and 24 strikeouts.
He does have 12 RBIs over those 13 games, including a high chopper to third baseman Luis Valbuena in the second inning that bounced over him to earn a double ruling from the official scorer and drive in Max Kepler from first base. Sano, though, is batting .088 with two strikes (7 for 80) this season.
THE LONG ROAD
With Ohtani out, Albert Pujols was the designated hitter and Jose Fernandez played first base in his major league debut at age 30. He singled in his first at-bat. Fernandez didn't leave his native Cuba until 2015 and didn't join a major league organization until 2017, when he played mostly in Double-A in the Los Angeles Dodgers system. He signed with the Angels in January and was promoted from Triple-A Salt Lake on Friday with infielder Nolan Fontana.
LET'S GO CRAZY
The Twins held another ''Prince Night,'' a heavily themed celebration of the Minneapolis-born-and-raised musician whose 60th birthday would have been on Thursday. The first 10,000 fans through the gates got inflatable plastic purple guitars. Eddie Rosario was spotted strumming one in the dugout as Grossman sent his drive to deep right field, and he leaped to his feet with the souvenir in hand as the ball cleared the wall.
TRAINER'S ROOM
Angels: Rookie infielder Kaleb Cowart also went to the DL with a sprained left ankle. He was hurt when he missed a step off the team bus upon arrival in Minnesota after an overnight flight. Cowart was called up to replace Simmons, who sprained his right ankle on Tuesday when he slipped walking down the dugout stairs.
Twins: First baseman Joe Mauer has plateaued in his recovery from concussion-like symptoms, missing his 20th straight game. Molitor said the team hasn't reached the point where a decision would be made about sending Mauer on a rehab assignment or not.
UP NEXT
Angels: LHP Tyler Skaggs pitches on Saturday afternoon. Skaggs (4-4, 3.27 ERA), who has surrendered two runs or fewer in nine of his 12 starts, took a no-decision against the Twins on May 11 after giving up two runs on six hits and two walks with seven strikeouts in six innings.
Twins: RHP Kyle Gibson takes the mound in the middle game of the series. Gibson (1-3, 3.54 ERA), who hasn't won in 12 turns since throwing six no-hit innings in his season debut on March 31, gave up two runs on three hits and four walks with six strikeouts in six innings of a no-decision against the Angels on May 12.
---
For more AP baseball coverage: https://apnews.com/tag/MLBbaseball
---
---