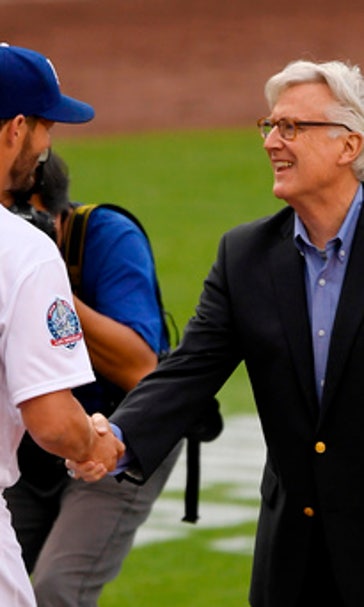 Dodgers get 1st runs and win of season, 5-0 over Giants
April 1, 2018
LOS ANGELES (AP) The rap music boomed in the clubhouse, and Dave Roberts succinctly summed up the collective relief.
''We won a game,'' the Dodgers manager said, smiling.
Kenta Maeda struck out 10 over five scoreless innings, and Los Angeles finally found its offense to beat the San Francisco Giants 5-0 on Saturday night for the team's first win of the season.
The Dodgers got their loudest cheers in the first inning for a sacrifice fly by Yasiel Puig that scored their first run of the season, snapping an 18-inning scoreless streak that was the second-longest in franchise history.
After striking out 18 times in a pair of 1-0 defeats to open the season, the Dodgers led 2-0 when Matt Kemp followed Puig with an RBI single off Derek Holland (0-1). It was Kemp's first RBI with the team since Sept. 28, 2014.
Kike Hernandez added a run with another sacrifice fly in the third.
Maeda (1-0) allowed five hits and walked one. He faced baserunners in every inning except the fifth.
''My four-seam fastball was pretty good,'' the Japanese said through a translator.
He pitched out of a jam in the second. Maeda gave up two-out singles to Hunter Pence and Gregor Blanco, putting the tying runs on first and second before Holland struck out looking to end the inning.
''Kenta was on the attack from the beginning,'' Roberts said. ''His fastball velocity was really good and he kept these guys off-balance and was in control all night long.''
Relievers Ross Stripling, Pedro Baez and Scott Alexander combined to toss four scoreless innings.
The Dodgers extended their lead to 5-0 in the fourth on a two-run error by center fielder Blanco. Kyle Farmer was safe at second after Blanco and right fielder Andrew McCutchen miscommunicated on a fly ball and Blanco dropped it, allowing Cody Bellinger and Austin Barnes to score. Holland walked both Bellinger and Barnes.
''I don't think we heard each other because we were both screaming,'' McCutchen said. ''I backed off at the last minute when I saw him going after it. It is just one of those crazy plays that happens. They scored two runs off it, you hate that.''
Holland gave up five runs - three earned - and three hits in five innings of his Giants debut. The left-hander struck out four and walked three.
The Giants collected nine hits and left 10 runners on base while failing to advance anyone past second.
Joe Panik, whose solo homers beat the Dodgers in the first two games, hit into a game-ending double play in the ninth.
McCutchen and Evan Longoria - two big offseason acquisitions for the Giants - continued to struggle. McCutchen is 1 for 12 with two strikeouts and Longoria is 0 for 11 with four strikeouts in their first three games.
''I'm getting the pitches to hit, I'm just not hitting them,'' Longoria said. ''I'm chasing and probably a little too hard, trying to do too much. It gets magnified when you lose for sure, when you don't get hits.''
TRAINER'S ROOM
Giants: RHP Jeff Samardzija, on the DL with a pectoral strain, threw about 20 pitches in a side session and will try a bullpen session on Tuesday. Manager Bruce Bochy said he could begin a rehab assignment within a week. ... After seeking a second opinion, RHP Julian Hernandez is scheduled for Tommy John surgery on Thursday in Arizona.
RING CEREMONY
The Dodgers received their NL championship rings in a ceremony on the field before the game. Local children met players and coaches near home plate and presented them with a box containing the jewelry. The team's logo is over 1 carat of white diamonds, with 0.6 carats of blue sapphires behind it, and ''2017 National League Champions'' written around it. One side features the player's name above an engraving of Dodger Stadium with the player's number in the scoreboard silhouette. The other side features the team and MLB logos and the LA-best record of 104-58, along with the club's postseason slogan, ''This Team.''
SLOW START
The Giants have scored two runs on 19 hits in three games. ''We are going to get going, get moving, things will start turning,'' McCutchen said. ''We are too good of a team for it not to. No one is stressing on it over here.''
OOPSIE
The Giants had three errors, their most since last April 30 against San Diego. Besides Blanco's miscue, Longoria and Brandon Belt had errors. The Dodgers turned two double plays to atone for their four errors - three by Logan Forsythe - on Friday.
NO PANIK
Panik is 5-for-12 with two homers and two RBIs in his first three games. The second baseman has hit safely in eight of his last 10 at Dodger Stadium, batting .325 with one double, two homers and four RBIs.
UP NEXT
Right-hander Chris Stratton of the Giants opposes left-hander Rich Hill in the series finale. Stratton allowed three runs or fewer in each of his last nine starts in 2017 with a 2.42 ERA. Hill is 5-2 with a 2.43 ERA in 11 career starts against San Francisco.
---
More AP baseball: https://apnews.com/tag/MLBbaseball
---
---