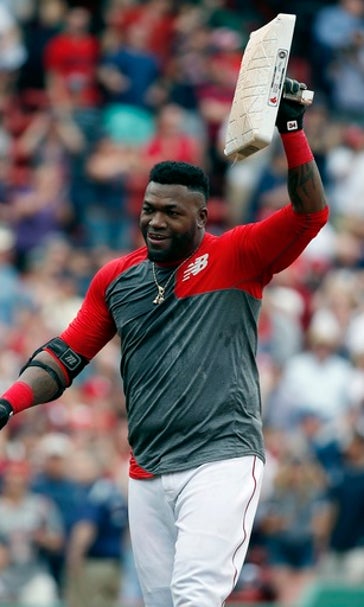 Big Papi puts on big show, lifts Red Sox over Astros in 11th
May 14, 2016

BOSTON (AP) David Ortiz hit a winning double with two outs in the 11th inning after lining a tying triple in the ninth and earlier moving into 20th place on the career home run list, sending the Boston Red Sox past the Houston Astros 6-5 on Saturday.
Ortiz was blasted with white powdery spray from his teammates at second base after the victory. Big Papi later walked off the field holding the bag over his head.
Boston's Jackie Bradley Jr. singled in the first inning, extending the majors' longest hitting streak to 20 games. George Springer hit a grand slam and Carlos Correa a solo homer for the Astros.
Ortiz broke a tie with Ernie Banks and Eddie Mathews with his 513th homer, a drive that cleared Boston's bullpen and sailed into the bleacher seats. The shot in the third was his 10th of the season.
Houston led 5-4 with two outs in the ninth when Ortiz hit an RBI triple just past diving center fielder Jake Marisnick. After sliding into third, 40-year-old slugger got up and pumped both fists toward his dugout following his first triple since June 15, 2013.
Hanley Ramirez then tried to bunt on the first pitch, but closer Luke Gregerson threw him out.
In the 11th, Xander Bogaerts singled with two outs against Michael Feliz (1-1) and advanced on a wild pitch. Ortiz hit a drive off the base of the center-field wall for his 600th career double to win it.
Ortiz joined Hank Aaron and Barry Bonds as the only major leaguers with at least 500 home runs and 600 doubles.
Koji Uehara (2-1) pitched a scoreless 11th for the win.
Jose Altuve reached five times with two singles and three walks for the Astros.
Houston starter Collin McHugh gave up four runs over six innings. The Red Sox entered averaging 11.4 runs in the first five games of a seven-game homestand that concludes on Sunday against the Astros.
Springer's slam off Clay Buchholz caromed off a billboard above the Green Monster seats to make it 5-2 in the second. Springer homered for the third time in four games, and for the second straight day at Fenway Park.
There was a spattering of boos before Buchholz was booed louder as he walked off after the inning's last out. Buchholz was charged with five runs in six innings, but held Houston scoreless over his final four.
Correa's homer completely left the park over the Monster, making it 1-0 in the first.
TRAINER'S ROOM
Astros: Manager A.J. Hinch said two off days in the next two weeks has his rotation in ''a little bit of a mess.'' His plan is to go with a four-man rotation until they open a series in Baltimore on May 24.
Red Sox: Second baseman Dustin Pedroia was rested, but pinch hit and grounded out with a runner on second in the eighth. He had started in 35 of the first 36 games before Josh Rutledge played at his position and went 1-for-3 with a double.
UP NEXT
Astros RHP Chris Devinski (0-2, 1.72 ERA) hopes to get better run support in his fourth major league start. The 25-year-old has received just three total, with the club being shut out twice in his starts. RHP Sean O'Sullivan (1-0, 6.43) starts for Boston.
---
---