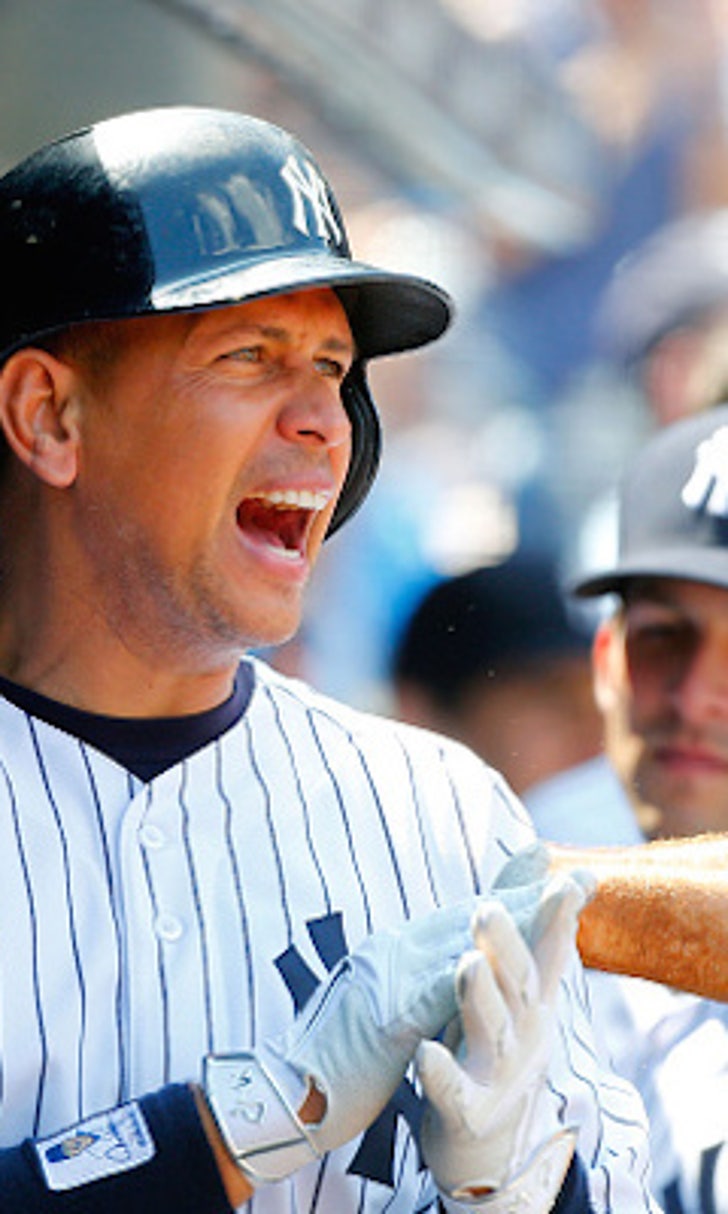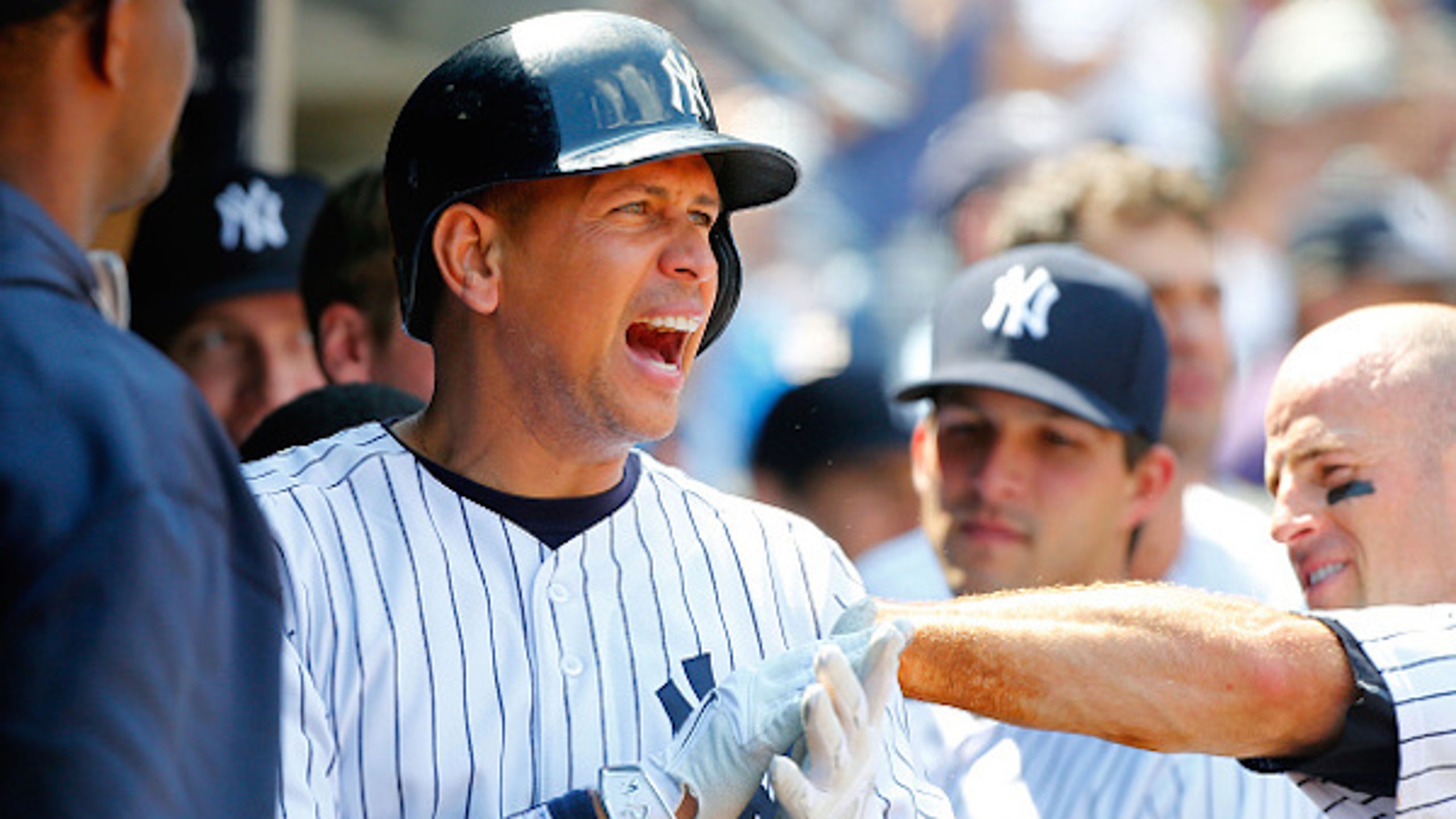 Alex Rodriguez's almost-great story
BY foxsports • June 16, 2015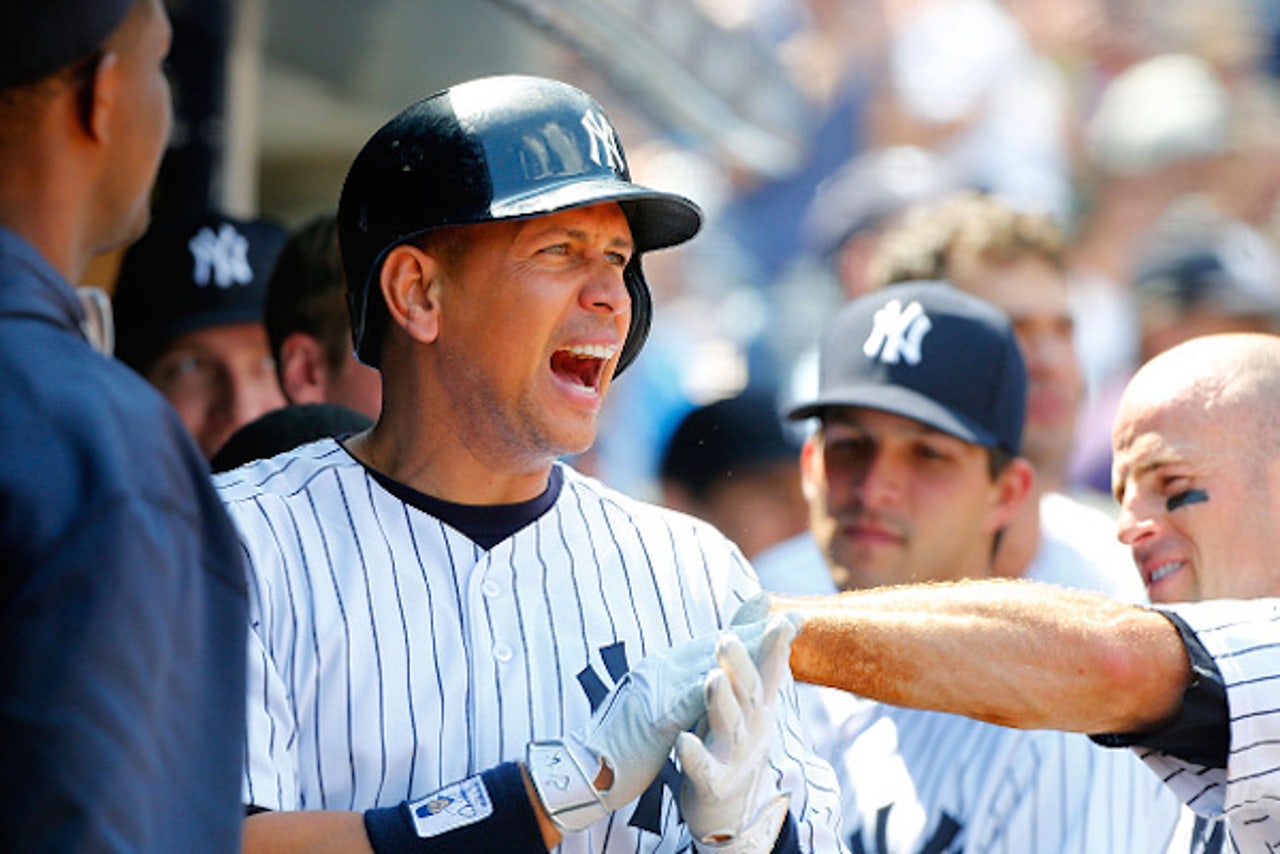 By Jeff Sullivan
With two down in the ninth inning Monday night, Alex Rodriguez came up for the New York Yankees with a chance to be the hero. It didn't work out that way, and the Yankees lost, but there was reason for hope. More reason, perhaps, than there would've been with nearly any other Yankee hitter. That's saying something, considering where Rodriguez has been, considering where his relationship with the team has been and considering the team is pretty good.
Technically, a great story shouldn't require anything more than interesting characters and a captivating plot. That's not the way it's used in conversation, though. The connotation is that a great story revolves around a character you want to root for, and the character earns a deserved payoff. For the average person, a great story should be uplifting. I'm not sure Alex Rodriguez is capable of broadly stirring such sentiment. His personal tale will forever be tainted, and that's an obstacle for many even if you're not among them. But the story Rodriguez is presently authoring is almost great. With just about everyone prepared to give up on him, a seemingly cleaned-up Rodriguez is soaring, allowing observers to ever so fleetingly forget about that other stuff.
The other stuff, more often than not, is the central stuff. Alex Rodriguez is what Alex Rodriguez has done. Even when his history isn't explicitly laid out, it's already familiar, embedded even in the minds of people who have better things to do than watch sports. A-Rod news has had a way of taking up the space it's given, so everyone has at least some sense of what's gone on. Baseball superstar. Asterisks and disgrace. Lies upon lies. Insincerity. Do that for 20 years and you can't spend one season making up for it. There's no chance for a full recovery. No total forgiveness, no unknowing the known. But you have to give Rodriguez this: 2015 has been a triumphant year to date. For the first year anyone can remember, he's doing just about everything right.
And there's no getting around the performance. We don't know if A-Rod is clean. We don't know if anyone is clean. It seems like this would be the last year Rodriguez would want to risk getting caught, but who knows how he works? I want to give him the benefit of the doubt. Regardless, the Yankees are a modest surprise, a game out of first place in the American League East. Powering the way have been a couple of offensive surprises. I compared season statistics to the preseason projections you would've seen on the depth-charts pages. The guy beating his projection by the most, of course, has been Bryce Harper, topping the forecast by 126 points of wOBA. Meanwhile, two names are tied for ninth: both Mark Teixeira and Alex Rodriguez have bested their projections by 68 points. There are many reasons why the Yankees are where they are in the standings. They're getting big numbers from two guys who are a combined 75 years old.
This, specifically, is about Rodriguez — not Teixeira, and so many elements are there for an unforgettable story. The disgraced icon comes clean and finds himself after being suspended a whole year. Rodriguez is now close to what he was at his offensive peak in a season in which he's going to turn 40. There's no telling how sustainable that is, but he's having his playing time monitored, and all the indicators are encouraging. By wRC+, what Rodriguez has now would be the sixth-best season by a 39-year-old in baseball history. Maybe he'll wear down. Or maybe he'll keep being what he's been.
There's not a long history of players 35 and over who've come back and been successful after missing a full season. You can imagine some of the reasons why. The highest such wRC+ belongs to Phil Weintraub, but he did that in 1944. Rodriguez right now would stand in second place. Then there's Billy Herman, in 1946. For a contemporary example, we have 2010 Jim Edmonds. And 2000 Andres Galarraga. This isn't totally unprecedented. But it's just a part of the Alex Rodriguez tale, not the whole thing that makes this amazing.
If you ask Bud Norris, Rodriguez was actually helped by his time away from the game:
The suspension for 2014, Norris suggested, surely helped Rodriguez rejuvenate his 39-year-old body for this season.

"He missed a year and a half," Norris said. "He got a whole year fresh and everything else."
It sounds sensible enough, and it could explain the Edmonds case, too. Bodies tend to respond well to no longer being forced to take daily beatings. But then, Rodriguez played no games in 2014, after playing 44 in 2013. He spent a lot of time not being exposed to the speed of major-league baseball. He rebounded almost instantly. There's a lot of talent here being put to use.
And consider some of the statistics. All of the following are true. A-Rod turns 40 on July 27.
There had been thought that Rodriguez might have trouble catching up to big-league fastballs, with declining bat speed and an operated-on lower body. So much for that: Rodriguez is second in baseball in average batted-ball speed against heaters, behind the curious Mitch Moreland but ahead of Giancarlo Stanton and Joc Pederson and everybody else. Via Brooks Baseball, opponents have noticed, so they're not just trying to blow Rodriguez away: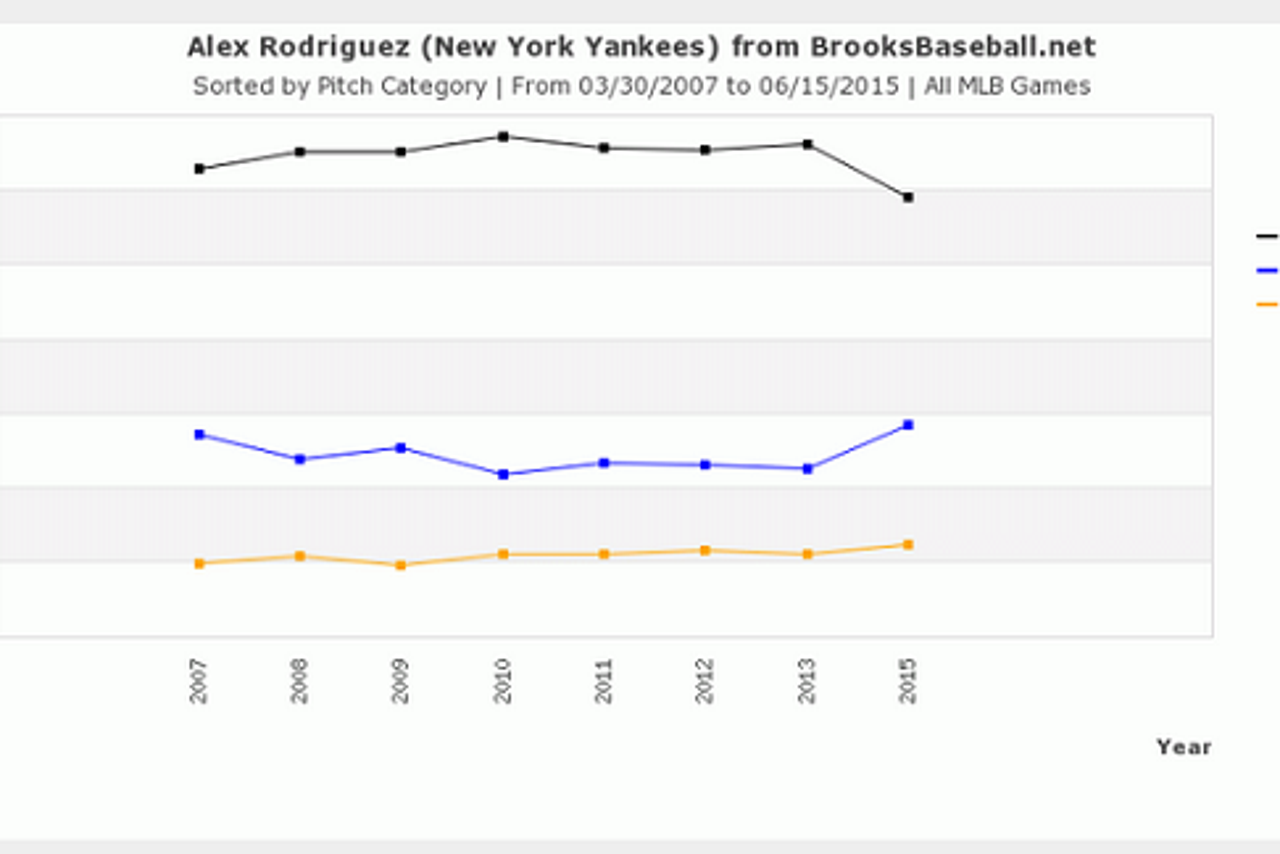 A-Rod is seeing the lowest rate of fastballs we have on record for him. Some of this, absolutely, could be cheating — could be that he's hunting fastballs, leaving himself vulnerable against softer stuff. Wouldn't be the first old player to assume such an approach, trying to squeeze out the very last drops of productivity. But, A-Rod isn't yanking those fastballs. He isn't getting ahead and pulling those pitches. He's driven several of them up the middle and the other way. If I didn't know better I wouldn't think he's even close to the end. He has to be — that's just the way the game works — but for at least this long, Rodriguez has looked like he's hardly declined.
It's remarkable. I'm not actually sure which is more remarkable — A-Rod avoiding negative press, or A-Rod hitting as well as Kris Bryant and Andrew McCutchen. But here we are, in the middle of June, with the Yankees in the race, and where once this team just wanted Rodriguez to go away, now he's one of their more important contributors in a season that could've gone a hell of a lot worse. I'm sure they'd be happy to be rid of Rodriguez if it meant they'd be rid of the salary. He's earning an awful lot, and that contract doesn't end for a while yet. But given that Rodriguez isn't just going away, this might be going about as well as possible for all parties involved. It's the stuff of a movie that would almost make people feel good.
More from Fangraphs:
---
---