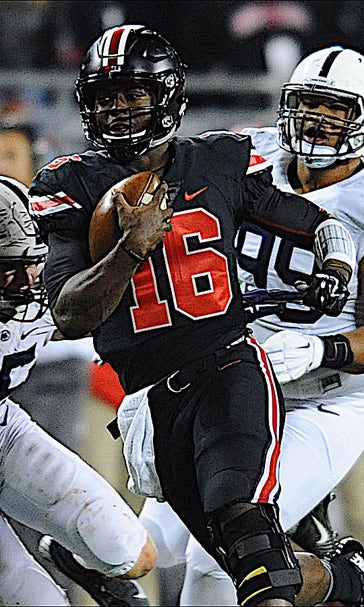 Penn State coaches: Fixing tackling at this point has challenges
October 30, 2015

Penn State prides itself on strong defense, and that unit has been the backbone of most of the program's success during the first two years of James Franklin's tenure as head coach. 
Coming off consecutive games in which the Nittany Lions have given up over 30 points, though, coordinator John Shoop admitted tackling has been an issue against Ohio State and Maryland.
Franklin said earlier in the week mobile Buckeyes and Terrapins quarterbacks had given the Nittany Lions problems. 
The head coach also revealed plans to scale back physicality at practice this week so the team could get healthier for the stretch run, which includes a week off after games against Illinois on Saturday and at Northwestern on Nov. 7.
That presents a bit of a dilemma when it comes to fixing tackling issues.
"Certainly, you can't do much live in the course of practice, but each of us as coaches during individuals does some form and fit tackling," Shoop told reporters this week. "In team drills against the scouts, it's about emphasizing a good finishing position -- knees bent, chest up, eyes up -- fundamental position
"Sometimes I think at this point of the season it's difficult to emphasize those things because legs are worn down. People are weary. It's a grind. We are in week nine here. And we understand that's something we need to improve upon to be the type of good tackling team. It's the proper fundamentals."
---
---