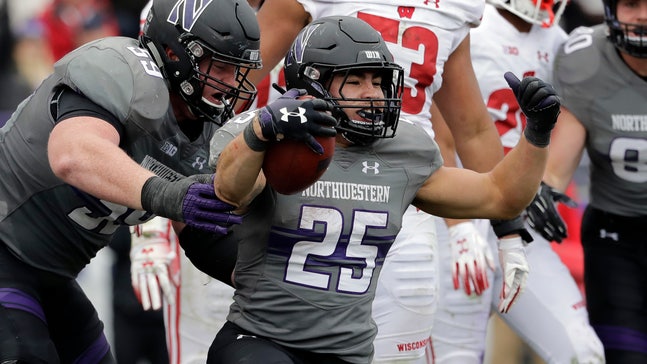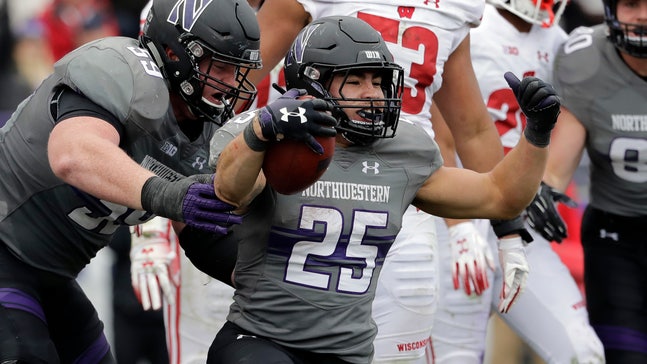 Eyeing playoffs, Irish look to keep rolling at Northwestern
Updated
Mar. 4, 2020 6:22 p.m. ET
EVANSTON, Ill. (AP) — No need to remind No. 3 Notre Dame.
The Fighting Irish remember what happened last season when they were rolling along with their sights set on the playoffs. They're out to avoid a repeat.
Notre Dame looks to remain unbeaten and in line for a playoff berth when it visits Northwestern on Saturday night.
"We just need to be focused on the right things on and off the field," receiver Miles Boykin said. "That's what we learned from last year."
The Irish (8-0) are off to their best start since the 2012 team went undefeated all the way until a lopsided loss to Alabama in the BCS championship game. When the College Football Playoff rankings came out this week, they were No. 4.
As good as that all sounds, Notre Dame found itself in a similar spot a year ago. And things didn't go the way the Irish wanted after that.
They were No. 3 in the first two playoff rankings en route to an 8-1 start, only to go 2-2 the rest of the way — starting with a blowout loss to Miami. Now, they're one of four remaining unbeaten FBS teams along with No. 1 Alabama, No. 2 Clemson and No. 9 Central Florida.
"I think we just deviated from our process, looking too far into the future," center Sam Mustipher said of 2017. "I am sure last year at this time we were saying, 'We're focused on now, this is what we're doing.' But I remember last year when the first playoff rankings came out, we had the TVs and everyone was watching. We were sending out tweets and videos of what we came in at."
But this year?
"It's not like that because we know the only ranking that matters is the last one," Mustipher said.
Notre Dame has won its first eight games for the 10th time in the past 68 years. Three of those teams (1966, 1973 and 1988) won championships, and if they are going to stay in the running, they can't afford to stumble against Northwestern.
The Wildcats (5-3) have won four in a row since a three-game slide to grab the lead in the Big Ten West. They're stepping out of conference play at an unusual time to take on one of the top teams in the nation.
"What a great opportunity," coach Pat Fitzgerald said. "We've got nothing to lose so our guys are gonna, I think, prepare really well. And I think they're gonna be excited for the challenge."
ROLLING 'CATS
Northwestern is coming off a 31-17 victory over short-handed Wisconsin and leads the Badgers, Purdue and Iowa by 1 1/2 games in the Big Ten West. Though this week's matchup won't impact the division standings, a win would still be huge for the Wildcats. They haven't beaten a top-five opponent since the 1959 team opened with victories over No. 2 Oklahoma and No. 5 Iowa. Northwestern's coach back then? Ara Parseghian, who went on to lead Notre Dame to two national championships.
BOOK IT
Notre Dame quarterback Ian Book has been on quite a roll since he replaced Brandon Wimbush. He's 5-0 as the starter and leads all FBS quarterbacks with a 76.5 completion percentage in his six games. Book was particularly good in last week's 44-22 rout of Navy in San Diego, completing 27 of 33 passes for 330 yards and two touchdowns.
IMPRESSIVE RUN
Freshman Isaiah Bowser appears to be settling in as the Wildcats' No. 1 running back with back-to-back 100-yard games. He has run for 225 yards and his first three touchdowns the past two weeks after getting just two yards on two attempts in his first three games. He followed up a breakout outing against Rutgers with 117 yards and a TD against Wisconsin. The Wildcats struggled running the ball for a few weeks after Jeremy Larkin was forced to stop playing football because of a spinal issue. He ran for 346 and five touchdowns in three games before retiring.
CATCHING ON
Boykin seems to have benefited from the quarterback change at Notre Dame. The 6-foot-4 senior has 28 catches for 409 yards and six touchdowns with Book starting the past five games. He figures to be challenged by cornerback Montre Hartage, who has just one interception but 12 pass breakups.
SERIES SPEAKING
Though they have a 37-9-2 edge in a series that dates to 1889, the Irish have dropped the past two games to the Wildcats, both at home. Northwestern beat Notre Dame 43-40 on Nov. 11, 2014, and 17-15 on Sept. 2, 1995, when Fitzgerald was a star linebacker for the Wildcats. This is the first trip to Evanston for the Irish since a 48-0 romp on Sept. 25, 1976. And they're the first top-three team to visit Ryan Field since No. 1 Ohio State in 2006.
---
---