Za'Darius Smith humiliates Browns' Spencer Drango (Video)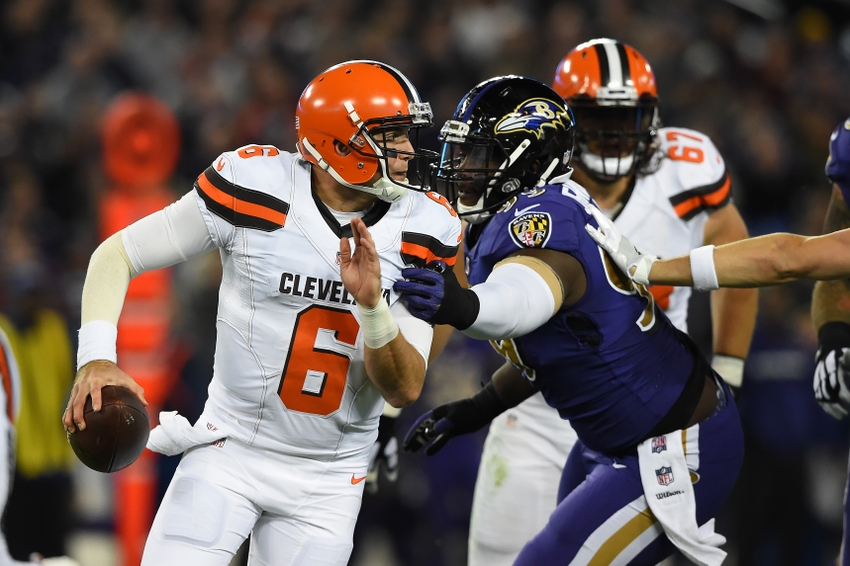 Cleveland Browns guard Spencer Drango illustrates on one failed block attempt why the Browns aren't going to win a single game this football season.
Thursday Night Football in Week 10 was probably the Cleveland Browns' best shot at winning a game in 2016. The Baltimore Ravens might be .500, but this is not an elite Ravens team from yesteryear.
When the Browns decided to go with veteran Josh McCown at quarterback over rookie Cody Kessler, everything started to go wrong for Cleveland.
That includes rookie guard Spencer Drango forgetting he gets paid to pass protect in the National Football League. Ravens pass rusher Za'Darius Smith could not have humiliated Drango more on this play.
No, Spencer, Smith didn't Deacon Jones you by slapping you in the helmet to get around you. Drango just stood there completely dumbfounded like he was taking a nap upright like a horse in a stable.
McCown had no chance to evade this pass rush. Smith devoured him and forced a fumble that McCown quickly recovered. With Baylor running the Air Raid and all, you'd think that Drango would have learned how to pass protect while in college.
More on FanSided:
That's a play that Jackson cannot tolerate from his rookie guard. He's playing next to one of the greatest offensive lineman in the NFL today in left tackle Joe Thomas. Apparently proximity to greatness means absolutely nothing.
Cleveland would wither like a flower in the Phoenix sun almost instantly after the worst pass block the NFL has seen this season. This was the NFL equivalent of being posterized on a dunk in the NBA. Smith was Shawn Kemp and Drango was made to look like Shawn Bradley.
The Browns have had their moments this season, showcasing that they can compete for like 40 minutes a game. For a team that isn't going to win a game this season, this has to be the worst loss for the Browns this season. That play symbolized the Browns' lackluster effort in the second half. Does Deshaun Watson really want to leave school early?
This article originally appeared on