Dallas Cowboys must sign dominant pass rusher to win a title
For the Dallas Cowboys to beat elite passing offenses in the playoffs like Green Bay, Atlanta, and New England; a dominant pass rusher must be signed.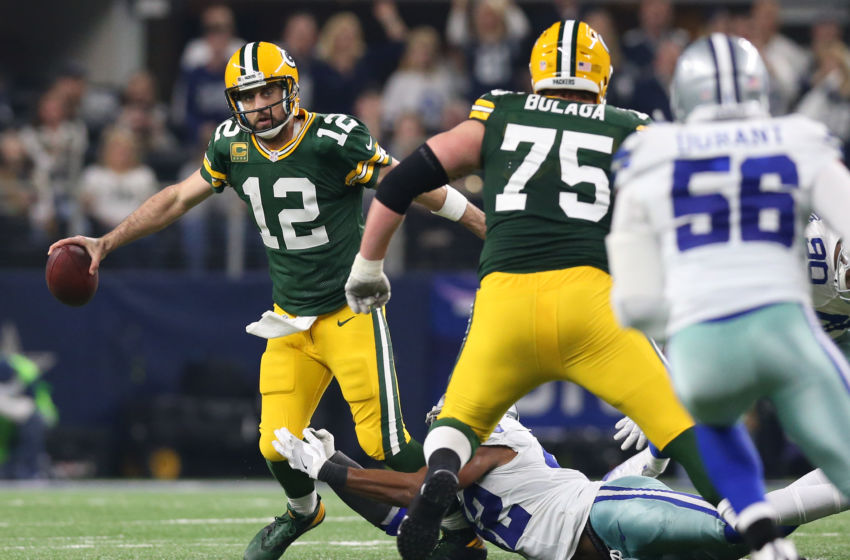 The Dallas Cowboys have consistently undervalued pass rush for years. The slight has proven to be a fatal flaw and is now bordering on insanity.
As most know, Einstein's definition of insanity is doing the same thing over and over and expecting different results.
While improving, the 2016 Dallas pass rush again ranked outside the top 12 in sacks (13th – 36 sacks) for the fifth straight season.
For two straight playoff campaigns, the same pass-happy Packers and gunslinger quarterback Aaron Rodgers ended the Cowboys' season.
In 2014, Rodgers faced weak pressure while throwing for 316 yards and three scores.
Last Sunday, he enjoyed excess time to crank out 355 passing yards and two touchdowns.
Newsflash, the high flying Packers and Rodgers' rocket arm will continue to be a postseason threat for years to come.
To beat elite passing offenses and top quarterbacks like those in Green Bay, Atlanta, and New England, Dallas must sign a dominant pass rusher.

COWBOYS ONE ELITE RUSHER AWAY
The good new is the defense is not that far away from worthy pressure. Only one huge piece needs to be added…right defensive end (rush end).
Forget relying on the draft, Jerry Jones needs to pony up the cash for a proven commodity at rush end. Just like he did for Charles Haley in the 90's.
Rush end is supposed to house the best pass rusher on the team. He's tasked with defeating the left tackle to attack the QB's blindside.
In 2015 Dallas made a maligned attempt to fill this role by signing veteran Greg Hardy and drafting Randy Gregory.
On both counts they learned trusting current and future defensive pressure to heavily damaged goods would blow up in their face.
Hardy was fresh off a domestic abuse suspension and Gregory failed the combine drug test just before the draft. Neither did much but prevent a solution.
It's time for Dallas to allocate a large contract to a proven, high production rush end with a clean history (no NFL infractions) and passion for the game.

QUALITY RUSH SUPPORT RETURNS
Once an elite rush end is added, DeMarcus Lawrence will be a worthy starting compliment at left end (8 sacks in 2015).
Lawrence (1 sack) had a diluted 2016 campaign absorbing a 4-game suspension and nagging back injury. He only played 9 games and never returned to form.
Once he regains health and completes a full off-season, Lawrence will rise again.
Depth at end also looks solid with three talented, rotational back-ups returning.
Benson Mayowa (6 sacks) came on late and is a worthy rotational player.
David Irving (4 sacks) is an Exclusive Rights Free Agent. A minimal terms, one year contract will lock him in for another season.
Rookie Charles Tapper will return healthy after missing 2016 on injured reserve.
The interior (DT) rush will be fine with rookie Maliek Collins (5 sacks) emerging and Tyrone Crawford (4.5 sacks) moving back inside.
Terrell McClain (2.5 sacks) needs to be re-signed to complete the trio of tackles.

TOP 2017 RUSH END TARGET
CHANDLER JONES (6'5, 247)
2016: 11 sacks, 19 QB hits, 4 forced fumbles, 2 fumble rec, 3 pass def
Career (5 seasons): 47 sacks, 14 forced fumbles, 4 fumble rec, 12 pass def
Jones is a heavy production pass rusher just entering his prime at 26 years old.
He has one past incident of concern, but it seems to be a forgiven anomaly.
Six days before New England's 2015 AFC Divisional Round playoff game, Jones showed up at a health facility disoriented but cooperative on synthetic marijuana.
While very dangerous, the substance was not illegal nor banned by the NFL at the time. The league added it to the banned list in 2016.
He played nearly four seasons for New England without issue before the incident. Then continued to be issue free this season after being traded to Arizona.
Arizona paid Jones $7.8 million for one year. After his third double-digit sack season in five tries, Jones will command a large deal in free agency.
It's not clear if the Cardinals will match the pricey market offers he'll receive, but he received high praise from coaches and teammates earlier in the season.
If Dallas could wrestle this heavy pass rusher away and pair him with Lawrence, they'd be poised to terrorize opposing quarterbacks in 2017.
This article originally appeared on