Blog: NFL agent Carmen Wallace offers new perspective on draft day
Carmen Wallace has represented athletes for the past 17 years and was one of the founding members of Athletes First.
Wallace has assisted with contract negotiations for clients such as Carson Palmer, Miles Austin, Aaron Rodgers, Ray Lewis and Clay Matthews.
This year, Wallace and his associates at Athletes First are representing Texas A&M offensive tackle Jake Matthews, Alabama safety Ha Ha Clinton-Dix, USC wide receiver Marqise Lee, Minnesota defensive tackle Ra'Shede Hageman and USC center Marcus Martin, all players who will be present in the green room at Radio City Thursday night.
Wallace will be posting live, time-stamped blog entries on FOXSports.com to give readers another perspective of the draft-day experience.
Follow along as draft day unfolds:
SATURDAY – 7:52 p.m. ET
That wraps the 2014 NFL Draft, and with 17 players drafted our work is not done yet. Now we will continue to work the phones for our few guys who did not hear their names called to get them signed as free agents. Once that is completed, we can take a breath and then start helping all of our guys transition to their new homes. Some teams have also let us know that they may want to start contract negotiations for these rookie contracts as early as Monday. Amazingly, we have already turned our attention to next year's draft as well.
The draft is about years of hard work, dedication and sacrifice with a little luck thrown in, that culminates in dreams being realized. The sobering fact though, is that for every dream realized another's hopes are dashed as roster spaces have to be made for these rookies to come in.
That is the reality of life in the NFL.
SATURDAY – 6:16 p.m. ET
SATURDAY – 4:22 p.m. ET
SATURDAY – 2:18 p.m. ET
Tennessee State's Kadeem Edwards to Tampa Bay early in the fifth round. Another hard worker who should help Tampa Bay early in his career.
SATURDAY – 2:07 p.m. ET
Coastal Carolina's Lorenzo Taliaferro to Baltimore gives A1 its most clients drafted through four rounds in its history! Congrats to Lorenzo. Your hard work through the process made this a reality. You deserve it!
SATURDAY – 1:52 p.m. ET
A1 client Shane Vereen's younger Brock Vereen was just selected by the Chicago Bears. One of the hardest working kids around. I know I have said this a lot, but another fantastic family!
SATURDAY – 1:35 p.m. ET
De' Anthony Thomas will be a fantastic fit in KC. Athletes First client Jamaal Charles is ready to take you under his wing. Congrats, buddy!
SATURDAY – 1:24 p.m. ET
Logan Thomas to Arizona where he will get a chance to learn behind one of the greats in Athletes First client Carson Palmer. And the A1 double up continues with Carl Bradford to Green Bay. Our draft doubles thus far: Logan and Troy in Arizona. Ha Ha and Carl in Green Bay. Jake and Ra'Shede in Atlanta. Kyle and Travis In Detroit.
SATURDAY – 12:40 p.m. ET
And our Blue Devil gets off the board at the beginning of Round 4. Ross Cockrell is one of the most appreciative young men I have ever worked with. What a special family as well. Go Duke!
SATURDAY – 12:05 p.m. ET
Today is the day where NFL scouting departments make their mark. There are still a lot of quality players available and hopefully today is as exciting as yesterday.
FRIDAY – 11:27 p.m. ET
FRIDAY – 10:18 p.m. ET
Travis Swanson comes off the board to join Kyle in Detroit. He is a hard working guy that will give them everything he has.
FRIDAY – 9:54 p.m. ET
FRIDAY – 8:44 p.m. ET
Athletes First Notre Dame tradition continues with Troy Niklas going to the Arizona Cardinals. It also continues the Matthews family tradition as Troy is Jake, Clay, Casey and Kevin's first cousin! What an amazing bloodline!
FRIDAY – 8:40 p.m. ET
Kyle Van Noy and his fiancee Miss Utah USA Marissa Powell are Detroit bound.
FRIDAY – 8:00 p.m. ET
Well, I thought the early part of this round would be fast and furious for us. Back-to-back picks for A1 as BYU LB Kyle Van Noy goes to Detroit. A perfect home for him.
FRIDAY – 7:55 p.m. ET
Marqise Lee is a kid with a smile that lights up a room. Another kid with a story that grabs your heart. All he wants to do is help kids that are in the same situation that he experienced in his childhood, and this selection by the Jacksonville Jaguars will give him the ability to do just that. Congratulations, Marqise. Great place for you! I know A1 client Chad Henne will help get you up to speed from Day 1.
FRIDAY – 7:40 p.m. ET
Ra'Shede's story is amazing. If you don't know it, take the time to research him. So excited for him. He is such a great person and his family deserves this honor! He will join Jake Matthews in Atlanta.
FRIDAY – 7:10 p.m. ET
And the Commissioner has gotten us underway again. These first few picks should prove very valuable as there is a tremendous amount of talent available. There is a strong possibility of some trades out there as well. Very intriguing.
FRIDAY – 4:55 p.m. ET
We have now reached Day 2 of the NFL Draft, and what makes today challenging from an agent's perspective is that the logistics of the Draft begin to come into play.
"@Rashedehageman: Atlanta here I come!!!!!!!!!" Yes!!!! From A1 training to ATL! Congrats Shede! #riseup #athletesfirst

— Jake Matthews (@jake_matthews75) May 9, 2014
Jake Matthews, his family and A1's Ryan Williams flew to Atlanta on the team's private jet this morning for a welcome reception. Ha Ha Clinton-Dix, on the other hand, gets to head home prior to his welcome reception in Green Bay this weekend. Since he doesn't have to head there until Sunday, he, his family, and A1's David Mulugheta are on their way to the airport to fly home.
While disappointed they did not get to hear their names called on the first night of the draft, Marqise Lee, Marcus Martin, and Ra'Shede Hageman — along with their families — are enjoying another afternoon in NYC before heading back to the green room in Radio City this evening when the Draft resumes. It speaks volumes about them maturing as men, that when faced with this disappointment, they did not take the road easily traveled of leaving NYC and watching the draft from the comfortable confines of their living rooms. They are embracing the experience that is the NFL Draft, and they want to fulfill their childhood fantasy of walking across the stage in Radio City Music Hall. It gives me goosebumps just to think about it. A1's Brian Murphy, Andrew Kessler and Joe Panos will be at their side this evening as the second night of the draft unfolds.
Athletes First president Brian Murphy wanted to do a quick guest blog entry, so I told him I would oblige:
"I have always loved watching the NFL draft, but it takes on a different meaning when you are in the Green Room with clients and their families waiting to be drafted. After spending several days in NYC, participating in all the fanfare and then being introduced to the crowd at Radio City Music Hall, the anticipation is overwhelming and the wait between picks seems like forever.
A little information on the green room would help understand this. There are 30 tables with players and their families tucked behind the stage. There are numerous televisions, but they are all on mute and so the only sound is hushed conversations at each table. Nobody really knows what is going to happen next until the camera crews approach a table and start filming a player. In some cases, the cameras are right and that player receives a call. In other cases, the crews are wrong and quickly rush to the right table when a player is seen on the phone. Cameras were pretty much camped in front of Johnny Manziel all night and he and his family handled it like rock stars. I don't know the Manziels at all, but my hat is off to them for handling a difficult night with great aplomb.
For Athletes First, it was thrilling to see Jake Matthews and Ha Ha get drafted high and to great teams. Their hard work paid off and last night will be a memory they and their families will never forget.
Last night will also be an indelible memory for our other three clients in the green room – Marqise, Ra'Shede and Big Marcus. Unfortunately none of the three heard their names called which meant it was a long night of warm sodas, water (until it ran out), brownies and cookies. For the life of me, I have no idea why the NFL cannot provide better food and cold drinks to 30 potential first round picks, but I digress.
So it was a long night and definitely frustrating for the players and their families and us agents. We want to do something to help our clients and the parents want to do something to help their children, but alas there is not much that can be done at that point except to stay positive and keep everything in perspective.
The last name was called and our three clients not yet drafted quietly made their way back to the bus — obviously disappointed. I elected to walk back to the hotel to burn off some of the brownies I ate. On the way back, I will admit that I was awash in self-pity and more importantly felt horrible for our guys. About halfway back to the hotel, I passed three homeless individuals sleeping in the doorway of a market closed for the night.
Working with the homeless has always been a passion of mine and I started thinking how dumb it was for me to be complaining about the food in the green room. Moreover, I realized how selfish and arrogant it was of me to feel bad for our clients because they wouldn't be drafted until the second day of the NFL draft! As these homeless men laying in the doorway know all too well, life could be so much worse.
Our three clients will still be drafted by the NFL and make tons of money for doing what they love. They will make more money than they can possibly spend and, most importantly, they will be role models in their communities in a position to effectuate great change.
There is no doubt and no changing the fact that it was an awful feeling not being drafted last night. These players are competitive and they want to be first-round picks because they each believe they are the best. If I could wave a magic wand and change how the draft unfolded I would in a heartbeat. I can't do that however, but the reality is that it is fine. These players will be fine. They will be better than fine. Athletes First prides ourselves on recruiting great players who are outstanding people with impeccable character. True character needs adversity to shine and last night's experience will allow these three clients to shine brightly as NFL stars as they use last night's snub to fuel their desire to be the very best.
It will be a different feeling going to the green room tonight, but one thing won't change from last night. Specifically, the clients who hear their names called tonight will be realizing a lifetime dream and will enter the NFL. It is an honor and a privilege to walk beside them as they accomplish this goal! At the end of the day, it doesn't matter if our clients are drafted on Thursday or sign as undrafted free agents. We are lucky to have them as part of the A1 family and we couldn't be more proud of them.
Now I just need to figure out how to iron my suit from last night!" — Brian Murphy
I am now settling back into our West Coast headquarters, eagerly anticipating what's in store for this evening. So many more dreams to be realized tonight, and I am lucky enough to be a part of it. Going to make some calls, conference with my colleagues, and check in on our guys before the draft gets underway.
FRIDAY – 1:25 p.m. ET
Former Texas A&M offensive tackle Jake Matthews on the jet to Atlanta.
THURSDAY – 11:57 p.m. ET
Well, the first day is in the books, and it was a very intriguing first round. Can't wait to see what tomorrow will bring and where our guys will call home. Exciting times ahead. Time to get some rest.
THURSDAY – 10:39 p.m. ET
THURSDAY – 10:36 p.m. ET
Alabama safety Ha Ha Clinton-Dix hears the phone buzz. It's the Green Bay Packers.
THURSDAY – 10:21 p.m. ET
The draft is progressing quickly and the guys are still in good spirits in the green room. All of them are enjoying the experience.
THURSDAY – 8:58 p.m. ET
THURSDAY – 8:39 p.m. ET
THURSDAY – 8:17 p.m. ET
Congrats to Clowney! We got a chance to sit down with him and he was a great kid. Very humble.
THURSDAY – 8:14 p.m. ET
THURSDAY – 8:03 p.m. ET
Joby Branion, Athletes First executive director, flew home from NYC to Chapel Hill to work the phones in his lucky Von Miller Eat Greedy shirt.
THURSDAY – 7:51 p.m. ET
As I watch the invitees get introduced on stage, I think back to when I was here for the first time with Carson Palmer, and how much the draft has evolved.
In 2003, there were eight to 12 players invited, and the draft started on a Saturday morning.
Now, there are 30 players, and the first round sits alone in primetime on Thursday night. The NFL has really become America's sport.
THURSDAY – 7:28 p.m. ET
Radio City! You can feel the excitement in the building.
THURSDAY – 7:10 p.m. ET
THURSDAY – 6:55 p.m. ET
The marketing boys are making sure any possible draft day deals are being handled.
THURSDAY – 6:50 p.m. ET
Savannah Wall and Danielle Moson making sure all of the information being gathered is in order.
THURSDAY – 6:44 p.m. ET
New York isn't the only place where Athletes First agents are working hard. Back at our headquarters in Laguna Hills, Calif. the phones continue to ring in anticipation of what's to come. CEO David Dunn and vice president/general counsel Mark Humenik comparing notes while gathering information.
THURSDAY – 5:45 p.m. ET
THURSDAY – 4:58 p.m. ET
This is the calm before the storm. All the athletes are in their rooms getting dressed in their brand new suits so they can meet their moms in the lobby at 5. It's ironic that they meet their moms and go with them to Radio City Hall, and there they will go turn from college kids to professional athletes.
Nobody knows what is in the cards for tonight or for the future, but what we do know is that these moms (and dads) are going to watch their kids accomplish a dream that many of us had growing up — becoming a professional football player.
It really doesn't matter if it happens tonight or tomorrow or Saturday, these boys will soon be living out the dreams of so many men. It is an honor to be here with them and their parents to see that come to fruition. At the end of the day, the draft is all about dreams coming true. It makes me think back to something Coach K used to say to us before games (I was captain of the Duke basketball team way back in 1997).
"Enjoy the moment, allow yourself to be a part of something bigger than just you. When you do that, you will be proud of the journey, no matter what result."
THURSDAY – 4:41 p.m. ET
Minnesota defensive tackle Ra'Shede Hageman gets ready for the big evening in his hotel room
THURSDAY – 4:40 p.m. ET
The Matthews family hanging out in Jake's room.
THURSDAY – 4:25 p.m. ET
THURSDAY – 4:22 p.m. ET
THURSDAY – 4:01 p.m. ET
Alabama safety Ha Ha Clinton-Dix doing a quick pre-draft interview.
THURSDAY – 3:43 p.m. ET
THURSDAY – 3:16 p.m. ET
THURSDAY – 1:21 p.m. ET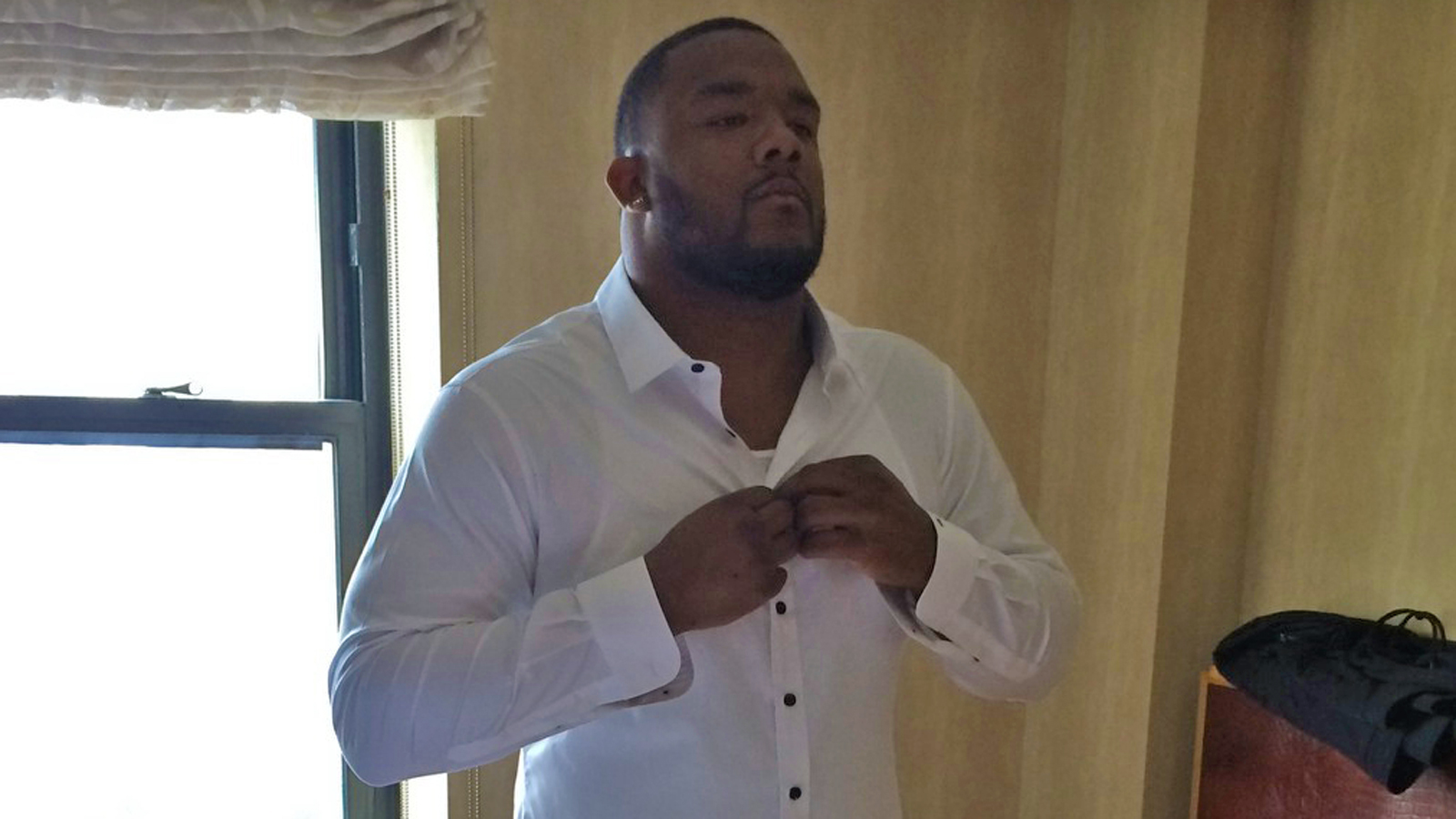 Draft day is here and I followed my annual draft morning tradition.
THURSDAY – 12:25 a.m. ET
Just got back to the hotel room and draft day is here.
Athletes First has six rookies in New York City for the NFL Draft. While five were invited to the green room, Duke cornerback Ross Cockrell was invited for the NFLPA's rookie debut party this evening.
WEDNESDAY – 7:25 p.m. ET
As NFL Draft Eve is upon us, I'm reminded of the previous 16 I've had the opportunity to experience from the inside. From Athletes First's first draft class in 2001, with first-round picks Reggie Wayne and Jamal Reynolds, to last year's first-round selections Kenny Vaccaro, Cordarrelle Patterson and Travis Frederick, the realization of this life-changing moment for these young men is something that is so amazing to share. It's the things that happen when the cameras aren't around that stick with me the most.
2003 – Celebration
The 2003 Draft with Carson Palmer was unlike any other for us. Carson's contract was completed and signed before the Draft even started, and he knew he was chosen No. 1 overall before his name was called on stage at Radio City. The night before the draft was more of celebration instead of anticipation for what was in store the following day.
2009 – Revelation
In 2009, I spent the night before the draft walking Times Square with Mark Sanchez. We discussed how much he would love to play in NYC, and all the changes that were about to take place in his life. He then jumped on a redeye to the Athletes First headquarters in Orange County to watch the draft with his grandmother who could not fly across the country to attend the festivities. Ironically, he ended up going fifth overall to the New York Jets. That next morning, I drove to B.J. Raji's house in New Jersey to watch the draft with him as he was selected ninth overall. After B.J. was selected, I drove from his house on one side of Jersey to Donald Brown's house on the other side of Jersey in time for his selection at No. 27. We were also fortunate enough to have Clay Matthews and Eric Wood selected in that first round as well. And finally, after the draft was all over, I met Mark Sanchez, who had just flew back to NYC, in Times Square for that same walk, except this time he was a member of the New York Jets.
2011 – Anticipation
In 2011, just before Von Miller and I headed down to get him situated in the car service to head to Radio City Music Hall, we sat together in his hotel room. At that moment, we weren't focused on where he would be drafted, but instead, we were eager with anticipation as to what the sonogram my wife had Fed Ex'd to the hotel was going to read: a girl or boy. It was a boy, and Von went No. 2 overall just a few hours later. It was one of the most special moments of my life, and I'm so happy to have been able to share that with Von on the day his life would also change forever. Von was followed by A1 clients Jake Locker, Ryan Kerrigan and Nate Solder in Round 1 that year.
2013 – Consummation
After spending a busy day in NYC with CP (Cordarrelle Patterson) and his colorful personality jumpstarting his relationship with Puma, I retreated from the pre-draft festivities to assist our CEO David Dunn consummate the largest deal in NFL history that night for Aaron Rodgers. You honestly just never know what to expect going into draft week, and this was definitely a draft memory I will cherish.
Can't wait to see what memories 2014 can bring!