New Orleans Pelicans Game Preview: Pels Back at Home Versus Orlando Magic
Rick Stone/FanSided via Pelican Debrief

Fansided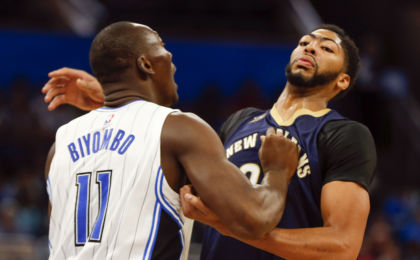 The New Orleans Pelicans look to get back on the winning track at home, as they face off against the struggling Orlando Magic.
After a five-game road trip that ended 2-3, the New Orleans Pelicans have to be longing for some home cooking.
They will get that and one of the bottom tier teams of the Eastern Conference tonight, in their duel with the Orlando Magic.
Orlando is currently sitting at a 17-26 record, just one win less than the Pelicans so far. The Magic are currently on a 2-8 stretch in their past ten games.
Since the start of 2017, the Orlando Magic have just two wins, coming against the Portland Trail-Blazers and New York Knicks.
Orlando's weaknesses this year focus on their lack of scoring and poor three-point shooting. The Magic are 25th in the NBA, with just under 100 points per game. They also shoot a painful 33.8% from behind the arc, tied for third worst in the league.
Still, the biggest problem for the Magic in 2017 is defense. Orlando has yet to give up less than 100 points in a game so far this year. This includes five games of giving up more than 110 points and their last game, where they have up 125 points to the Denver Nuggets.
While things are looking promising in this matchup, the Magic are still a capable NBA team. Their biggest strength is their balance, as they have five players averaging over 10 points per game. Orlando's also ninth in the NBA in blocks per game, with a 5.3 average.
This also may be a game where both teams end up playing without their top scorer. Anthony Davis is questionable to play, with a right hip contusion and left thumb sprain. For Orlando, Evan Fournier is questionable as well, with a sore right foot.
The major battle for the New Orleans Pelicans will be shutting down center Nikola Vucevic. Nik is averaging 13.8 points and 10.1 rebounds per contest. He is a lethal threat in the paint to command offensive rebounds and rack up easy points in the paint, especially against a smaller Pelicans front. New Orleans will need their bigs, especially if Davis is out, to focus on keeping Vuc out of his driver's seat next to the basket.
The Pelicans will need a huge game from Jrue Holiday no matter what, who will be matched up with a rising point guard youngster in Elfrid Payton. He has been on a tear for Orlando, putting up 12.1 points, six assists, 3.8 rebounds and over a steal per game. His growth at the point guard position gives excitement for Magic fans and will give concern for the hometown crowd. For New Orleans to win, Jrue will need to up his game. His struggles have become an issue for the Pelicans. If he can cause havoc for Payton, it will cause major issues for the young Magic squad.
This game will come down to taking momentum by the hands. New Orleans is returning to their home crowd and playing a young team struggling to find momentum. If they can control the pace and get the fans involved, the win should be there for the taking.
Orlando is going to be a big opponent, who will likely continue the Pels' inside struggles. The Magic have plenty of bigs, who can put New Orleans' small ball lineups in painful defensive situations. The Pelicans will need to score early and often and put the pressure on all night.
After a tough road stretch, getting off on the right foot back at home is key. New Orleans will find themselves at the Smoothie King Center for the next six games. Starting off a key home stretch with a big victory will certainly help get the Pels back on the right track.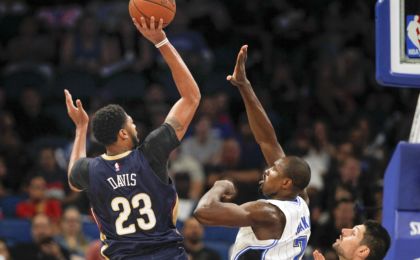 Who, When, Where and How to Watch
When and Where: The game will be played at 7:00 PM CST in New Orleans.
How To Watch: The game will be broadcast on Fox Sports New Orleans and NBA League Pass.
Injuries:
New Orleans: Anthony Davis (Right Hip Contusion and Left Thumb Sprain) is questionable. Quincy Pondexter (Left Knee) is out.
Orlando: Evan Fournier (Sore Right Foot) and Bismack Biyombo (Right Knee Bruise) are questionable.
Probable Starting Lineups:
New Orleans: PG Jrue Holiday, SG Buddy Hield, SF Solomon Hill, PF Dante Cunningham, C Anthony Davis
Orlando: PG Elfrid Payton, SG Evan Fournier, SF Aaron Gordon, PF Serge Ibaka, C Nikola Vucevic
Other Players to Watch:
New Orleans: E'Twaun Moore, Tyreke Evans, Terrence Jones, Tim Frazier and Langston Galloway
Orlando: C.J. Watson, D.J. Augustin, Mario Hezonja, Jeff Green and Bismack Biyombo
What's Next for the Pelicans?
The New Orleans Pelicans will stay at home for the next four games, starting Friday night. They will host the Brooklyn Nets in another out-of-conference duel. Tip-off will commence at 7:00 p.m CST.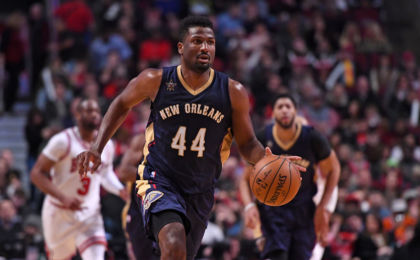 Key to the Game: Winning the Forward Battle
The New Orleans Pelicans will need other players to step up big time, if Anthony Davis ends up out for tonight's contest.
It is time for the wings to step up their game.
While the struggles of Jrue Holiday have put the Pelicans in tough spots, it is hard to say New Orleans has gotten much from their small and power forwards. Solomon Hill and Dante Cunningham have struggled to put up key scoring contributions, on a consistent basis.
Hill, in spurts, has been okay. While he's averaging under six points a game this year, he has put up at least 10 points in two of the past three contests. It is a lot for him, but it is not going to be enough alone to make up for a missing superstar.
It has been even worse for Dante Cunningham. Dante has not put up at least 10 points in a game since the day after Christmas game versus Dallas. He is shooting 6-22 from behind the arc, leaving a big hole in behind-the-arc shooting for the Pelicans.
While both of their defensive efforts help the defense immensely, their offensive woes leave a bigger hole in the Pelicans' gameplan. This is a team that averages almost 21 shots a game from AD.
If he's not playing, SOMEONE has to take those shots. That will likely fall to their forwards, a position Orlando is working on getting consistent play from in their own respect.
While veteran Serge Ibaka is showing his worth, Aaron Gordon has yet to make it consistent in their own rights. Ibaka is averaging 15.5 points and just over seven rebounds a game in over 30 minutes per contest. Gordon, however, is averaging 11.4 points on 44.3% shooting from the field. Aaron's athletic ability is not translating to results, while Ibaka is starting to find his groove.
The center battle will likely go in Orlando's favor. Shooting guard and point guard look like a push. New Orleans will likely have the bench advantage, as their players have shown their best performances over the past few games. These teams are an even matchup without Davis.
The upper hand will have to come from the starting forwards, if the Pelicans want a key win.
Solomon Hill has shown his capability to attack the basket and collapse the defense. In the past, Dante Cunningham has shown his ability to shoot the ball from deep. They will need to be a tag-team duo in their time on the court. If they can do that, New Orleans will be in position to get a big win at home, even without if their superstar is kept out of the game.
This article originally appeared on