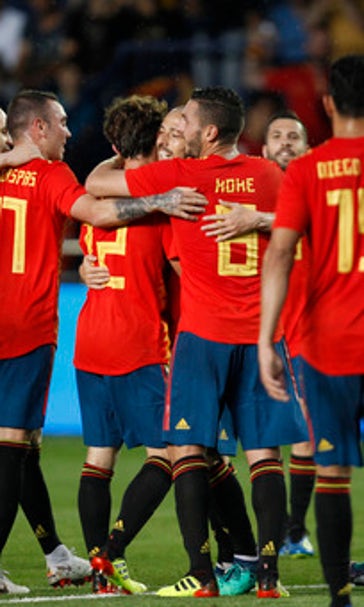 New head of Spanish federation upset over World Cup trip
June 4, 2018
MADRID (AP) The new president of the Spanish soccer federation has attacked the past administration for paying about $2 million to take more than 150 people to Russia during the World Cup, saying the expense could even affect the prize money for the players.
Luis Rubiales said he found out the federation gave an eight-day trip to local officials and sponsors.
''I'm very upset,'' Rubiales said. ''This is going to affect the negotiations of the (World Cup) prize. If it was a trip of three days instead of an eight-day vacation, then we would have a bigger margin that could return to the players.''
Rubiales said the trip cannot be canceled and the money cannot be reimbursed.
Those invited for the trip reportedly will stay in luxury hotels and have translators and transportation available to them while in Russia. They will go to St. Petersburg, Kazan and Kaliningrad. Spain will play group matches in Kazan and Kaliningrad but not in St. Petersburg.
''The federation is not here for something like this,'' Rubiales said. ''This is not going to happen again in the future.''
Spanish media said delegation members were expected to receive 100,000 euros ($120,000) each in case Spain wins the World Cup in Russia.
Rubiales last month took over a federation which was in the hands of embattled official Angel Maria Villar for nearly three decades.
A former head of Spain's players' association, Rubiales was elected president over Juan Luis Larrea, the federation's former treasurer and its interim leader since Villar - a former FIFA and UEFA vice president - was suspended following his arrest last year on suspicion of improper management, misappropriation of funds, corruption and falsifying documents.
Rubiales said he believed Larrea approved the trip, but the former official told Spanish media he had nothing to do with it.
Rubiales had promised to learn from past mistakes and improve the federation while maintaining transparency.
---
More AP Spanish soccer coverage: https://apnews.com/tag/LaLiga
---
Tales Azzoni on Twitter: http://twitter.com/tazzoni
---
---