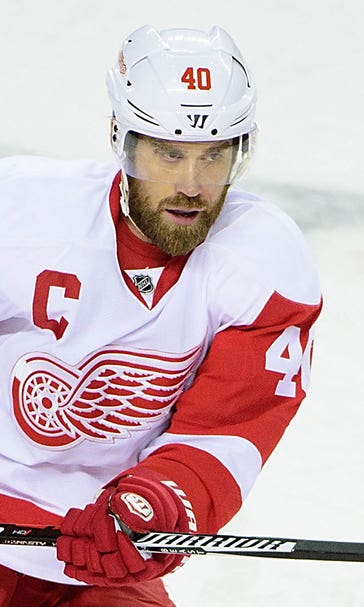 Zetterberg goes for goal No. 300 as Red Wings face Lightning
November 3, 2015

The Detroit Red Wings and Tampa Bay Lightning are hoping they've solved their scoring issues.
Henrik Zetterberg can hit another milestone if he continues doing his part.
Zetterberg goes for his 300th goal as the Red Wings try to win back-to-back games Tuesday night (7 p.m. pregame, 7:30 faceoff on FOX Sports Detroit) for the first time since they last faced the Lightning three weeks ago.
Detroit (5-5-1) is trying to build on its best offensive showing of the season, beating Ottawa 5-3 on the road Sunday after going 1-5-1 while averaging 1.71 goals following a 3-1 win over Tampa Bay on Oct. 13.
The Lightning were on a worse stretch, as they were outscored 8-2 during an 0-3-1 span before Sunday's 4-3 win at Carolina.
"We knew that it was just a matter of time until pucks started going in," said center Steven Stamkos, who scored for the first time in six games. "We didn't do it by cheating, we did it by working hard. We tried to mix things up and some things clicked. Sometimes it's just a fresh start that you need."
Things are certainly clicking for Zetterberg, who is among the league leaders with 14 points. The 35-year-old captain had a pair of assists Sunday, giving him 501 for his career and 800 points to rank seventh on the franchise list in both categories.
Zetterberg is also one goal shy of becoming the eighth player in team history to reach 300.
"When I came here as an assistant, I had the opportunity to see him day to day," coach Jeff Blashill told the team's official website. "It was a reaffirmation of why some guys are great. They're great because of the approach that they put in every single day. That's why he is what he is. That's why he's one of the best players in the world, has been for a long time and he continues to be because of the approach that he has every single day."
Zetterberg had one goal and one assist versus the Lightning last month. The center had three assists against them while the Red Wings were eliminated in seven games of their first-round playoff series last spring.
Gustav Nyquist leads Detroit with five goals, and he's collected four over his last six regular-season meetings with Tampa Bay, including one on Oct. 13.
Detroit hasn't decided who will be in net, but Jimmy Howard is 4-2-2 with a 1.97 goals-against average and one shutout in eight career regular-season matchups with the Lightning. He made 20 saves against them last month.
Petr Mrazek, though, had a 2.11 GAA and two shutouts while starting last season's playoff series. He held Stamkos and Ryan Callahan without a goal, and the duo has combined for 10 this season.
Callahan had the Lightning's lone tally at Detroit last month, and he added his latest Sunday while Tyler Johnson scored his first of the season.
Johnson had six goals in the opening-round playoff series, but he's scored just twice in 10 against the Red Wings in the regular season - none in the last four.
---
---