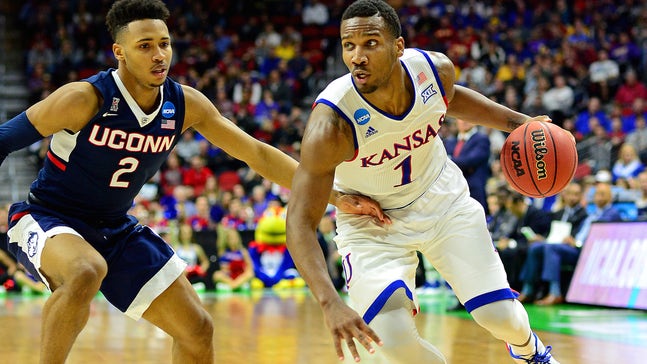 Selden, Ellis help send Kansas to Sweet 16 with 73-61 win over UConn
Published
Mar. 19, 2016 10:15 p.m. ET

DES MOINES, Iowa -- Devonte' Graham dribbled into the UConn end and lobbed a pass that Wayne Selden Jr. stretched to catch with one hand. He slammed the ball through the basket in the same motion for a 15-point lead in the closing minutes, sending the Kansas bench and crowd into a frenzy.
The Jayhawks finally had some fun with a second-round NCAA Tournament game.
Selden and Perry Ellis carried Kansas on a sweet romp to the round of 16, combining for 43 points in a 73-61 victory by the Jayhawks over Connecticut on Saturday to hand Kevin Ollie his first NCAA Tournament loss as head coach of the Huskies.
"It was hunger. We just really wanted it," Selden said. "I just looked down the roster, and everybody's eyes before the game were focused."
Selden had 22 points and seven rebounds, Ellis scored 21 points and grabbed eight rebounds and the No. 1 overall seed Jayhawks (32-4) advanced to the South Region semifinals on Thursday in Louisville, Kentucky, to play the winner of the Hawaii-Maryland game on Sunday.
Sterling Gibbs had 20 points for the No. 9 seed Huskies (25-11), who fell into an irreparable deficit that reached 24 points in the first half.
After winning the 2014 national championship in Ollie's second season as a No. 7 seed, the Huskies returned two years later with the hope of repeating that run. The Jayhawks did everything better on this night, well enough to endure an ugly second-half stretch of their own.
"They're going to be a very, very tough out in this tournament," Ollie said.
Selden and Ellis combined to shoot 17 for 27 from the floor, shooing away the disappointment of second-round defeats in each of the last two years. Graham pitched in 13 points for Kansas, which had scoring surges of 16-0 early and 19-0 late to cruise into the intermission in full control.
"We just want to continue to play the way we are," said Ellis, the smooth senior power forward who hit 20-plus points for the sixth time in seven games.
Selden, after averaging 2.5 points on 4-for-21 shooting over his first four NCAA Tournament games, has begun a junior-year breakout. He had 14 points in 19 minutes against Austin Peay in the first round.
"He's as big a key as anybody," coach Bill Self said.
Thousands of Jayhawks fans made the easy drive up Interstate 35 from Kansas, packing Wells Fargo Arena with their blue jerseys, T-shirts and jackets for the chance to cheer the team chasing its first national championship since 2008. The Huskies fell behind by as many as 11 points in the first round against Colorado, but the Jayhawks are just a different caliber team.
Jamari Traylor had a couple commanding blocks in the paint to fire up the Kansas bench and crowd during the 19-0 spurt. The Huskies missed 12 straight shots during that stretch that pushed the lead to 40-16.
The Jayhawks made six of their first nine tries from 3-point range. When the jumpers didn't fall, the long arms of Landen Lucas, Traylor and Ellis were there to snag them. The final rebounds tally was 44-24, Jayhawks.
UConn came within nine points around the midpoint of the second half, but Ellis and Selden got going again. With 1:38 left, the time for tricks arrived, in the form of that Graham-Selden alley-oop.
"That's his swagger, man. He's feeling it. After a dunk like that, how could you not feel it?" Traylor said.
The Huskies were out of sorts in their half-court offense. Daniel Hamilton was hounded anytime he was inside the arc, forcing multiple off-kilter shots and finishing 4 for 14 for 11 points with eight rebounds and six assists. Rodney Purvis had 17 points but went just 2 for 7 from 3-point range.
"We tried to play one-on-one in the first half. We can't win like that," Hamilton said.
Gibbs, the fifth-year senior transfer who played at Texas and Seton Hall before coming to UConn, couldn't get his answer out when asked at the postgame news conference to reflect on his season with the Huskies. He tearfully bowed his head, and Ollie reassuringly reached over to pat his neck.
FIRST TIME
UConn and Kansas had never met before in an NCAA Tournament, despite 89 appearances and seven titles between them.
TIP-INS
Connecticut: The Huskies are the nation's best free-throw shooters at 79.3 percent, but they hardly had the chance to make that an advantage, going 9 for 11.
Kansas: Ellis moved into the top 10 on the program's all-time scoring list, passing Kirk Hinrich with 1,767 points.
UP NEXT
Kansas plays Thursday in Louisville, Kentucky, against the Hawaii-Maryland winner in the regional semifinals.
---
---