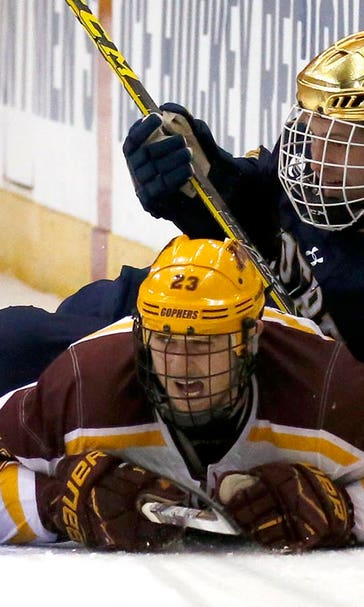 McLeod hockey blog: Gophers dealing with offseason losses
BY Doug McLeod • March 28, 2017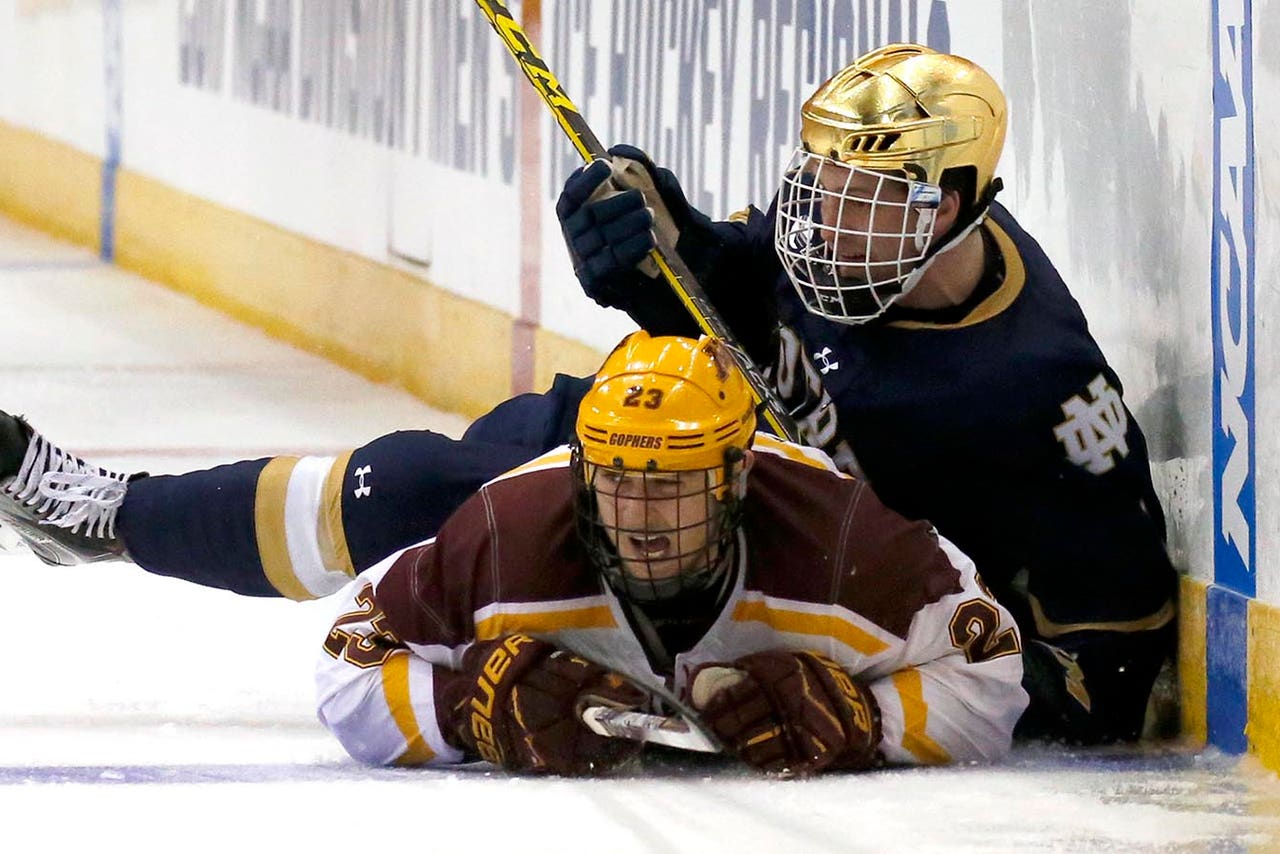 The University of Minnesota lost only a dozen games during the 2016-17 season. None was more painful than the 3-2 shortcoming at last weekend's NCAA Regionals that propelled Notre Dame into the Frozen Four in Chicago and sent the Golden Gophers home.

Several developments made the end painful:

-- The Gophers blew a two-goal lead and lost the game on a power play marker

-- Connor Reilly scored his first goal in over two years – a 38-game drought – but it went for naught

-- UM lost to Notre Dame, alma mater of head coach Don Lucia and the next school to join the Big Ten for hockey (more about that next time)

Now comes the most painful time of year, when Lucia and company begin to learn who will not return in the fall. Some of the seniors, who were obviously leaving anyway, are already heading for the pro ranks.



Vinni Lettieri is now a New York Ranger farmhand. He takes a lot of excitement with him to Hartford in the AHL. "It's bittersweet to be moving on from a place you love so much, but this has been a dream of mine since I was a kid, and I'm thrilled to be signing with the Rangers organization," Lettieri said. He joins ex-teammate Brady Skjei in the Broadway Blues organization.

Senior defenseman Jake Bischoff has inked a two-year entry level deal with the New York Islanders. Pretty good for a seventh round draft pick (185th overall). His prospects were juiced up by consistent improvement throughout his Gopher career, culminating in a Big Ten Defensive Player of the Year award. Dad Grant was a great Gopher star and now Jake may eventually be off to Brooklyn to play in the big time.

Two-year captain Justin Kloos will surely sign. Alone among Minnesota's high-profile stars, he wasn't even drafted by an NHL team. Someone will grab him, though. Other seniors will land pro deals, too. But the concern, as usual, isn't about the players who have already used up their eligibility. It's about the talented underclassmen who will make the jump to professional hockey at the expense of their college degrees.

It may be too early – although not by much – to predict how the disappointment of missing the NCAA Frozen Four will affect the decisions of key underclassmen. While it didn't seem like it at the time, the season-ending – perhaps season-decisive – injuries to Tommy Novak and Ryan Lindgren may have been blessings in disguise. Both players will return for 2017-18 and their contributions will spark what should be one of Lucia's best group of incoming freshmen in years.

For now, we're left with only one Maroon and Gold team in the Frozen Four. So, challenging as it may be for some, let's root for Minnesota Duluth. And once again, hope for next year. When the Golden Gophers can and perhaps should win the national championship – for the first time since 2003.

 

DOUG McLEOD is a five-time Emmy Award-winning play-by-play announcer for Fox Sports and a longtime voice of Division I and NHL hockey. This is his 21st season calling Golden Gopher hockey games.
---
---