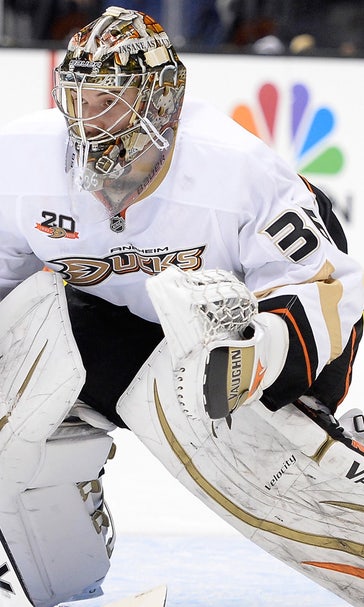 Ducks' phenom John Gibson taking attention in stride
BY foxsports • May 11, 2014
ANAHEIM, Calif. -- John Gibson seems unimpressed with John Gibson.
The youngest goaltender to ever record a shutout in an NHL postseason debut has played in exactly four NHL games. In that span, he's 4-0-0 with a 1.00 GAA and .965 save percentage, having stopped 111 of 115 shots faced.
But standing at a podium at the Staples Center Saturday night, he simply just shrugged off the magnitude of what he had accomplished.
He also simply shrugged off the media barrage, as a they packed the Ducks' locker room the following day, back at the Honda Center.
"You just have to deal with it," he said, with another shrug. "It's all part of the process and being a pro hockey player."
He's not well-known in the NHL but the Pittsburgh-born goalie has been making a name for himself both internationally and in the minor leagues for a few years.
Gibson grew up watching the Penguins, attending games at the Igloo with his dad. He began playing as a defenseman around six years old, but quickly realized his prowess in goal.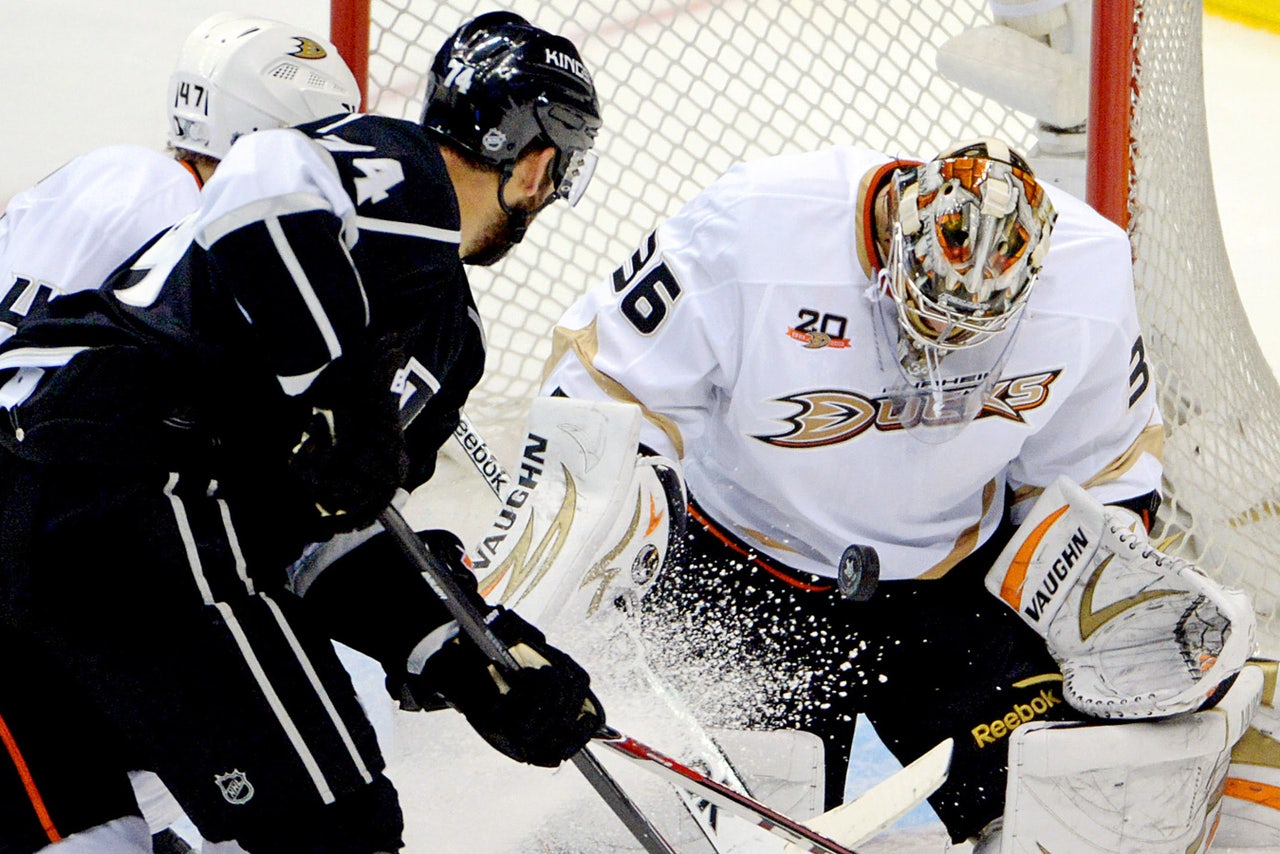 Rookie John Gibson dazzles in playoff debut as Ducks even series

"Right from the start, I think I played a couple games as a defenseman, but I was always near the net helping the goaltender," Gibson said. "So my parents said they'd try me out there and I just stuck with it."
Part of the national team development program, he opted against playing college hockey at Michigan, instead playing in the Ontario Hockey League. It was then that a few current Ducks got a good look at Gibson.
Center Rickard Rakell, then with the Plymouth Whalers, was immediately impressed.
"My second year in Plymouth, he was the reason we didn't beat Kitchener that year," Rakell said. "We had a really good team and we were supposed to beat them but we couldn't score on them. It was kind of like (Saturday's game). We outshot Kitchener but we couldn't score. He was a big part of that."
Gibson won two gold medals with the U.S. team in the U20 and U18 world championships. That was the biggest stage he had played on before Thursday. But you'd never know watching him - his demeanor was cooler than that of Stanley Cup goalie Jonathan Quick'€™s in Game 4.
"I saw it on a daily basis all year, so it didn't come to a surprise for me," said Ducks winger Devante Smith-Pelly, a teammate of Gibson's in the AHL this season. "It's almost like it's just another game. He comes in and does his routine, he's so relaxed it's almost like a preseason game, that's how relaxed he is."
"I think that's the one thing you really want in a goalie," said center Andrew Cogliano. "He competes and really comes to the game and is willing to lay it on the line. I think you see that from Quick a lot and that's why they're really similar in comparison."
Quick wasn't a goalie that Gibson watched much growing up - he liked Curtis Joseph's mask and American goalie Ryan Sutter - but the way Gibson takes away the net and gets to certain angles led more than a few to make the comparison while both were in the net.
But Gibson is quick to remind you that he's a different goalie. He's looking to create an identity all of his own.
"I just try to play my game," he said. "I don't really try to do much other than that. The team tries to play well in front of me and I try to play well for them."
Ducks head coach Bruce Boudreau has been known to gamble with goalies in the postseason but he went all in, against the house with this one. Facing the Kings at home and down 2-1 in the Western Conference semifinals, he won big, but at what cost?
Jonas Hiller primarily backstopped the team to the top spot in the Western Conference this season and performed well in limited action in the postseason, primarily backing up another rookie, Frederik Andersen.
Hiller maintains that he will stand behind his team and whatever the coaches and management decide.
"I'm proud of being part of this team," Hiller said, following Sunday morning's practice. "I really think we have a great team here, a great group and I hope we can go far."€
Boudreau, as well as his assistant coaches and Ducks general manager Bob Murphy all had input on the decision. For the moment, it looks as though the job is Gibson's to lose, as risky as it may seem.
"You might be at risk. But I don't know, I've got to do what I think is right to win," Boudreau said. "If that's not right and I start doing stuff that I'€™m thinking other people are going to want me to do is the safe thing, then you're not doing the job."
---
---