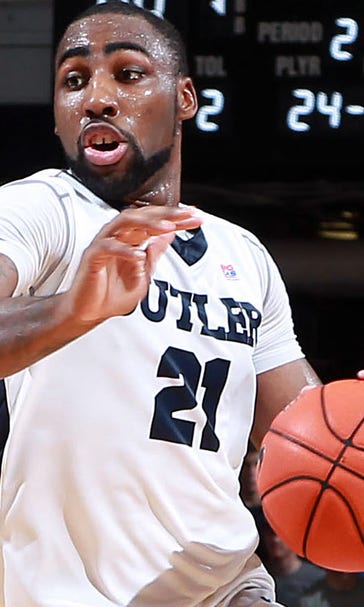 Butler's Roosevelt Jones plays with a chip on his shoulder
December 22, 2015

Despite being a four-year starter, Roosevelt Jones feels the need to play with a chip on his shoulder to get the national credit he thinks he deserves.
Jones' teammates certainly realize how much he contributes.
Ninth-ranked Butler looks to continue rolling when it hosts Southern Utah on Tuesday night.
Jones is putting up the best numbers of his career, averaging 13.7 points, 7.8 rebounds and 5.4 assists while shooting 50.0 percent from the field, helping Butler (9-1) become one of three Big East teams ranked in the top 10.
He scored 19 points and added 11 rebounds in Saturday's 74-68 victory over then-No. 9 Purdue, helping the Bulldogs hold on after nearly blowing a 16-point lead over the final six minutes.
It marked the first time since 2012 that Jones, named the conference's player of the week, has posted two straight double-doubles. He finished with 21 points and 10 assists in a win over Tennessee on Dec. 12.
"People always doubt my game, so I try to come out and play hard every game just to prove that I can play with anybody in the country," Jones said.
Butler is proving it can do the same. It has two wins over teams currently ranked in the Top 25 and its only loss is to now-No. 13 Miami. The Bulldogs are second in the nation with 89.9 points per game, and Kellen Dunham ranks second in the Big East with an average of 17.4 despite having only two points and missing all 12 field-goal attempts against the Boilermakers.
Dunham also struggled against Tennessee, going 3 of 13 from the field and finishing with 12 points.
Others have stepped up, though. Tyler Lewis matched his career high with 17 points -- including two clutch free throws with 20.9 seconds left -- and Andrew Chrabascz added 16 against Purdue.
"Players win games. I truly believe that," coach Chris Holtmann said. "That's as gritty and tough as we've been this year. And we had to be that way to beat a really talented and well-coached team."
The Bulldogs have won six straight since that loss to the Hurricanes, and there's little reason to believe that run will end against Southern Utah. The Thunderbirds (3-7) have beaten only one Division I squad -- Utah Valley State -- and is coming off an 82-68 loss at IUPUI on Saturday.
They trailed by 20 at halftime, but coach Nick Robinson was pleased with his team's effort after it outscored the Jaguars 42-36 in the second half.
"Our team played hard," Robinson told the team's official website. "The effort was there, we won the second half, but the goal to give ourselves the best opportunity to win was thwarted by some minor mistakes in the first half, which we'll learn from."
Travon Langston finished with 21 points and 10 rebounds, while James McGee added 18 points and Trey Kennedy 14. They are the team's top scorers with McGee averaging 12.8 points, Langston 12.6 and Kennedy 11.8.
The Thunderbirds have allowed their last two opponents to shoot a combined 59.1 percent, including 20 of 37 from 3-point range.
Butler has won 26 straight nonconference home games since losing in overtime to Pittsburgh on March 21, 2012.
---
---