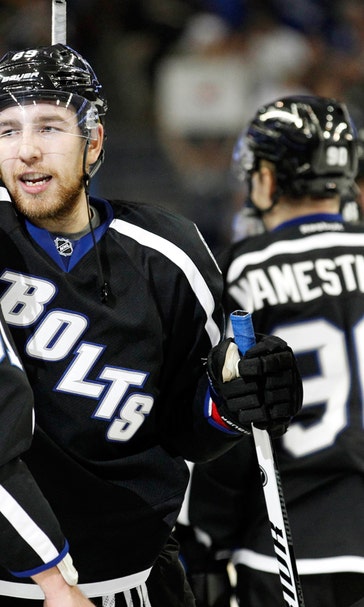 Bobby Taylor Q&A: Lightning eager for longer playoff run this year
April 14, 2015

TAMPA, Fla. -- Treat the Stanley Cup Playoffs as a sprint, but prepare for a bloody marathon.
Give the grind the respect it deserves, but build stamina for the challenge.
The Stanley Cup Playoffs are upon the Tampa Bay Lightning, who begin their Eastern Conference quarterfinals series against the Detroit Red Wings on Thursday at Amalie Arena. They lived a quick exit in the postseason the previous campaign against the Montreal Canadiens, but their sights are set higher this time around.
Recently, Sun Sports analyst Bobby Taylor previewed the Lightning-Red Wings series in this question-and-answer session ...
FOX SPORTS FLORIDA: What are you initial impressions of Tampa Bay's chances against Detroit?
TAYLOR: Well, I think they matchup probably better against them than anybody. We both play very similar games. (Ben) Bishop plays really, really well against them, and that really helps when you have the goaltender sharp against a team. Most of the time, in the playoffs, your goalies will get sharp anyway. But it really helps getting into these games. Bishop has had really, really good success against Detroit. Everything goes out of the box when it comes to the playoff. I think that's the one thing about last year's debacle is the fact that we understand now. I mean, you could talk to people and tell people until you're blue in the face that the level of intensity and determination is 10 times more in the playoffs than it is in the regular season. Most people will say, 'Yeah, we can understand it.' But until you really witness it, you don't really understand it. And they understand it now. And I think that's going to be a really big help for them this year.
FSF: The Lightning had some difficulty in the final game of the regular-season series in losing to the Red Wings 4-0 on March 28. Does that result give you pause at all?
TAYLOR: It's hard to beat anybody four straight games. Detroit is a good team. I don't think we played our best game. ... It's just a whole different ballgame (in the playoffs). All you have to do is get in. That's the key. The Los Angeles Kings have proved that. They just got in last year and won the Cup. You can pick up tendencies, because teams won't change their systems that often or restructure that much. But you understand it a little bit better against a team you're more familiar with. Other than that, it's who's determined to win the most is probably going to be the difference. That and goaltending.
FSF: The Red Wings have had a difficult goaltending situation of late. Petr Mrazek, who shut out Tampa Bay in the most recent meeting between the teams, will receive the start in Game 1. Can the Lightning exploit the Red Wings' uncertain goaltending situation?
TAYLOR: Yeah, they've struggled over the year. They haven't had the year we've seen them have in the past. Mrazek is just a young guy going into it. But he has been on the big stage before. I think he has played in the World Junior Championships. ... The pressure that you put on yourself (there) is still parallel to the pressure you put on yourself up here. It's just the thing is you can get away with more mistakes when you're younger than you can up here. For me, I think we have to go in worrying about how we play. We can't really go in there worrying about how Detroit is playing. I think we did too much of that last year in a sense, especially after the first couple games. ... (The Lightning) can play. We've seen it the whole year long. When they want to play -- they're a very, very hard team to play against because they are fast. They play quickly. ... The biggest thing for them is just to come out and play the way they're capable of playing. If they get past the first round, boy, look out. Now they'll have the confidence.
FSF: How important is it to maintain home-ice advantage in the first two games of this series?
TAYLOR: That's the easiest game to steal when you're on the road, that first game. Everybody is kind of in awe, and you've got the hoopla. The bands are playing. The cheerleaders are cheering. It's the big hoopla the first game, so it's a lot easier for a team to steal that first game than any other game. So that's a very important game, (a) because of that fact and (b) that will really get these guys on the right page right off the bat if they can win that first one that sets the tone for them for the whole series.
FSF: Many consider the NHL's postseason to be unmatched in sports. How would you describe how special this time of year can be?
TAYLOR: Hockey is somewhat different. When you're a kid, you play baseball, you play football. But hockey players think about it year-round, in my mind. You don't play for, 'Oh boy, this is game No. 42 of the season,' when you're playing with your buddies in the backyard or out there on the corner rink. You're always playing for the Stanley Cup every time you go out and play in the driveway when you're a kid. Especially Canadian kids, that's something that's in your blood the minute you come out of your mom's womb. There you are: It's hockey. Maybe that could be something to it. I know we have a lot of Europeans, and a lot of those Eastern Europeans ... they play hockey all the time. That's a big game for them. I think maybe that's why it's such a fantastic level. The game played (in the playoffs) is played the way it was invented to be played. The officials will let you play more. They won't call as much ticky-tack stuff as they do during the regular season. They'll let you play. ... You have to regard it as a sprint, but it's a bloody marathon. Holy crap. Twenty-eight games? What other sport is there that you could play 28 games to win your league championship? I don't know of any other sport.
You can follow Andrew Astleford on Twitter @aastleford or email him at aastleford@gmail.com.
---
---