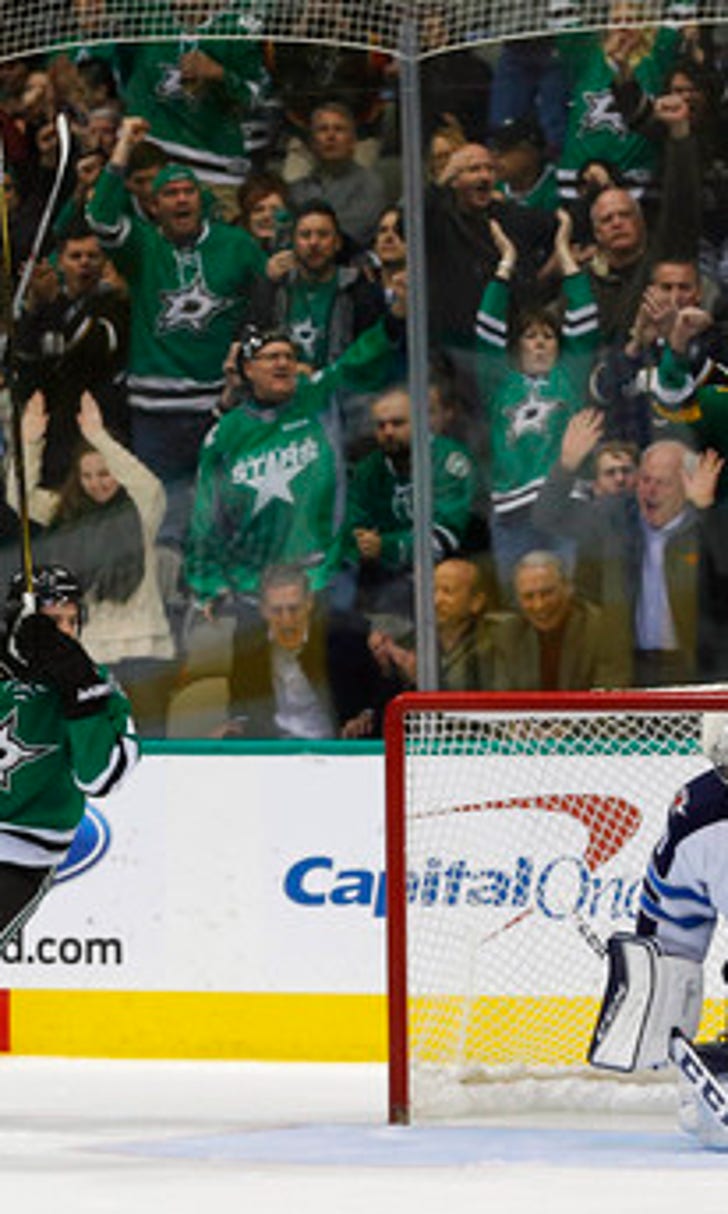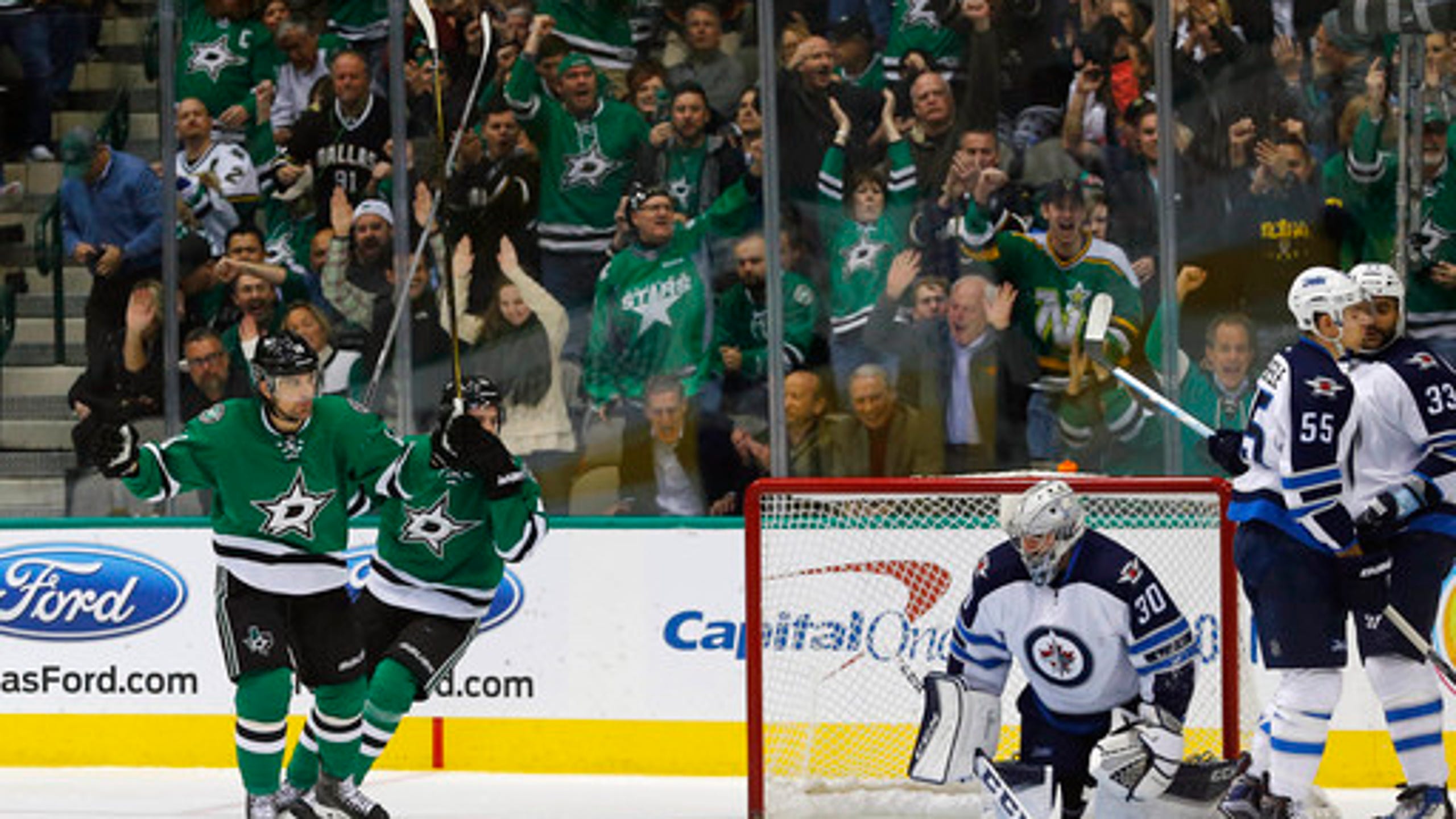 Stars beat Jets 2-1 in shootout to end 3-game losing streak
BY foxsports • January 8, 2016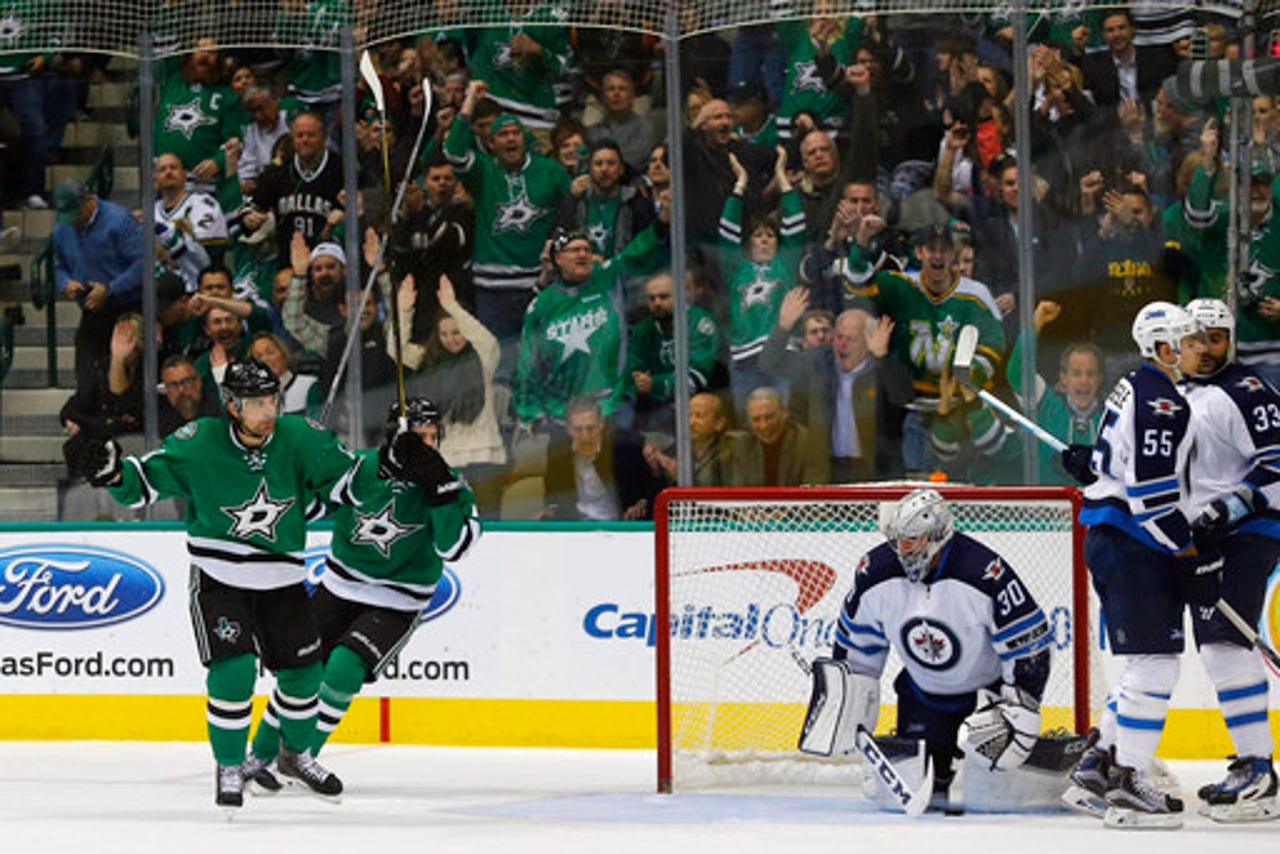 DALLAS (AP) Tyler Seguin and the Dallas Stars didn't plan to get picky while trying to snap out of their first funk this season.
And the Western Conference leaders weren't complaining after a ragged win over Winnipeg, the last-place team in a Central Division that Dallas leads comfortably.
Seguin and Patrick Sharp scored back-to-back goals to start the shootout and the Stars ended a season-high three-game losing streak with a 2-1 win over the Jets on Thursday night.
''It wasn't our best game, but the guys found a way to win,'' said Seguin, who stopped a three-game pointless streak, his longest of the season, with a first-period goal. ''We're going to be happy with that. That's something we can build off of.''
Kari Lehtonen stopped 27 of 28 shots in regulation and all five in overtime. Leading 2-1 in the shootout, he turned away Bryan Little to clinch his seventh win in nine games against the franchise that drafted him second overall in Atlanta in 2002.
Connor Hellebuyck had 23 saves in Winnipeg's first game since he tied a rookie franchise record with 43 stops against Nashville. But he got beat on his right side in the shootout by a wrister from Seguin and a backhander from Sharp.
''That's all part of the learning experience of being an NHL goaltender, being able to stay mentally sharp when you got to go stretch his legs seeing a lot action,'' Jets coach Paul Maurice said of the 22-year-old goalie. ''There's not going to be a safe one or an easy one, so he was good.''
Mathieu Perreault scored Winnipeg's goal for a 1-1 tie in the second period.
The Stars hadn't lost consecutive games all season before going 0-2-1 on an East Coast trip. Dallas has won five straight games at home and nine of the past 10.
''We weren't happy with the way we played last road trip,'' Sharp said. ''For any number of reasons, you can circle this one. We can be happy we got the two points, but we can still play better than I think we did tonight.''
The Stars survived a tripping call against Sharp in overtime, killing the 4-on-3 penalty with a couple of deflections by Lehtonen on angled shots. He also held on to a strong shot by Dustin Byfuglien from a few feet inside the blue line.
Coach Lindy Ruff tried to shake the Stars' first funk of the season by splitting up his top scorers, Seguin and Jamie Benn, in the first game after all three were named to the Central Division All-Star team.
Benn was with Jason Spezza and Valeri Nichushkin while Seguin centered a line with Sharp and Mattias Janmark.
It worked early, with Seguin scoring 7:55 into the game. His shot from the slot came after Sharp found space behind the net and tried to stuff a wraparound through Hellebuyck, who redirected the puck to Seguin.
Sharp's assist extended his career-best point streak to 11 games, the longest current run in the NHL.
But the Stars couldn't sustain it, getting just five shots over 30 minutes in the second and third periods before creating more chances later in the final period, when Seguin and Benn were back on a line together.
''I still think that duo together is going to be something that's hard to stop,'' Ruff said. ''But there's fatigue in their game. They still don't have that little extra stride to get away.''
The Jets controlled the second, outshooting the Stars 12-4 and getting the tying goal from Perreault in transition less than 7 minutes in.
Winnipeg had another good scoring chance in the second when Byfuglien's shot from near the blue line created a rebound chance for Andrew Ladd, but he was turned away by Lehtonen from close range.
''This is a tough opponent and we were able to kind of shut them down,'' Perreault said. ''Obviously, it's not the result we wanted, but it's a big point for us.''
Ladd scored the Jets' only goal in the shootout after Blake Wheeler put a shot into Lehtonen's midsection.
NOTES: Stars D Jordie Benn missed the game with a lower-body injury. He's day to day. ... Byfuglien is going to his fourth consecutive All-Star game. ... The Stars went 0 of 2 on the power play, dropping them to 1 of 17 over the past six games. They didn't record a shot with the man advantage midway through the third period.
---
---