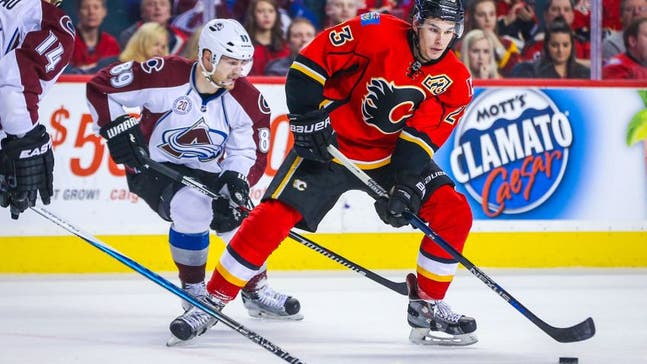 Calgary Flames Daily: Prospects doing well at WJC, facing Avalanche
Updated
Mar. 4, 2020 3:19 p.m. ET

Fansided, Ramina Shlah/FanSided via Flame for Thought
With the World Juniors starting yesterday and five Calgary Flames prospects playing in it, let's see what's been happening in the last 24 hours in Flames world.
The Calgary Flames return from their three-day Christmas break to face the Colorado Avalanche. This game will be important because they'll be facing off their old captain Jarome Iginla. They'll also be playing ex-teammate, Joe Colborne, for the first time.
And what happened with World Juniors yesterday?
Well, four of the five Flames prospects won their opening games. Dillon Dube, who plays for Team Canada, won over team Russia by a score of 5-3. However, Pavel Karnaukhov, who plays for Russia, of course lost. Adam Fox and Tyler Parsons, who play for Team USA, won over Latvia by 6-1. Lastly we have Oliver Kylington who plays for Team Sweden, and beat Denmark by a score of 6-1.
I couldn't watch any of the games unfortunately except for Canada vs Russia. And I really liked what I saw in Dillon Dube. He assisted in the opening goal for Canada and he drew the penalty that led to a PPG which was Canada's second goal, making the score at the time 2-1.
Like I said, I couldn't watch the other games. But Tyler Parsons (G), who wasn't super busy in his opening game, but he still managed to save 11 of 12 shots that he faced leading his team to a win.
Some links surrounding the Flames to get you through your day until Calgary faces Colorado
Calgary Flames rookie Matthew Tkachuk has fond memories of World Juniors (Calgary Herald).
2017 IIHF World Junior Championship Preview (Calgary Flames).
Colborne ready to face his former team (Calgary Flames).
Game day: Calgary Flames at Colorado Avalanche (Calgary Sun).
2017 IIHF World Junior Championship: Day 1 (Calgary Flames).
Some other links surrounding hockey in general
Three rules all new hockey fans should be familiar with (The Hockey Writers).
Great start for Canada, but about that goaltending… (The Hockey News).
Canada kicks off World Juniors with win over Russia (The Globe and Mail).
Canadian Philippe Myers embraces the spirit of Luc Bourdon (CBC Sports).
If the Flames win tonight, they have a good chance of actually being in a playoff position, points-percentage wise.
More from Flame for Thought
This article originally appeared on
---
---