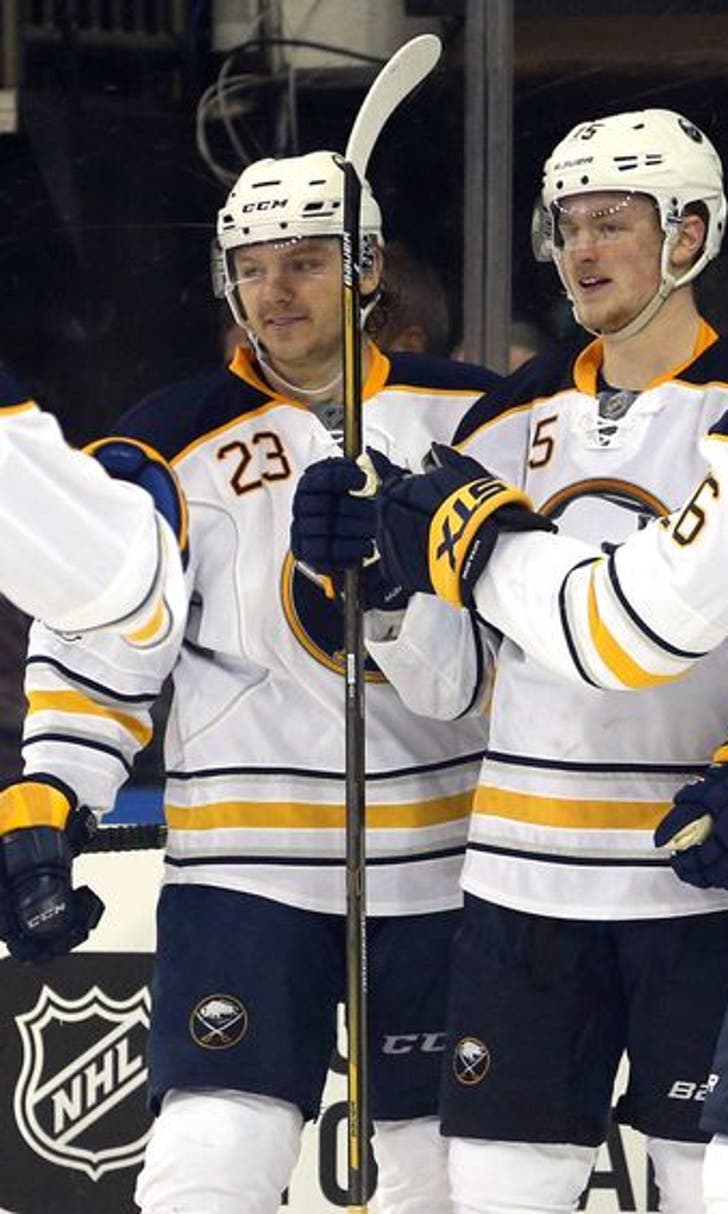 Buffalo Sabres Prove It Ain't All Dan Bylsma's Fault In Win Against Blueshirts
BY Fansided and Richard Spalding/FanSided via Sabre Noise • June 30, 2017
The Buffalo Sabres responded in a big way to two disappointing division losses, which proves there is more to this team's losing ways than just the coach's system.
Heading into Tuesday night's game between the Buffalo Sabres and the New York Rangers, there was a lot of chatter, among both professional sports journalists and fans on social media, concerning Sabres coach Dan Bylsma.
For starters, there was this rather scathing piece by Mike Harrington over at The Buffalo News  that goes as far as to say "Lately, it seems as if Bylsma has lost his mind."  A day later, this well-researched piece over at The Hockey Writers about why the heat is being turned up on Bylsma came along.   Fox Sports then ran a piece that listed Bylsma as one of the NHL coaches on the hot seat (although the author,  FanSided's own Dave Stevenson, argued that GM Tim Murray should be feeling the heat more than Bylsma right now).
And finally, you need only type Dan Blysma into the search bar in Twitter to find a multitude of Tweets such as this:
The anger being directed at Bylsma is both understandable – even after last night's 4-1 in Madison Square Garden, the Sabres are still in 28th place in the NHL and dead last in the Eastern Conference – and justifiable: sitting Jack Eichel during a power play in Carolina in order to send him a message?  Playing Evander Kane on the fourth line when he has actually started to score goals?  Trying to turn a team with Eichel and Sam Reinhat a grinding-it-out team?  Yeah, Bylsma has earned a poop-ton of criticism . . .
. . . but as last night shows, it's not entirely the coach's fault.
For starters, I'm a firm believer that the players should actually earn some of the respect you get from winning, and some of the blame you earn from losing – no, really!  Case in point: John Tortorella.  If you believed his critics following Team USA's dismal showing at the 2016 World Cup of Hockey, Tortorella was a fossil, the sort of coach who favored grit over skill and who couldn't connect with today's players.  Read the news today, however, and you will find Tortorella is the talk of the town in the NHL, the single-biggest reason why the Columbus Blue Jackets have ridden a 16-game winning streak to become the best team in the NHL.
Right.
More from Sabre Noise
Sure, Totorella does deserve some of the blame for Team USA's winless effort this summer (he did have a hand in shaping the roster, after all), and should be praised for toning down his more abrasive tendencies to guide the talented Blue Jackets to the top of the league.  Good coaching still matters in today's NHL – but coaches don't take the ice.  Team USA did not play disciplined, inspired hockey, whereas the Blue Jackets are hungry and playing out of their minds.  It takes a successful blending of a team's front office, its coach, and the players on the roster to win hockey games at this level, something Team USA didn't enjoy, but that Columbus currently is.
Which brings me back to my point: it cannot simply be Dan Bylsma who is at fault for the currently disappointing 2016-17 season of these Buffalo Sabres.  The Sabres appeared hungry and willing to play out of their minds last night, and many nights, that's all it takes to be competitive in the NHL – but how many games have we sat through this year, listening to Rob Ray lament about how flat the Sabres look to start the game?   You can't tell me it's always Dan Bylsma's fault when Evander Kane decides to play cotton-soft hockey, instead of the aggressive, physical game he turned in last night in MSG.  Likewise, you can't convince me Bylsma is to blame for games in which Jack Eichel decides to play turn-it-off, turn-it-on-again hockey like he did this past Saturday against the Boston Bruins.
These are professional hockey players.  They get paid embarrassing sums of money to provide an entertaining, and hopefully winning, product on the ice.  At some point, lethargic one-goal efforts have to be pinned squarely on the sweaters of the players who got out-hustled and outplayed.  For every questionable line combination by Bylsma, there is a 20-minute stretch of Sabres hockey in which the guys on the ice look like they would rather be golfing – and that's on them, especially after you watch the team take a good New York Rangers squad behind the woodshed like they did last night.
And let's not leave GMTM out of this conversation, either.  The front office has given William Carrier and Derek Grant more than enough time to make their case, and neither one of those two guys have impressed enough to keep Justin Bailey and Nicholas Baptiste in the AHL for as long as they have been, especially Grant, who has yet to score a goal at the NHL level.  Tim Murray also failed to strengthen Buffalo's blueline this offseason – his trade of Mark Pysyk for Dmitry Kulikov might have been a draw AT BEST, which means it was highly questionable if the move should have been made even before Kulikov turned out to be damaged goods – and it sounds as if Murray might even have a hand in deciding which players will play together, as evidenced by Bylsma's telling the media, "I report to Tim every day, am talking to Tim every day."  (Courtesy of The Buffalo News)   If Team USA's front office had some hard questions to answer regarding the roster they assembled for the World Cup, so too does GMTM have some questions to answer about some of the gaping holes, and curious line pairings, that his Buffalo Sabres have "enjoyed" this season.
Want your voice heard? Join the Sabre Noise team!
Dan Bylsma put a bit of a target on his back when he said that he Buffalo Sabres would be shooting for 95 points by the end of the 2016-17 season, and he is clearly not without blame for Buffalo's current 14-15-8 record.  His system might not fit the playing styles of his brightest stars, and dammit, he needs to stop fussing with his lines!  This Sabres team, however, can both play better (individual effort) and use improvement (smart roster changes), so there is no reason why fans cannot be treated to more efforts like Tuesday.  I don't know if Dan Bylsma is the mn to bring the Stanley Cup to the 716, but I do know he is just 1/3 of the reason behind Buffalo's current sad-sack state.
---
---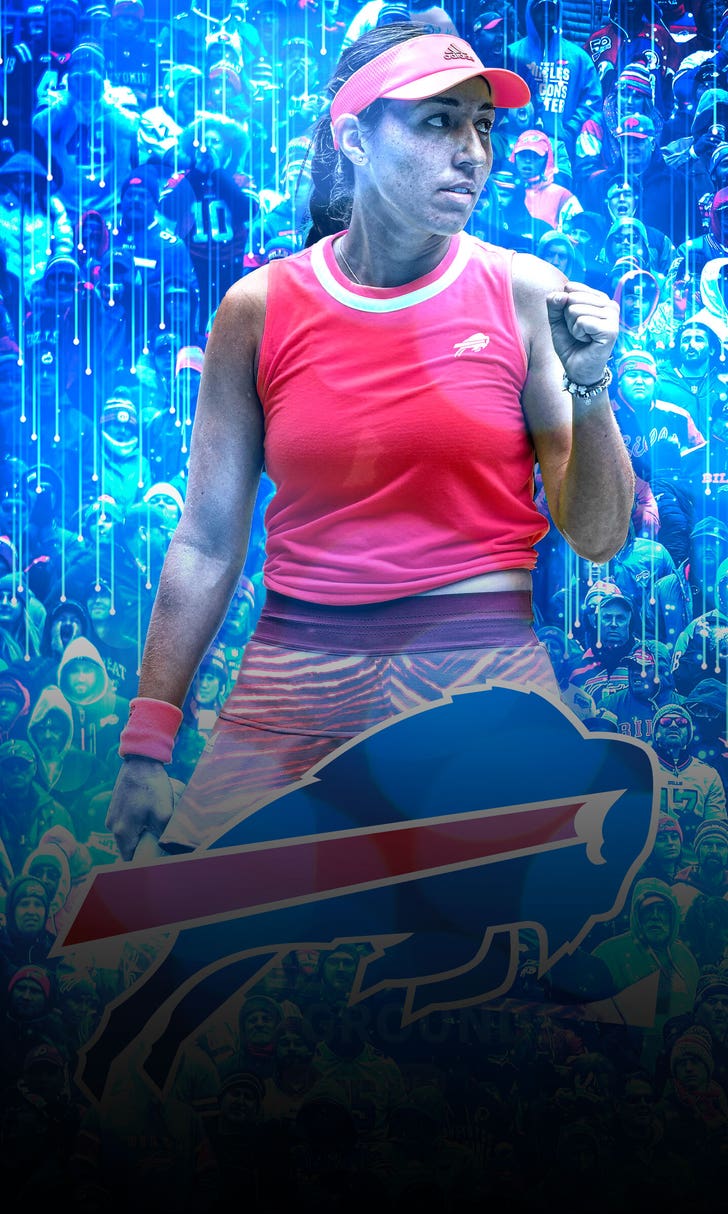 Bills Mafia In Australia
Bills Mafia In Australia
Jessica Pegula, the daughter of the Buffalo Bills' and Sabres' owners, is on a career-best run at the 2021 Australian Open.