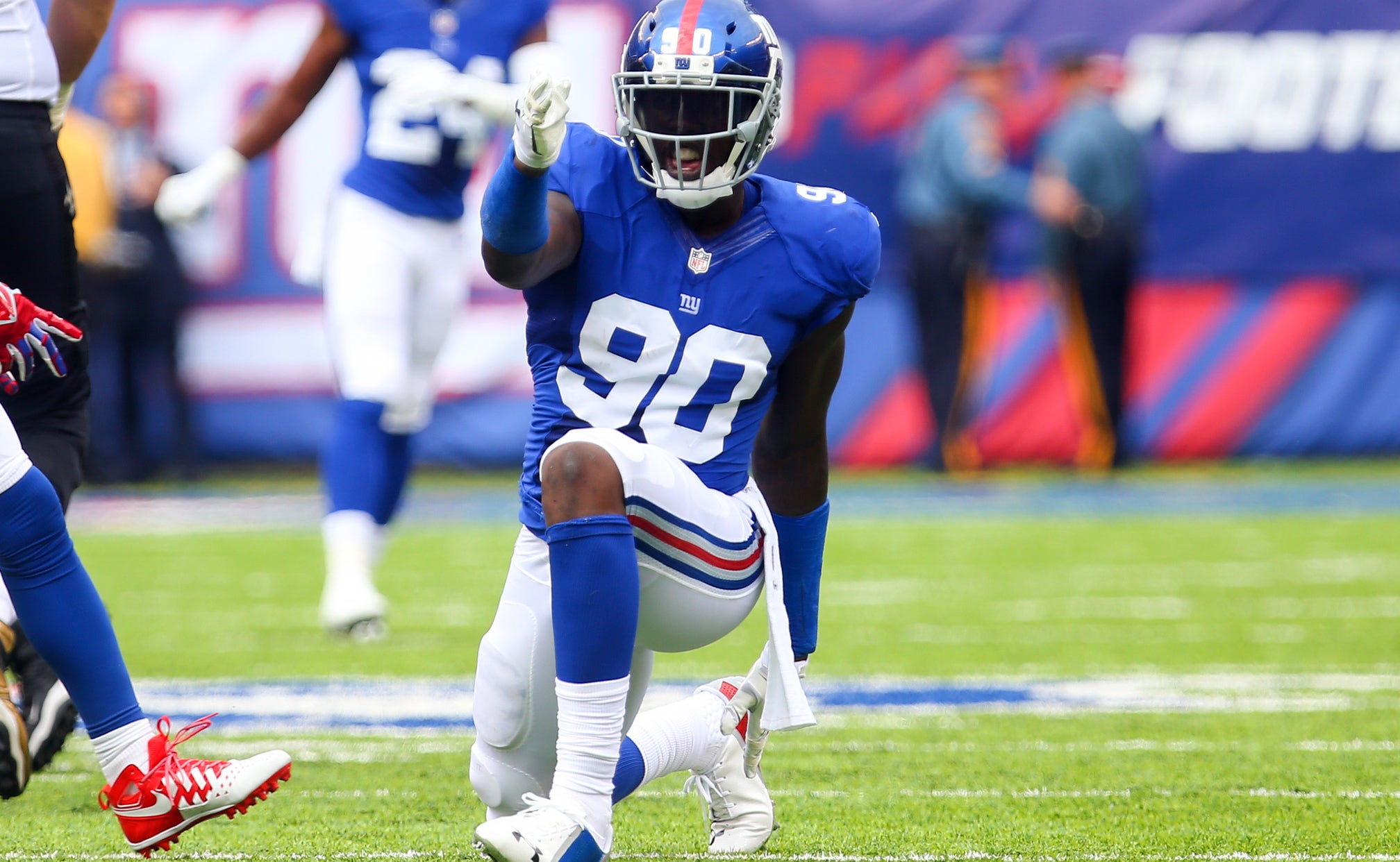 New York Giants Should Franchise Jason Pierre-Paul
BY Fansided and Zac Wassink/FanSided via NFL Spin Zone • June 30, 2017
The New York Giants should be willing to keep defensive end Jason Pierre-Paul, but only by using the franchise tag this time around.
Defensive end Jason Pierre-Paul and the New York Giants are alike in that neither entity owes the other anything of note this winter. Pierre-Paul should want to make as much money as possible during the current NFL offseason, but the Giants aren't obligated to match the player's wishes. Pierre-Paul is not a club icon as is Eli Manning. His number wouldn't be retired if he hung his cleats up for good before the end of February.
The harsh truth of the matter is that the Giants can't rely on Pierre-Paul being a dependable and productive lineup mainstay past 2017. His last stellar season occurred all the way back in 2014 before he suffered a life-changing injury to his right hand following an accident involving fireworks. Since that time, Pierre-Paul has accumulated a total of eight sacks in 20 games.
Everyone would do well to forget what Pierre-Paul was earlier in his career. That player is now gone, lost to highlight reels, memories and conversations about what may have been had he made different life choices two summers ago. Pierre-Paul is still a solid contributor worthy of starting on any defensive line, but the 28-year-old realistically may no longer be in his physical prime.
More from NFL Spin Zone
Logic suggests the Giants need to keep Pierre-Paul on the roster if the team is to contend for a Super Bowl next season. Top-tier pass-rushers—even those lacking all 10 digits on their hands—don't grow on trees, after all. And any player who can hassle offensive lines and disrupt, let alone sack, quarterbacks is well worth the money.
Unless he experiences a change of heart, Pierre-Paul won't be giving the Giants any hometown discount or the ability to retain him via a one-year contract when March arrives. He shouldn't do so,as this may be his final opportunity to earn a massive contract as an NFL player, depending on all that occurs over the next 12 months. The Giants, meanwhile, can't and shouldn't count on Pierre-Paul being one of the best defensive ends in the NFL for any lengthy amount of time, and that is why the club should use the franchise tag to retain him for another season.
According to ESPN's Jordan Raanan, Pierre-Paul would make "about $17 million" if the Giants used the tag on Pierre-Paul this year. While he wouldn't be guaranteed anything past that value, that kind of money is nevertheless nothing to sneeze at for a player who nearly ended his own career a couple of years ago. Per Spotrac, Pierre-Paul has already made over $34 million from NFL contracts, and he's also the owner of a Super Bowl ring.
Pierre-Paul will likely be upset upon learning the Giants once again tagged him. By doing so, those running the club will unofficially be announcing they don't believe he is worth a long-term investment. He'll have to get over it quickly, however, as he'll find himself playing for a new contract for the third consecutive season this coming September.
JPP has always been an inconsistent up-and-down player while with the Giants. He had a career-high 16.5 sacks during the 2011 campaign, but he failed to post double-digit sacks again until 2014. He was a shell of his former self after returning from his hand injury in November 2015, and his season ended early last December because of a sports hernia.
Some team out there would happily pay Pierre-Paul the millions upon millions of dollars he wants this spring, but the Giants shouldn't think past 2017 when using the franchise tag. The Giants are arguably the most "win now" team in the NFL at the moment, a club that came within a few wins of playing in the Super Bowl and one with a franchise quarterback in the twilight of his career.
One of two things will happen after the Giants tag the physically gifted defensive end: Pierre-Paul will either have his best season in three years, or he will play himself off the Giants due to failing to truly earn $17 million during games. As much as it may upset Pierre-Paul to once again fail to land a desired contract from the Giants, the tag should incentivize him to silence all doubters and earn a future payday.
Pierre-Paul has earned nothing more than a one-year deal, and the Giants need to remember that before even considering negotiating with him before the start of the NFL year.
---
---