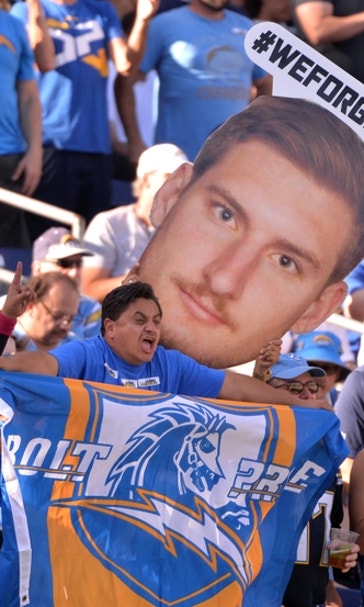 Joey Bosa, Jalen Ramsey Not Used to Losing, Can Turn Teams Around
December 30, 2016

Fansided, Luke Sims/FanSided via NFL Spin Zone
Joey Bosa made a major impact as a rookie for the San Diego Chargers and so has Jalen Ramsey for the Jacksonville Jaguars, but the teams are still losing (for now).
Big-time college players often come from programs that aren't used to losing. From national championships or bowl games, some young athletes have barely tasted defeat before getting to the NFL.
For the standouts that get drafted early in the first round, that isn't necessarily a great thing. Some teams have a losing culture and no matter how good a rookie is. It's rare for them to completely turn things around (unless your name is Ezekiel Elliott apparently).
Joey Bosa and Jalen Ramsey were two absolute studs at the collegiate level and both of them have experienced more losing in 2016 than they have in the rest of their lives. Bosa's rookie season with the San Diego Chargers (5-10) has already yielded more losses than his three seasons with Ohio State.
Ramsey has similarly struggled. The images of him crying on the sidelines are powerful, but it is his statements after games that speak most powerfully. Like Bosa, Ramsey only lost a handful of times in college (four) and has tripled that number in the NFL. "I'm tired of losing," (via SB Nation) is a lament shared by plenty of his Jacksonville Jaguars peers even though they are far more used to it.
More from NFL Spin Zone
That hasn't stopped Ramsey from playing every down with heart, though. He has led by example for the Jaguars, boldly proclaiming that, "Once you accept losing, that's when you become a loser," per ESPN.
It is that attitude and the production along with it that has the Chargers and Jags excited about the coming years. These two rookies aren't used to losing and they are literally doing everything in their power to stop their teams from losing.
For Bosa that means getting after the quarterback and disrupting play after play after play. Despite missing four games this year, Bosa is the rookie sack leader with 9.5 already. He is just a half sack outside the top-10 among all players this season. It's clear that he is capable of doing the job the Chargers drafted him to do.
Pro Football Focus has Joey Bosa at 54 quarterback pressures since Week 5. Sam Monson has called him a Pro Bowl player already, comparing his pressures to Jason Pierre-Paul's—only with 300 fewer snaps.
Ramsey's stats don't jump off the page quite so much. Until the final quarter of the season he wasn't making the big flashy plays that draw attention. Two interceptions, one fumble forced, and 13 passes defensed don't tell the whole story. Ramsey has dominated opposing wide receivers all season, limiting them even when they catch the ball. He just became the first Jags rookie to claim interceptions in back to back weeks and then was named AFC Defensive Player of the Week. He is the only rookie to win the award this season.
Players like Ramsey and Bosa are perfect investments by their teams. They are hard working players who can not just contribute but also make a difference. They are players who don't quit and are fresh enough to not be bogged down by the losing culture of the teams they play for.
It is a messy first season for these two defensive studs, but they continue to display the aptitude that could yield big returns for their teams. One season may be in the books, but these two are tired of losing and they will soon be winners if they keep up the high production they have delivered even though the rest of the team hasn't.
---
---