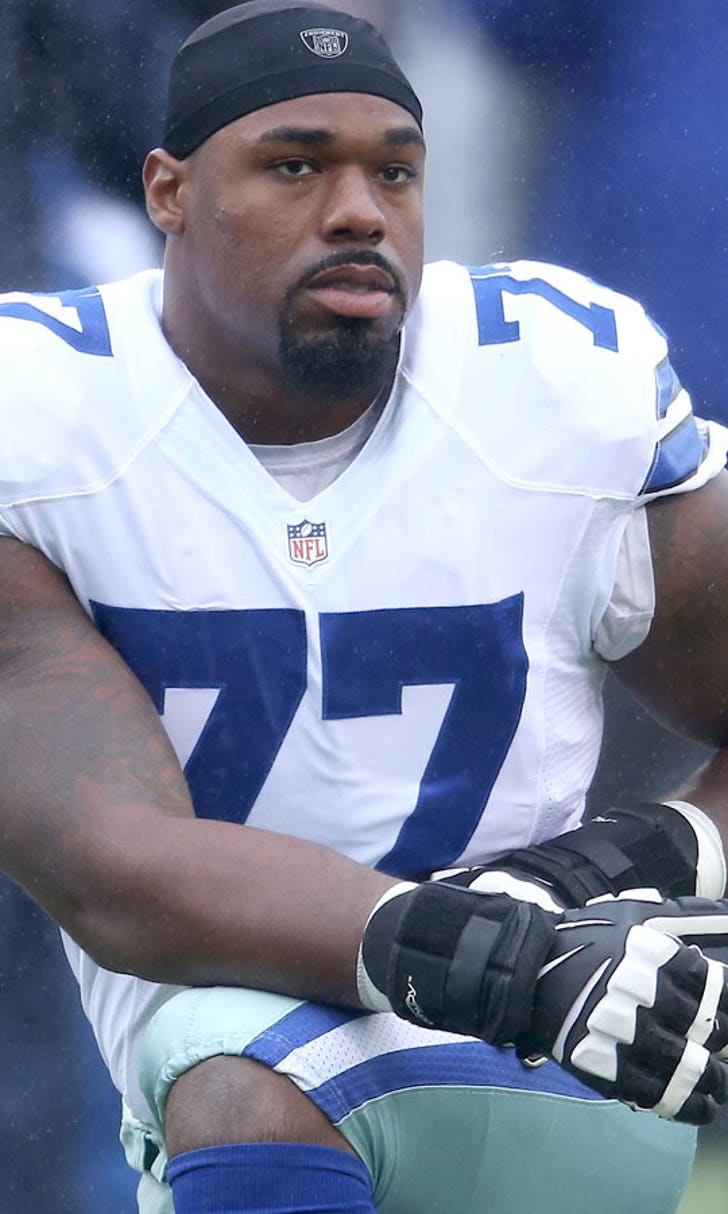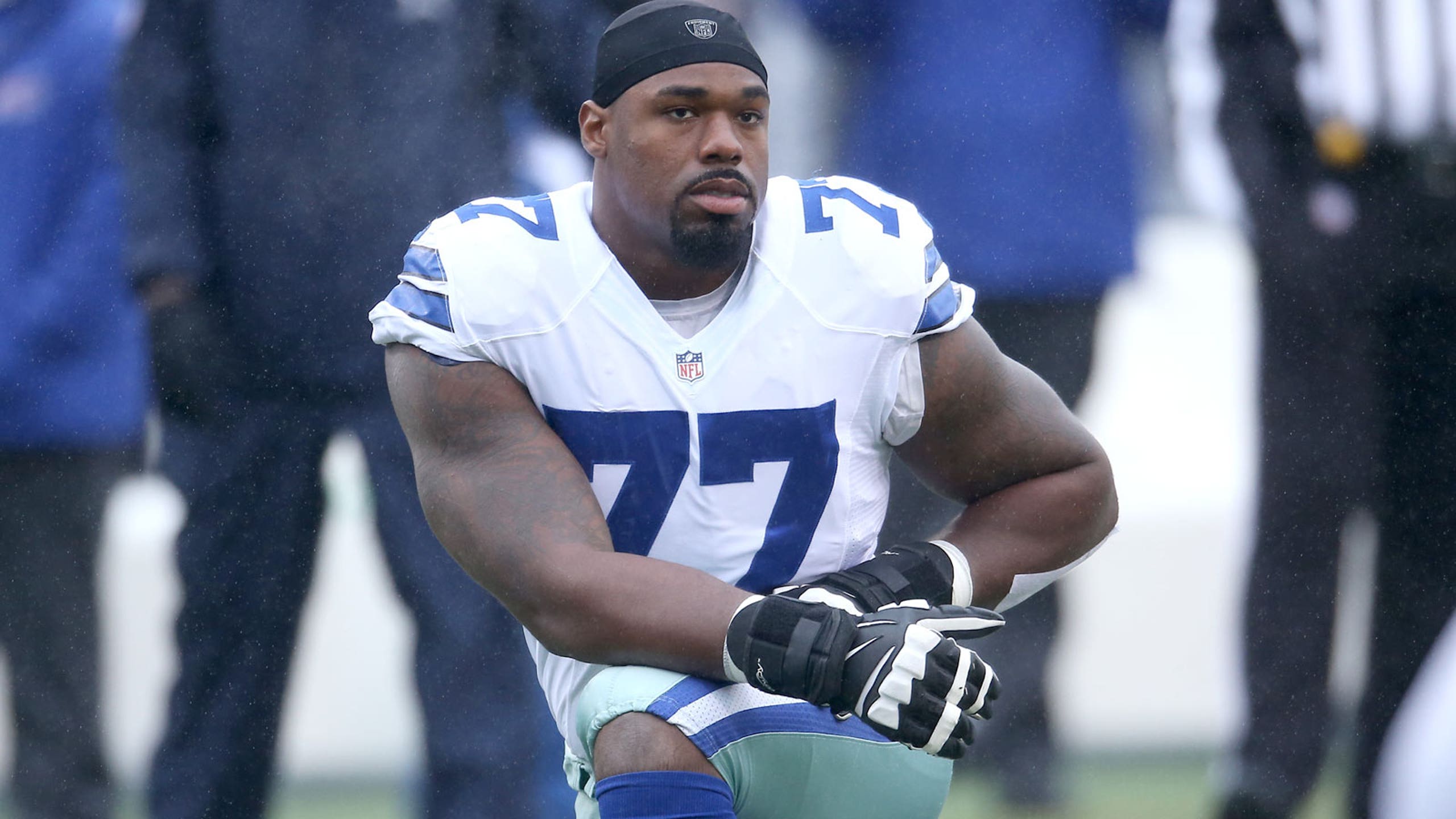 Dallas Cowboys: 5 building blocks for 2016
BY foxsports • January 13, 2016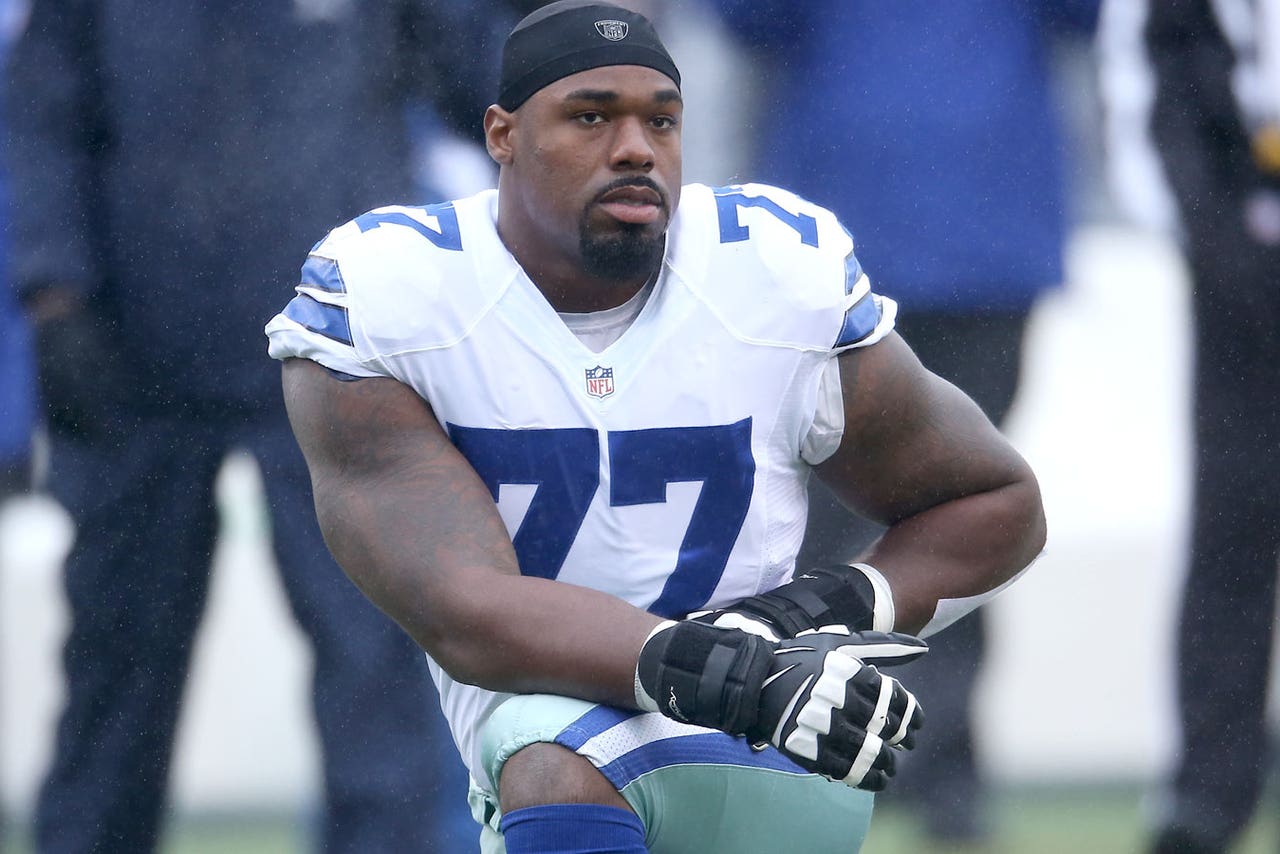 Earlier, we looked at five different positions the Dallas Cowboys needed to improve at in the 2016 season. With a disturbingly low record, it seems like the only direction the Cowboys can head is up in the 2016 season. A (hopefully) full year of Tony Romo should certainly help, but here are five other cornerstone pieces the Cowboys will rely on next season.
1. The Entire Offensive Line
It's pretty hard to single out one member of this tenacious offensive line, so we'll just lump them together as one key piece to the Dallas Cowboys' success. There is no clear hole in their starting unit, which consists of three Pro Bowl players. One of those Pro Bowlers, Tyron Smith, was an absolute monster last season. According to Pro Football Focus, Smith allowed just 22 total pressures the entire season. And, as Dan Schneier pointed out, that should have been worthy of All-Pro honors. He was also rated as the top run blocker by Pro Football Focus. Smith is just one of the critical parts to the wall in Dallas. Center Travis Frederick and right guard Zack Martin also earned Pro Bowl honors, and right Tackle Doug Free certainly wasn't a slouch. Rookie left guard La'el Collins fit like a glove. These five combined to completely rejuvenate Darren McFadden's career, as he rushed for over 1,000 yards for the first time in five seasons. If the Cowboys land a high-end free agent running back, the sky is the limit.
2. Sean Lee
If Sean Lee took a while to warm up in the 2015 season, no one would have blamed him. Lee missed the entire 2014 season with a torn ACL, his third such tear in his career. But there was no sign of Lee slowing down in 2015. He led the Cowboys with 76 tackles and managed to record 2.5 sacks. Those are both career highs for Lee, who will turn 30 this offseason. Lee provides a steady balance of a pass rush and is decent at dropping back in coverage. With a relatively weak middle linebacker core in Dallas, Lee's ability to step up from the weak side linebacker position is crucial. And, perhaps more importantly, Lee is a strong player to have as a team role model. Had he suited up for the final game, Lee would have received a $2 million bonus check. But Lee didn't think he was healthy enough to perform at 100 percent, and didn't want to disrespect his teammates.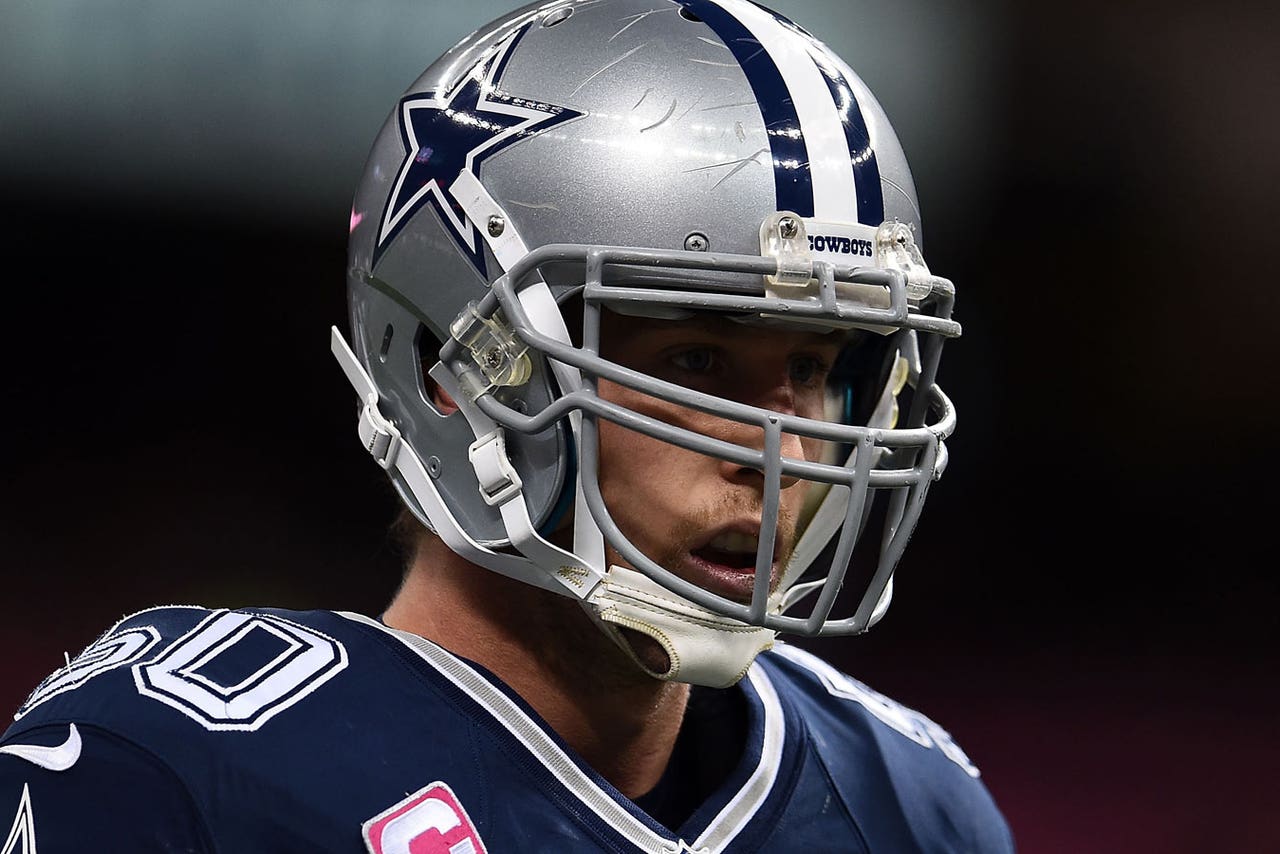 Sean Lee provides veteran leadership to the Cowboys' defense.
3. Byron Jones
Next season's cornerback corps could potentially look a bit different in Dallas. Morris Claiborne may end up seeing what he can get this year as a free agent, and Brandon Carr seems like a likely candidate to get cut this offseason to free the Cowboys from his $13.817 million cap hit this season. But a guy like Byron Jones can soften the blow. Jones had a standout rookie year. The 2015 first-round draft pick looked comfortable in Dallas' secondary, and he made his presence known to the opposition. Jones' 47 tackles were the fifth-most on the Cowboys. And, to the shock of no one, opposing quarterbacks seemed to target the receiver the rookie was responsible for more times than not. But Jones held his own, defending eight passes on the year, the most on the Cowboys. Jones quickly proved the Cowboys right in selecting him, and it looks like Dallas has a defensive player they can build around.
4. DeMarcus Lawrence
DeMarcus Lawrence was given a much larger role in his second year as a pro. In 13 starts, the defensive end recorded eight sacks, two more than fellow defensive end Greg Hardy. And with Hardy's seemingly likely departure from the Cowboys, Lawrence's role becomes all the more important. He likely isn't a replacement for Hardy as a left end, as he's built more as a strong side defensive end, but there's no denying his uptick in production. If Hardy does depart, look for the Cowboys' 2015 second-round pick Randy Gregory to fill the void. Gregory had a frustrating year this past season, suffering from a high ankle sprain that seemed to limit him all throughout the season. But Gregory is built as the more pass-rushing end that can power through opposing teams' left tackles.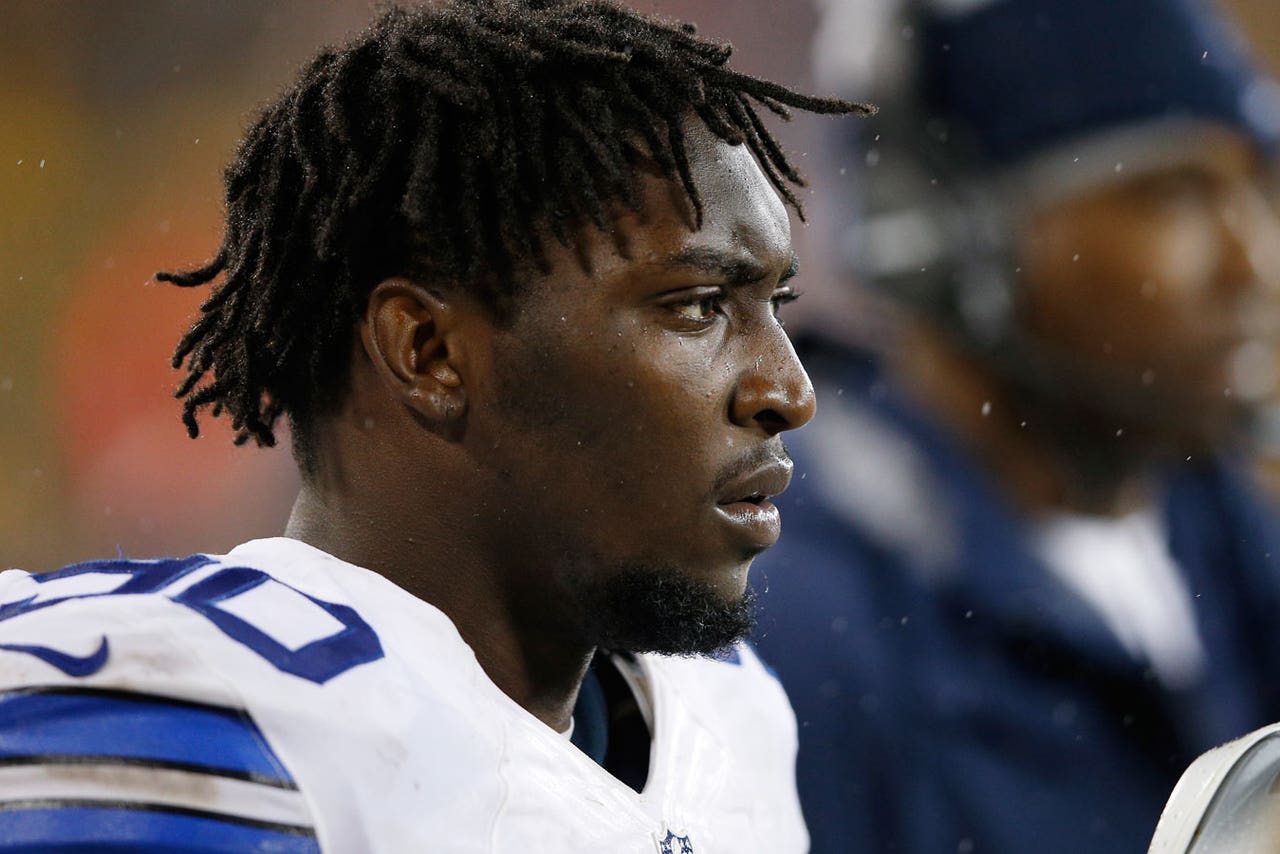 DeMarcus Lawrence had a standout sophomore year.
5. Dez Bryant
It was an extremely disappointing year for Dez Bryant, as a foot and ankle injury limited him to just nine games this season. But even when he was in the lineup, whatever quarterback happened to be throwing it Bryant's way couldn't seem to hit the target cleanly, and Bryant occasionally seemed disinterested and frustrated at times. That's all likely to change if Romo returns to play a full season, and Bryant will once again play a gigantic role in the Cowboys' offense. With a strong run game all but certain for the Cowboys next season, Bryant should be able to find more open looks if opposing defenses fear Dallas' run game. That bodes well for the 27-year-old. Last season was a fluke for Bryant. He'll return to be one of the NFL's top receivers next season.
Statistics provided by Pro Football Focus and Pro Football Reference. Cap information provided by Spotrac.
Tommy Chalk writes about the NFL and NHL for FOX Sports. You can follow him on Twitter @Tommy_Chalk
---
---