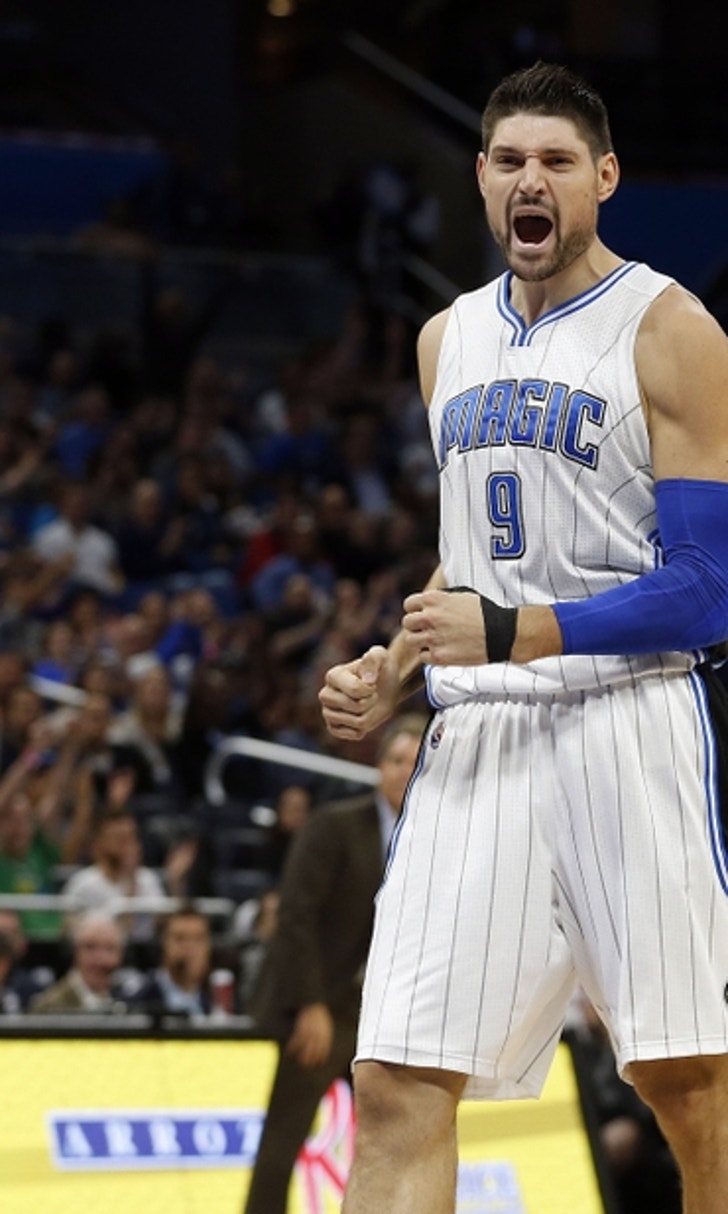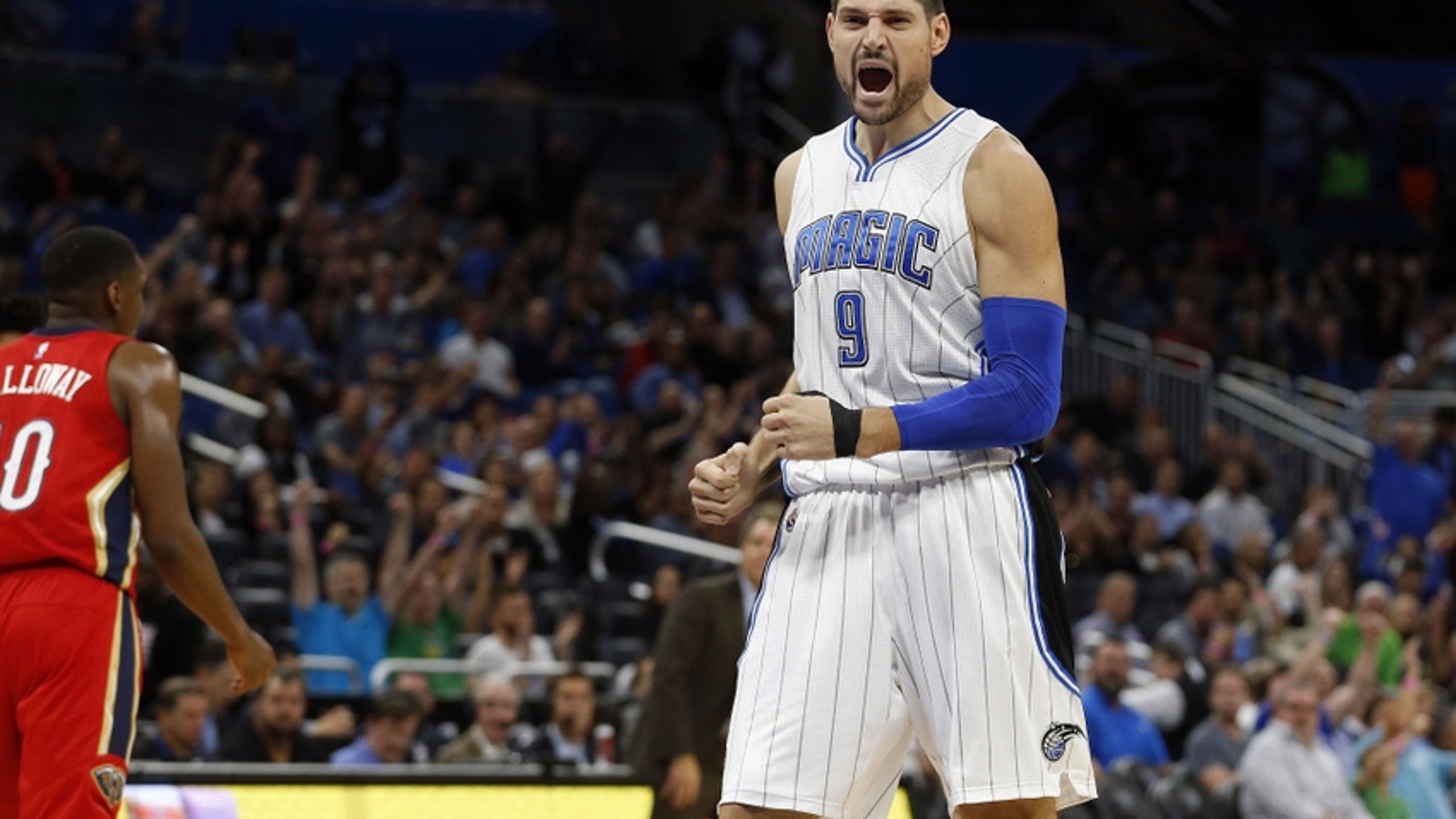 The Boston Celtics Need Some Magic
BY Fansided and Joshua Bateman/FanSided via Hardwood Houdini • December 15, 2016
To fix their rebounding issues the Boston Celtics should make a move for Nikola Vucevic
After 25 games it is clear that the Boston Celtics have a deep, talented roster but, unfortunately, that has not translated into a great record as they have one main deficiency; rebounding. In fact, when a shot from the opposition clangs off the iron, Celtics fans can be seen praying to their respective deities in the hope that the ball will somehow fall to a player in green.
In terms of statistics, the Celtics are near the very bottom of the league with a rebound percentage of 47.8 percent. Their defensive rebounding percentage or their ability to clean up their own glass is even worse and is last in the league with a percentage of only 74.3. This has led the Celtics allowing the fifth most second chance points in the league at 14.6 points per game. The worst part about these points is that they are completely demoralizing. Often the Celtics will work tirelessly for 24 seconds, force a terrible shot but then suddenly the rebound sprays to the opposition who finds a free man for an open 3 pointer.
In the off season, Danny Ainge spent big on one of the prize free agents, Al Horford and there is no denying that his leadership, skill and, surprisingly, his rim protection has been great for the Celtics. He has, however, proven that he is not a great rebounder and Danny needs to get him some help.
Currently, Amir Johnson is starting alongside him in the backcourt. Despite his best efforts, Johnson is undersized, he doesn't possess the girth or rump of undersized players like Sullinger and since his foot injuries he is not as athletic as he used to be.
More from Hardwood Houdini
Stevens has searched for other options on his own roster, but they continue to disappoint. Kelly Olynyk is still timid on offense and defense and gets outmuscled by opponents on a nightly basis. Despite his clear ability to stretch the floor and his skill with the ball in hand, he shies away from contact and would much rather do a Nowitzki fall away then bang underneath with the big boys.
The answer; Nikola Vucevic. The Orlando Magic have been extremely disappointing this season. Despite a good win against the Hawks, they still find themselves well under .500 and their roster looks like it was put together by that guy in every office who decides to play in the fantasy league so he can go to the parties but has no idea about basketball. Even before the first game of the season, it was clear that the Magic had too many bigs and this meant a huge percentage of their salary cap was being wasted on the bench. The Celtics need to take advantage and make a move.
Nov 25, 2016; Orlando, FL, USA; Orlando Magic center Nikola Vucevic (9) runs down court during the second half of an NBA basketball game against the Washington Wizards at Amway Center. The Wizards won 94-91. Mandatory Credit: Reinhold Matay-USA TODAY Sports
Vucevic has been a mainstay in the Magic front court for the last five years, averaging approximately 33 minutes per game. This year, however, his numbers have dropped dramatically with their logjam in the paint and he is getting only 27.4 minutes per ball game. Even in his limited minutes, however, Vucevic is in the top ten in the NBA in rebounding at 11.0 boards per game. Admittedly, Vucevic is not perfect. At his size, he is only an average rim protector and he can't shoot the three, but let's be honest, the Celtics would almost be happy to play with one less man on offence if they could actually grab a board.
In terms of salary, Vucevic is sucking up quite a bit of cap from his spot on the bench getting paid nearly 12 million this year and 12.5 million on average for the next two years. Considering the Magic looked a lot better with him not playing against the Hawks, the Celtics are in a great position to steal him away.
Fortunately for the Celtics, the Nets look terrible and the first round pick they have courtesy of the boys from Brooklyn looks better and better every day. The draft class, however, does not look great for the Celtics needs. Most experts agree that the best options in next year's draft are point guards and with the emergence of Smart and Rozier the pick may not be as valuable as it may seem. I personally would love to see Ainge sign a young, rebounding big man like Vucevic and let the Magic worry about teaching a nervous point guard how to run an NBA team.
So, Danny Ainge I implore you, keep up your reputation as being a wheeler and dealer and please send the first round pick and the expiring 12 million dollar contract of Johnson for Vucevic. Hey even throw in Gerald Green if they'd like him as he is not being used by the Celtics and he still has the ability to score which is something the Orlando has been severely lacking. I mean let's face it, picks are great but wins are better and with a little bit of Magic the Celtics could easily propel themselves from an average team to one of the best teams in the East.
---
---