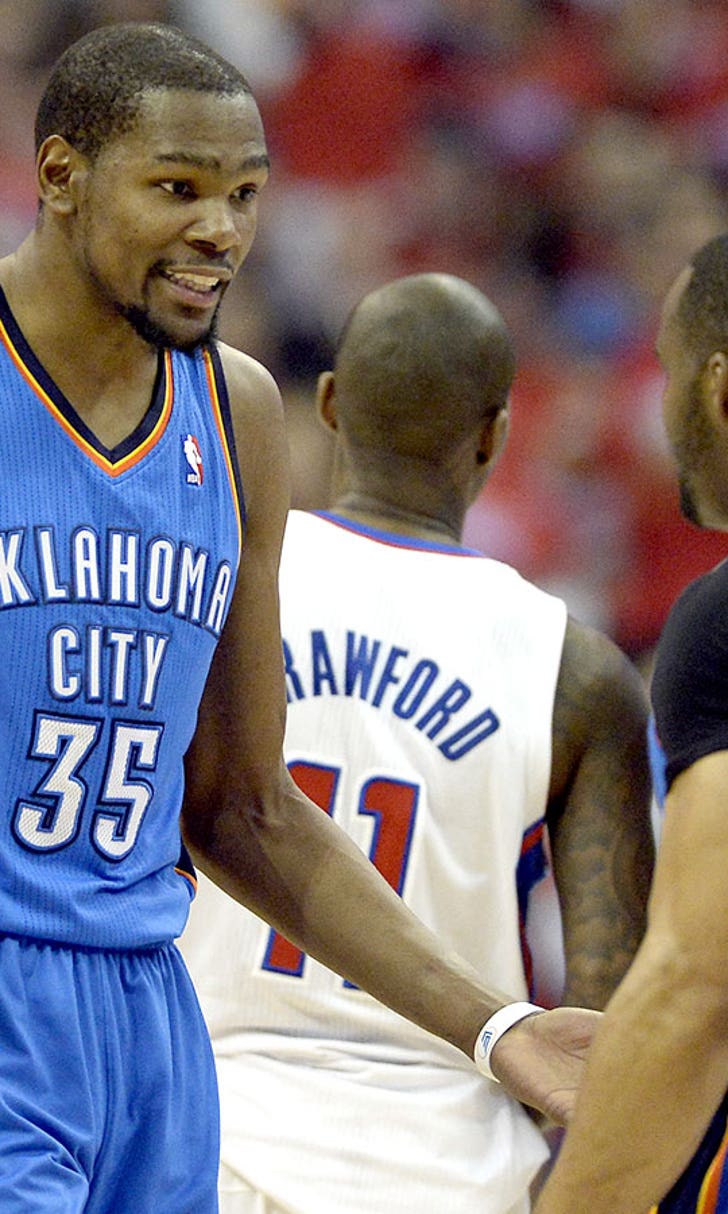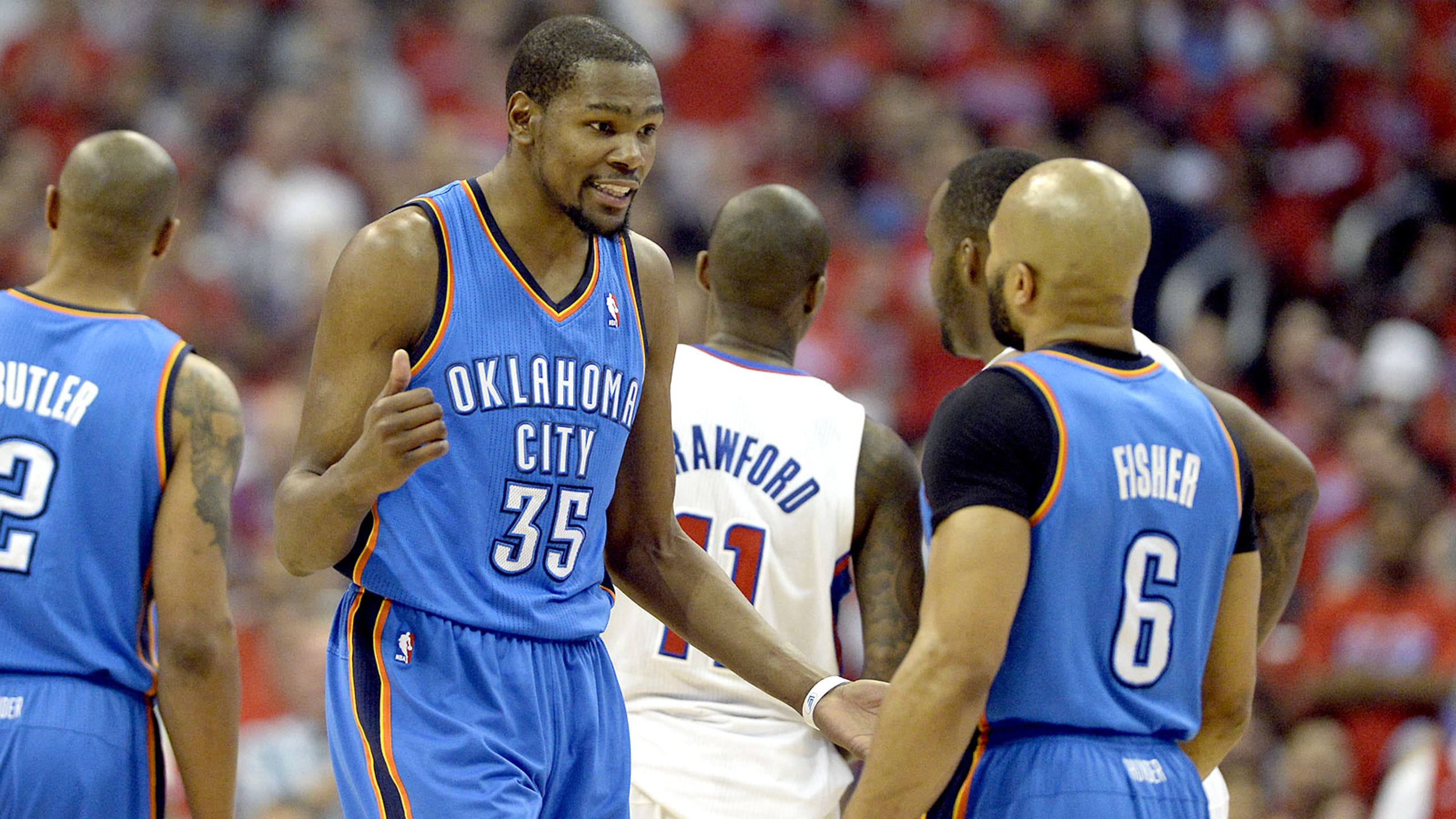 Knicks' Fisher doesn't want to talk about Kevin Durant's free agency
BY foxsports • November 20, 2015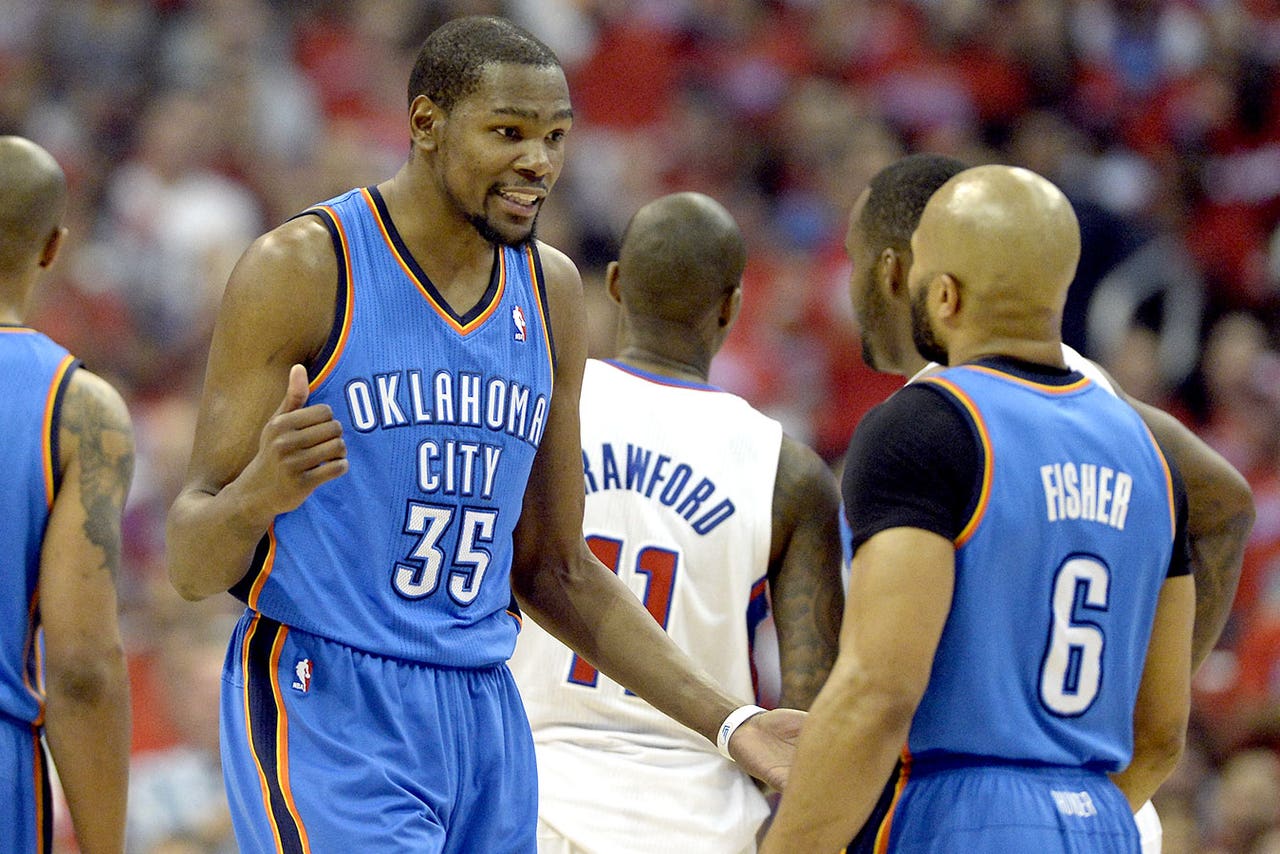 Derek Fisher and Kevin Durant were teammates with the Thunder from 2012 to 2014. Now, as one of them prepares to make a major splash in free agency during the upcoming summer, the other just so happens to be coaching in the NBA's No. 1 media market.
Is the size of the market enough to attract the summer's biggest name in free agency? History would tell you no. The Knicks' treacherous recent history has prevented them from signing the best free agent of the offseason in recent years, though hope has allowed for plenty of fantasies. (The Knicks actually did sign Amar'e Stoudemire back in 2010, but that was after bidding against themselves to knock his price up to $100 million on an uninsured contract, which eventually turned into one of the league's worst, just as many had predicted it would at the time pen went to paper on the deal.)
So obviously, after a surprisingly quick 6-6 start to the season and with the Thunder coming into town Friday night, Durant is becoming the talk of the town in New York. But don't expect Knicks coach Fisher to take any part of it.
Here's more from Marc Berman of the New York Post:
Fisher demurred on the subject of what makes Durant great.

"This is a new position for me,'' Fisher said. "I'll stay away from celebrating guys I used to play with that are pending free agents. Keep it at that.''

The Knicks (6-6) could be a bigger factor in the free-agent market in 2016 than last summer, coming off a 17-65 season and armed with an unknown Euro project in Kristaps Porzingis. If the Knicks can stay at .500 and make the playoffs, Fisher and Jackson can sell a healthy Carmelo Anthony and a potential franchise player in the 7-foot-3 Porzingis.

Durant will be the marquee 2016 free agent as long as LeBron James re-signs with Cleveland. But Durant is coming off last season's major foot woes. Memphis point guard Mike Conley is a better fit for the Knicks considering they now have aging veteran Jose Calderon and rookie Jerian Grant manning the point.
Durant is currently sidelined with a hamstring injury, an issue which may or may not be related to the foot injuries he sustained last season. When he's healthy, though, he's still obviously one of the two or three best players in the NBA. 
Surely, Durant-to-the-Knicks talk will pick up. Those sorts of conversations always do in New York. So leave it to Fisher to preemptively try to calm them down while he can. 
---
---