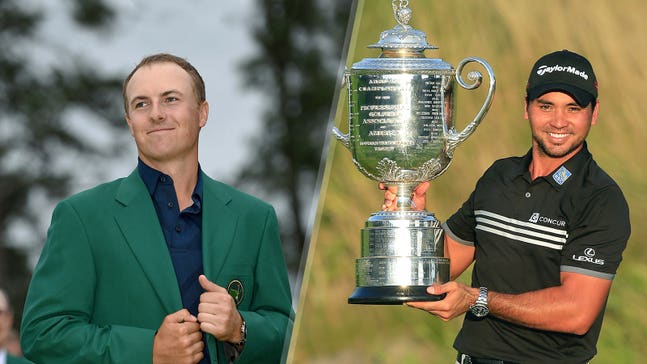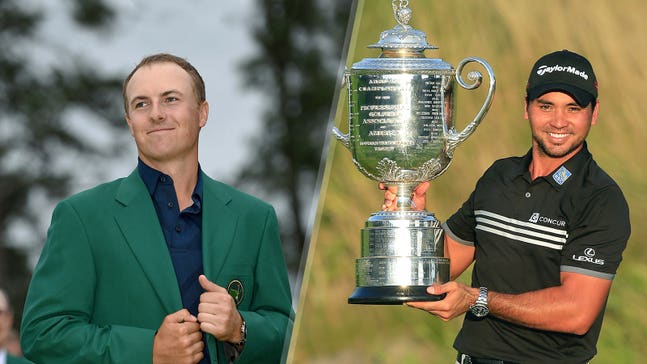 Shane Bacon golf mailbag: 2015 majors were a game-changer
Published
Aug. 20, 2015 11:55 a.m. ET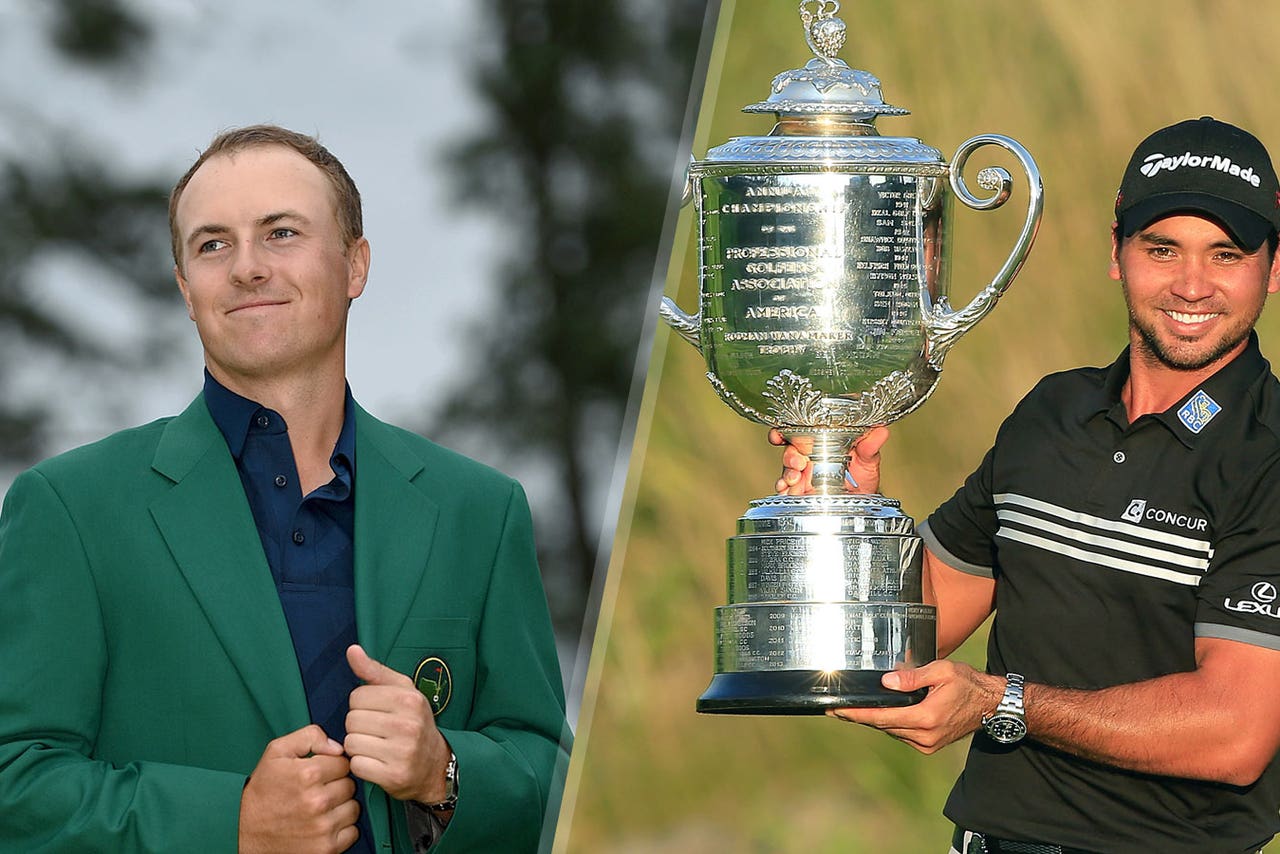 Whew. Is it finally over? Is this incredible major season really done?
In terms of ranking seasons of majors, 2015 will be in the conversation as one of the best ever, especially when you consider that Jordan Spieth (The Next Big Thing) and Jason Day (The Next Big AUSTRALIAN Thing) won three of four, coming after Rory McIlroy closed out the '14 season with back-to-back majors. No offense to Zach Johnson, his win at St. Andrews was impressive especially when you consider the players he outlasted (Spieth, Louis Oosthuizen, and the very, very underrated Marc Leishman), but '15 will be remembered as a big step forward not only for the future of golf but for an entirely different movement in the game as more and more great players seem to be younger and younger.
With all that said -- and with months and months separating us from the next major championship -- let's knock out some mailbag questions. As always, send in your question on Twitter at @shanebacon or for lengthier ones, head over to Facebook and give me your best shot.
@shanebacon @FOXSports were you disappointed in a somewhat lack of challenge from Speith on Sunday? Or Major (get it?) credit goes to Day?

— Josh Sanford (@J_Muscle) August 17, 2015
Bacon: I would be lying if I said I wouldn't have wanted a closer final few holes, but sometimes you just have to appreciate the brilliance unfolding in front of you and enjoy that walk instead of hoping for another close major that will be decided on the 72nd green (and we just had an amazing end to a major in '14, so let's not be greedy!).
The Masters was great because Spieth emerged as a star. The U.S. Open was great because the final round was absolutely insane, with Spieth turning heads that don't even care about golf to the British Open and the hope for the Grand Slam.
And St. Andrews ... my goodness, do you guys even remember how much fun that final round was?!
The PGA Championship was one of those majors that one guy wasn't going to lose. Not from the start, not during the middle of it, and not during the end. Jason Day got himself to a point, and a position, where he was the favorite at Whistling Straits (for good reason) and lived up to the hype. That's cool to see.
Imagine for a second that you, as 10-handicapper, were to play a whole bunch of 20-handicappers. You would be the favorite, right? People would be looking at you as the person that should win. Now imagine going out and actually doing that. More times than not you might fall on your face or let the moment engulf you (we golfers tend to choke more than not). Day wasn't nearly that big of a favorite, or one at all if you looked at the odds in Vegas, but considering how he closed out the Canadian Open and the way he played at the British, he looked like the guy to beat.
And he didn't disappoint. That's great to see. A final-round push by Spieth would have been more exciting, sure, but the 22-year-old had an epic major season and just wasn't going to overtake Day the way he was playing those four days in Wisconsin. Our expectations were enhanced because of what Spieth did at the first three majors, but it says a lot about him that a second-place finish is almost a letdown to some.
What a year. That will be tough to top.
@shanebacon Better PGA outcome for golf fans: Spieth win for his third major of 2015, or JDay win butting into the anointed Rory-JS rivalry?

— Charlie Ogburn (@chogburn) August 18, 2015
Bacon: I think if you polled most golf fans, they would have picked Spieth grabbing a third in '15, but personally I think Day adding himself to the conversation, and doing it so emphatically, makes for great chatter as we head into the playoffs and as we prepare for 2016 (not to mention, Day will be on the Presidents Cup team for the Internationals, a boost that team will need considering how the Americans have dominated this event).
We root for history, but it's never bad when a sport has three legit faces for the future, all three coming not only from different walks of life but different continents.
Bacon:
(And go ahead, argue Sergio all you want, but he's only 35 with 27 pro wins and 10 top-fives in majors.)
Bacon: It'll happen. Maybe not next year or in the next decade, but at some point, considering Spieth, Fowler, Dustin, Brooks Koepka, Justin Thomas, Patrick Reed, Billy Horschel, Bubba Watson, Peter Uihlein, Ollie Schniederjans, and all the others either on the Tour already or preparing to get there, I could see a run where the red, white and blue has all four in a year (just as easy as I could see a year where an American doesn't win a single major, something that hasn't happened since 1994).
@shanebacon @FOXSports do you think the USA will ever hold all 4 majors (hasn't been since '82) and what's your outlook on President's Cup?

— Brett Bergamo (@bbergamo) August 18, 2015
Speaking of the red, white and blue and to answer the second part of your question, I have an idea to spice up the Presidents Cup.
It's silly to think the event grabs the interest of American golf fans like the Ryder Cup, so why don't we change it up a bit?  Why don't we allow the captain, and his vice-captains, to pick the entire team. Yes, Jay Haas and his crew can select everyone on that group.
The obvious complaint would be "why even have rankings," but at least that would allow captains and their crew to figure out who has played the best and "deserves" a look to represent their country.
I just think that there are so many young Americans that are worth thinking about that rolling out the same boring group of guys does nothing to spike interest from the casual sports fan.
What if the team looked like this:
How fun is that group? You can pair Spieth and Reed again. Toss Bubba out with Rickie Fowler and create a team that could get some experience not only for the Presidents Cup but for future Ryder Cups. Maybe Spieth and Thomas can get a round in together (they are best friends did you hear?!).
I just think that team screams fun way more than adding Jim Furyk (sorry), Phil Mickelson (good for the group but totally inconsistent this year), Tiger (I know he isn't getting picked but I had to write it) and whomever else always seems to find themselves on these teams.
Give the young guys a chance. Throw in an amateur if you want, like Bryson Dechambeau, and give the group a 1992 Dream Team look with Christian Laettner, or go with a rookie who has played great and would be so jazzed for that flight to South Korea that he might even try to get his pilot's license.
I just think the Presidents Cup needs a bit more of a personality, and tweaking the look of the group would be a solid start. It'll never happen, but it's fun to think about.
Bacon: Ahh, how do you answer this?!
Two majors vs. the one major that not only changes your career but gives you a place to play for the rest of your life?
I think you have to go with the one Masters. Guys like Ian Woosnam, Trevor Immelman and Charl Schwartzel can probably attest to the beauty of winning a green jacket, and I'm sure if you put them in a room battling those that have two PGA wins (while still awesome), it just isn't the same in the sense of what comes when you're 45, 55 and 65. You can have your kid caddie for you at the Par-3 Contest until you can't walk anymore! That is amazing, and it just seems like a special place to go, especially if you get to rock a green jacket all week.
Oh, and the champions dinner. You get a free meal every year! Everybody loves free food.
Bacon: I would make a point STANDING IN THE HALL OF FAME about how often that commercial AND THE WORLD'S GONNA KNOW YOUR NAME came on and how YOU CAN MOVE A MOUNTAIN they didn't change it YOU CAN BREAK ROCKS from last year's commercial YOU CAN BE A MASTER but I'd rather just focus DEDICATE YOURSELF AND YOU CAN FIND YOURSELF on how great Jason Day played. It was truly incredible, and the world is going to know his ... dammit.
Bacon: I'll go with Day. I know Rory has the perfect game to win at Augusta National, but considering Day nearly won it in 2011 (birdied his final two holes only to have Schwartzel double that feat behind him) and finished third in '13, it looks like he understands Augusta enough to win there and has the perfect ball-flight to do so. (Same could be said about Rory, but for whatever reason he hasn't quite mastered the greens there yet. ... He will, I just think Day wins there first).
@shanebacon with Jason Day winning the tournament and an Omega watch, will he now be standing in the hall of fame?

— Christopher Jordan (@cj_jordan1) August 17, 2015
That being said, let's all understand one important point before we bookend this amazing major season: The PGA Tour isn't just Spieth, Day and Rory. They could go two full seasons without winning a major. Before '15 got going, people were arguing that Rory would win multiple majors again, considering he had Augusta (his style), St. Andrews (shot 63 to open the Open in '10) and Whistling Straits (finished a shot out of the Kaymer-Bubba playoff in '10) in front of him.
But winning majors is really, really hard. Like, really, really, really, really hard. Tiger Woods screwed up all our thinking with this when he won five in six starts and seven in four seasons. It just doesn't happen like that, even with Rory and Jordan winning back-to-back majors, and it will only get harder as the talent pool on the PGA Tour gets deeper.
It's nice to think that we have a Big Three in golf again, but it isn't going to be easy for Spieth to add a third, Rory to add a fifth and Day to add a second. Next year's list of major winners could be totally different. So instead of hoping and predicting what will happen in '16, let's all take a minute and remember what we've witnessed since the 2014 PGA Championship. It's been an epic run, a great one, but plenty of others are out there hoping to become major winners next year.
Which, if you ask me, just makes it all that more exciting.
Shane Bacon is a regular contributor to FOXSports.com's golf coverage. Follow him on Twitter at @shanebacon.
---
---