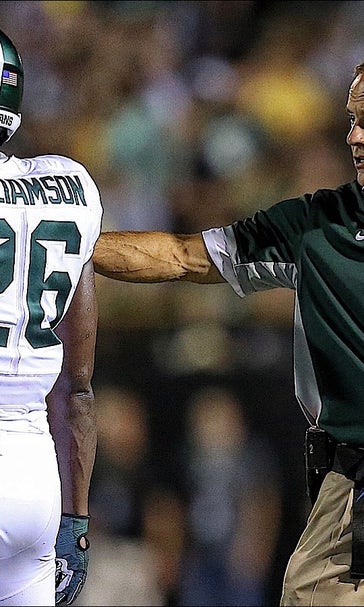 Big Ten East: Spartans still searching for answers in secondary
BY Marcus Hartman • September 8, 2015
Michigan State started the season with a 37-24 win at Western Michigan that had its positives and negatives.
On the plus side, the Spartans dominated at the line of scrimmage whether either team was running or passing. MSU won the rushing battle 196-18 and made seven sacks while allowing none. Three new backs shared the load on the ground with true freshman L.J. Scott rushing for 77 yards on 13 carries while redshirt freshman Madre London had 13 carries for 66 yards and sophomore Gerald Holmes had 54 yards on nine attempts.
When the Broncos were able to protect quarterback Zach Terrell, it was another story however. He completed 33 of 50 passes for 365 yards and two touchdowns. While absorbing those seven sacks, he also threw two interceptions.
Two WMU receivers logged double digits in catches and triple digits in yards: Daniel Braverman had 13 catches for 109 yards while Corey Davis piled up 154 yards and a touchdown on 10 receptions against a Michigan State secondary breaking in new starters Vayante Copeland and Demetrious Cox at cornerback and Montae Nicholson joining holdover R.J. Williamson at safety. Arjen Colquhoun and Jermaine Edmondson also saw time in the MSU secondary.
"We had a lot of guys out there playing and they're all going to get better," coach Mark Dantonio told reporters in Kalamazoo, per the team's official website. "They got the opportunity to play, so they're going to prepare even more and they'll know what to work on. That's usually the way it goes, you get more confident."
Pass defense was a question mark entering the season for the Spartans, who dropped from No. 1 in opponents' efficiency nationally in 2013 to 21st last season and from third in yards allowed to 60th, and there is no time to waste as far as getting things in order with Oregon coming to East Lansing this weekend.
New starting quarterback Vernon Adams Jr. completed 19 of 25 passes for 246 yards and two touchdowns for the Ducks in a 61-42 victory over Eastern Washington on Saturday night.
Familiar problems for Wolverines, Nittany Lions
Michigan and Penn State both left home for their openers, and both went home with losses. 
A common thread for both the Wolverines and the Nittany Lions: Problems on the offensive line persisted from previous seasons.
The Nittany Lions line -- with four returning starters an JUCO transfer Paris Palmer at left tackle -- allowed 10 sacks in a 27-10 loss to Temple in Philadelphia while the Wolverines did not allow a sack but averaged 2.6 yards per carry in a 24-17 loss at Utah.
Penn State head coach James Franklin admitted offensive adjustments were hard to make at halftime because of the way the offensive line played and indicated there are few, if any, other personnel options up front.
"Our best five are playing," Franklin told reporters in Philadelphia. "The guys that are backing them up are redshirt freshman that we don't feel at this time are ready. We'll look at it and obviously there will be adjustments we are going to have to make. We spent a lot of time all off season working and discussing who our best five to are put on the field."
First-year Michigan coach Jim Harbaugh tried to put a positive spin on his line's play in Salt Lake City, where the Wolverines rushed for 76 yards on 29 attempts.
"We had a lot of issues (with unblocked defenders) in the first part of the game but I thought they asserted themselves well in the interior line and started making holes and not getting the run-throughs," Harbaugh told reoprters. "And the pass protection was very good. There are positives."
Quick hits: Leonte Carroo had a big opening day for Rutgers despite playing only one half. The All-Big Ten receiver caught three passes for 129 yards in the Scarlet Knights' 63-13 win over Norfolk State and scored on all three grabs. He was among five players suspended for the first half for violating team rules... Indiana running backs Jordan Howard and Devine Redding combined for 202 yards on 36 carries in their first game as replacements for 2014 All-American Tevin Coleman... Indiana quarterback Nate Sudfeld threw for 349 yards in his return from a shoulder injury that ended his 2014 season after six games... Though it came against FCS opponent Richmond, Maryland's running game got the season off on the right foot as the Terrapins piled up 341 yards on 45 carries, 7.6-yard average.
Marcus Hartman covers the Big Ten East and Notre Dame for FOX Sports. You can follow him on Twitter at marcushartman.
---
---