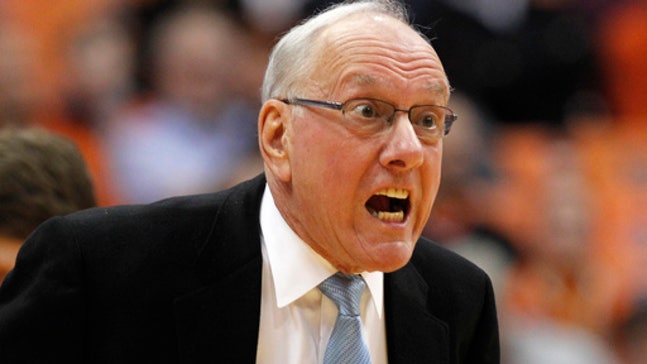 SU's Boeheim lashes out at ACC for crazy schedule
Updated
Mar. 5, 2020 12:56 a.m. ET

Jim Boeheim has already set a projected retirement date and endured a nine-game NCAA suspension this season. You're kidding yourself if you think he's going to start holding back now.
The veteran Syracuse University men's basketball coach took the opportunity to unload on the ACC schedule Thursday after one of the Orange's more impressive outings of the season, an 81-66 victory over shorthanded Notre Dame that lifted the Orange to 4-5 in the conference.
"The schedule is horrific in this league this year," Boeheim said in his postgame news conference. "It's pretty obvious. Everybody knows that. I don't know why we're playing Thursday. We've could've played Wednesday. I don't know. It just doesn't make sense."
The Orange started with two road games against ranked opponents, returned home for three games and then endured a three-game road swing that included games vs. two more ranked foes. The Notre Dame game started a four-game homestand consisting of three contests in six days -- and then an eight-day break before hosting Florida State. The league schedule concludes with two more road games.
By way of comparison, the Big Ten doesn't schedule teams for more than two straight road games, which also eliminates long homestands.
Two-game road swings are also the norm in the Pac-12. Arizona's three-game trip to start this month concluded with games two days apart in Los Angeles vs. UCLA and USC.
"You want to set teams up to have opportunities to be successful and they don't," Boeheim said of the ACC. "We're playing Thursday, Saturday, Tuesday and then we get (eight) days off. It's just stupid. That's all it is."
Two weekends ago, Syracuse won at Wake Forest on a Saturday and then at Duke on Monday. Duke had played at home on that Saturday before hosting the Orange. In its Big East days, Syracuse would have been protected by a conference rule that didn't let schools play at home both Saturday and Monday if the Monday opponent had played a Saturday road game.
Syracuse.com noted Duke just completed a similar Saturday-Monday trip to North Carolina State and Miami. Miami hosted Wake Forest on Saturday prior to Duke's visit.
"It's really scary when the people who are doing these things don't see that," Boeheim said. "That's what's scary. Really, really scary."
---
---