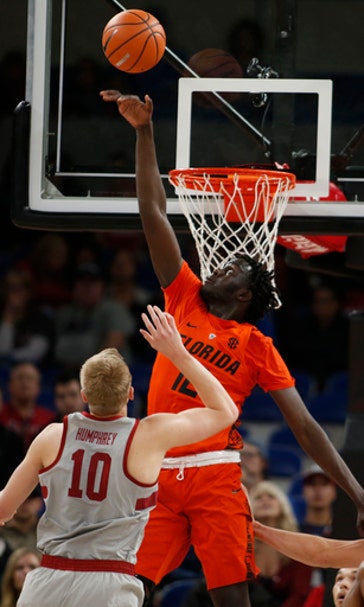 Koulechov scores 26 as No. 7 Florida routs Stanford 108-87 (Nov 23, 2017)
November 24, 2017

PORTLAND, Ore. (AP) There hasn't been much of an adjustment period for Egor Koulechov since he arrived at Florida.
The graduate transfer from Rice had 26 points, including five 3-pointers, and the seventh-ranked Gators routed Stanford 108-87 on Thursday night in the Phil Knight Invitational.
''Honestly, I've been really comfortable with these guys from day one,'' said Koulechov, who made all five of his 3-point attempts. ''The coaching staff and the players have done a really good job of helping me to adjust after coming from another school to make the transition easier for me. And how we play on the court, it's really unselfish and it's fun to be around that.''
Koulechov scored 34 points in his debut this season for the Gators, then posted consecutive double-doubles before his big game against Stanford.
Jalen Hudson added 17 points, including a career-high four 3s, for the Gators (4-0), who hit 15 from long range overall.
Reid Travis scored 23 points for Stanford (3-3), which lost its second straight to an opponent ranked in the top 10. The Cardinal trailed by as many as 38.
''It was an extremely hot shooting night for them, but we could have done better defending the 3-point line,'' Travis said.
The Gators announced shortly before the opening tip that starting center Kevarrius Hayes had been suspended for the game for a violation of team rules. The school did not provide details. Hayes is averaging 6.3 points and 5.7 rebounds.
The tournament involves 16 teams playing in two brackets on Thanksgiving, Friday and Sunday, with a break on Saturday. The field also includes No. 4 Michigan State and defending NCAA Tournament champion North Carolina.
Dubbed the PK80, the tournament celebrates Nike co-founder Phil Knight's 80th birthday.
Florida and Stanford were in the Motion Bracket, playing at Memorial Coliseum. Teams in the Victory Bracket played Thanksgiving Day at the adjacent Moda Center.
Stanford was coming off a 96-72 loss on Monday night to No. 9 North Carolina. The Cardinal have been short-handed as Dorian Pickens and Marcus Sheffield nurse foot injuries, putting three freshmen in the starting lineup.
Stanford was no match for the Gators, who jumped out to a 16-5 lead on Hudson's 3-pointer. It was never really a contest, with Florida pushing its lead to 25 in the first half.
Chris Chiozza's layup put the Gators up 58-33 with 1:45 left and they went on to lead 58-39 at the break. About the only criticism that coach Mike White had afterward was that he wished the team had been more consistent defensively.
''When you shoot 13 for 18 in the first half (from 3-point range), that's obviously a good sign, but I think the other important thing was the way we shared the ball today and made those extra passes,'' Koulechov said. ''When you share the ball like that and get good shots, high-percentage shots - and there's a good chance we're going to hit them.''
The Gators beat Gardner-Webb 116-74 and then North Florida 108-68 - scoring 100-plus points in their opening two games for the first time in school history - before they were challenged by New Hampshire on Sunday, coming away with a 70-63 victory as Hudson scored 22 of his 26 points in the second half.
BIG PICTURE
Florida: The Gators hadn't played a Pac-12 opponent since the 2014 Sweet 16, when they defeated UCLA. ... Hudson is a transfer from Virginia Tech. He sat out last season. ... It was the first time in five meetings that Florida defeated Stanford.
Stanford: The games against No. 9 North Carolina and No. 7 Florida marked the first time the Cardinal had faced back-to-back opponents in the top 10 in 19 years.
A LITTLE CONFUSION
Both teams left the court at the end of the first half but were called back to play out 0.8 seconds still on the clock.
QUOTABLE
''With a great-shooting team like them, if you don't get out to the perimeter and let them gain momentum, it's just going to rain on you and that's exactly what happened,'' Stanford's Robert Cartwright said.
UP NEXT
Florida: The Gators play No. 17 Gonzaga, which beat Ohio State 86-59.
Stanford: The Cardinal face Ohio State.
---
---