Top 5 Rental Players on the Trade Market
Matthew Barlowe/FanSided via Cardiac Cane

Fansided
Who are the top targets teams can get at the deadline?
It's that time of year. A pair of magical months when anything can happen. Fan's dreams fly across tweets and blog posts. Byzantine deals between three or more teams somehow ends up bringing your team the missing piece. The one trade that all but ensures drinking out of Lord Stanley's Cup come June. And then the end of February comes.
You scramble to TSN refreshing the trade tracker page a million times and there it is! Your team made a trade! And then you look at it and say, "We gave up a second round pick for him? He's awful!" Or if you're on the other end, "We only got a second round pick for that player? Our GM sucks! We got shafted!" See in many ways, the NHL trade deadline is like Christmas. It only comes once a year, people complain about spending too much, and everybody ultimately ends up disappointed with what they got.
With the Carolina Hurricanes precarious playoff position, it's still too early to know if they will be trading players or bringing them in. As the trade deadline nears the buyers and sellers still remain unknown. But the players that could be moving are much easier to determine. So what type of players are those? Usually, it involves players on the last year of their deal to make it easier for a team to fit them in under their cap in what is known in hockey parlance as a "rental". So I scanned the list of free agents here at CapFriendly and picked out what I think will be some of the most sought after players at the deadline.
1. Jarome Iginla
Jarome Arthur-Leigh Adekunle Tig Junior Elvis Iginla, or Jarome Iginla as he's more commonly known, has been bouncing around teams the past five years looking for one that will deliver him that cup victory on a silver platter. So far he hasn't found it yet, but signing a three-year contract with a bad Avalanche team will tend to complicate things. Iginla leads this year's trade deadline as the "Old Guy Without a Cup." He'll bring all those intangibles that GM's and front offices love to talk about. Things like character, leadership, and veteran presence; you know all the things that don't actually win hockey games.
As far as the things that do win hockey games, like Goals and Assists, well Iginla seems to be in short supply of those these days. With only five goals and eleven points this year, it seems that whatever tank Iginla has is past running on fumes and is now fueled by whatever kept that Chanukah lamp going for eight days. My guess is he drinks unicorn blood. Add that in with a $4.25 million cap hit it will be hard for the Avalanche to get anything for him. But somebody will be dumb enough to buy into the narrative and believe that they can get him to produce. The only question is who?
2. Brian Gionta
Brian Gionta has quietly put together three 30 plus point season the last three years and is on pace to put up another 38 this year. So far this season that translates into eight goals and 18 points on a Buffalo team that isn't playing very well at all. For teams trying to shore up their middle six scoring, Gionta would be a good place to start looking. The Sabres aren't making the playoffs and in fact don't look any closer to doing so than the 2014 season where they tanked. Tim Murray, the Sabres GM, needs to keep bringing in young talent to improve the team and more draft picks are the quickest way to do so.
There are a couple hiccups holding up this deal. The first is Gionta's contract. At $4.25 million most playoff bound teams are going to have a hard time fitting him in under the cap. The second is that Gionta has a modified no-trade clause in his contract. This allows him to give the Sabres a list of five teams that they can trade him to. So even if the Sabres can find a team to fit Gionta in their cap, he can nix the deal if he doesn't want to go there. Although given the current state of the Sabres, one would think Gionta would want to leave as quickly as possible especially if it meant another shot at a cup to add to his win with the New Jersey Devils in 2003.
3. Jaromir Jagr
Jagr will probably be the crown jewel of the trade deadline rentals this year. Even at 44 years old, Jagr continues to play well and put up points. Right now Jagr is on pace to score fifty points and while down from last year that total is high enough to place him in just about every NHL team's top six. And when you can break all-time NHL records with your butt what is there not to like about this guy?
Again like the other two mentioned before, Jagr carries a hefty cap hit at $4 million. And there is the fact that the Panthers currently only sit two points out of a playoff spot. That closeness can be deceiving, though, as the Panther's are 4-3-3 in their last ten and aren't making up any ground against the teams above them. Hopefully, they realize that and send Jagr somewhere he can play in the playoffs because NHL fans need to savor as much of this man's extraordinary career as they can.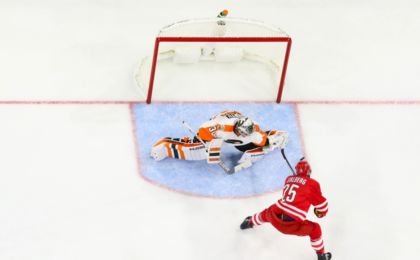 4. Viktor Stalberg
We couldn't do one of these and not have a Carolina Hurricanes player on it, right? Some could argue that Hainsey should be here instead of Stalberg and they would have a good point. But given Stalberg's lower cap hit, he'll be easier to move and that's why he's on the list. Stalberg has been great so far for the Hurricanes this year. Chipping in seven goals (one shorthanded) while playing limited minutes, Stalberg has been the one player keeping the Carolina Hurricanes fourth line from being a total disaster.
Stalberg owns a smaller $1.5 million cap meaning more teams will be able to fit him on their roster. Stalberg's role as a penalty killer will also make him more valuable as well. Not only does Stalberg kill penalties, but he does it in the best-ranked penalty kill in the NHL. In a league that values defense, and values it even more in the playoffs, a player with Stalberg's skill set goes a long way to adding depth to teams looking to make deep playoff runs.
5. Tomas Vanek
Ok, Red Wings fans it's time to give up the ghost. Detroit sits dead last in the Atlantic division and 27th overall in the NHL for points. The streak is over. It was a good streak, but all things must come to an end. Time to let it go. And the best way to do that is to trade away some guys for picks, and Tomas Vanek represents the Red Wings most valuable player in that regards. This year represents something of a career resurgence for Vanek who has scored ten goals and 25 points in only 29 games.
Vanek's contract makes those numbers even better with its measly $2.5 million cap hit. In the playoffs, it's often the role players that decide whether a team wins a couple of rounds. With the way Vanek is playing he would supplement any team's secondary scoring and in a pinch could slot in on the top line in addition to power play minutes. Vanek would be a great pick up for teams in need of scoring depth.
This article originally appeared on