Chicago Blackhawks' Hot And Not: Role Players Have Nice Week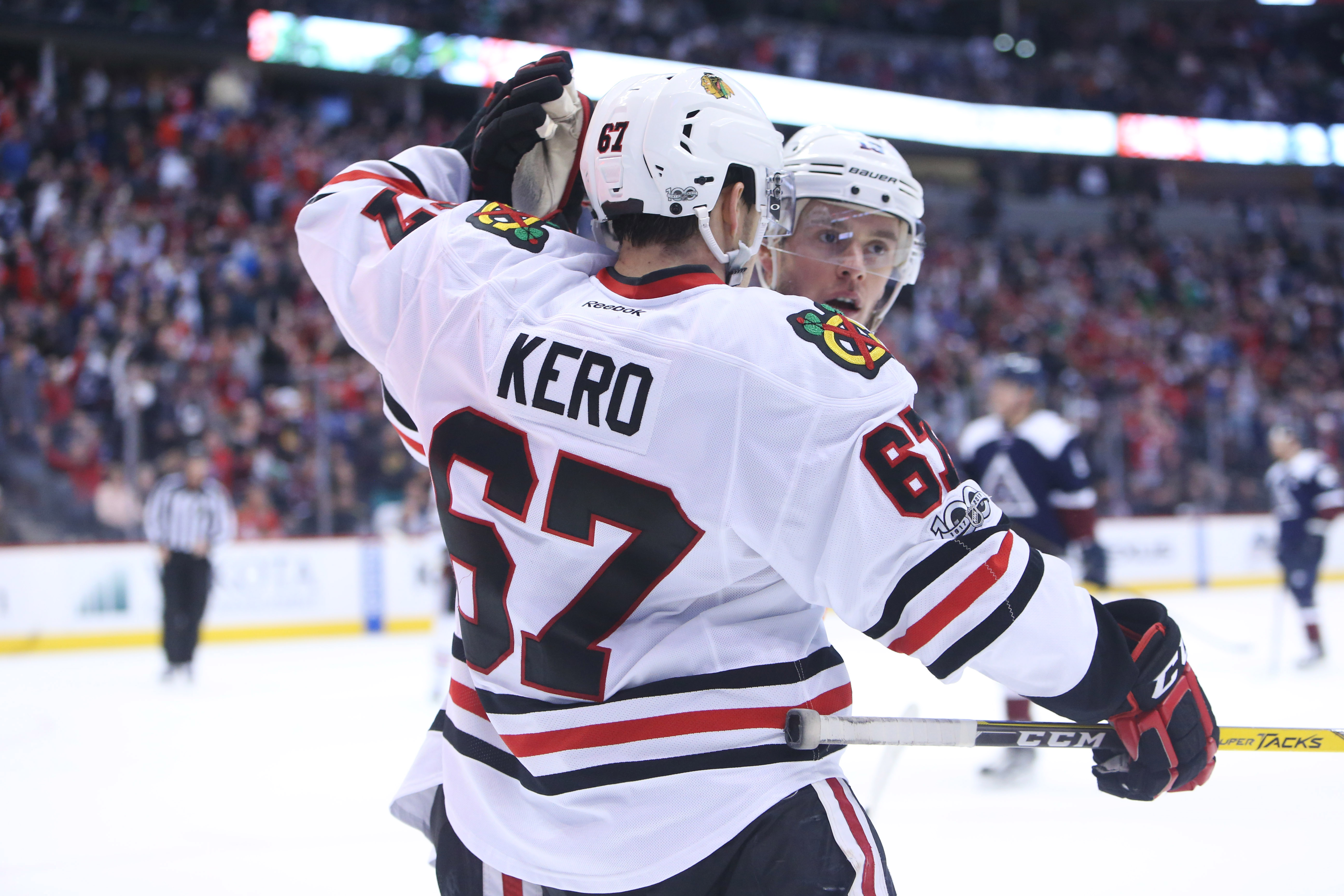 Sometimes, a Chicago Blackhawks analysis has only one good game to focus on, as is the case with this week's Hot and Not
A comeback win for the Chicago Blackhawks against the Colorado Avalanche is really the only positive influence for this week's Hot and Not. The Blackhawks were lit up by the Washington Capitals last Friday and lost to the Minnesota Wild last Sunday.
Thankfully, they turned a 4-3 advantage through two periods at the Pepsi Center on Tuesday into a 6-4 victory over the lowly Avs. This should give the team some momentum heading into Friday's matchup against a team the Blackhawks don't see much of, the Boston Bruins.
Thankfully, the win against Colorado gave us enough fuel for this week's Hot and Not, while the previous two losses did plenty on the negative side. Let's begin, shall we?

Who's hot: Tanner Kero
This is a pleasant surprise. Kero potted all three of his points against the Avalanche, but he worked hard for them.
On his first goal of the night, the Blackhawks had just gone down 3-2 in the second period. Trevor van Riemsdyk got the puck at the point, waited and flung it on net. Kero and Vincent Hinostroza got net-front presence, and it was Kero who swatted the puck past Semyon Varlamov to tie the game 19 seconds after Chicago had gone behind.
Kero then netted the primary assist on the eventual game-winning goal, scored by Hinostroza in the third period. After starting the play by winning a faceoff and moving the puck through the neutral zone, Kero jumped all over a puck freed up by Marian Hossa, then flung it perfectly to a streaking Hinostroza, who just had to tap it past Varlamov.
Kero then tried to set up Jonathan Toews for an empty-net goal late, but the captain rewarded a hard night's work for Kero by flipping the puck to his younger teammate to ice the game.
Nice performance from Kero, who's been very reliable on the penalty kill and as a bottom-six forward since his call-up.
Who's not: Corey Crawford
I dislike putting Crow in any "not doing well" areas of posts because it gives the small-but-rabid part of the fan base fuel to trade him to a team in Siberia. But while Crow didn't always receive much help from his teammates on defense in the last three games, he also just had some rough outings.
Crow was on the ice for 12 of 13 goals against across the previous three games for an ugly .859/4.32 stat mark. I actually thought Darling would get the call Tuesday to give Crow some time to clear his mind, but coach Joel Quenneville went with the "get back on the horse" theory.
It worked for two periods against the Avs, but a really rough second period marred Crow's stats in a win. He's just not making all the stops we've grown accustomed to seeing him make.
It's more likely a product of January just being a slow month for the Blackhawks in general and maybe a product of his appendectomy. A few starts for Darling here and there might be good for Crow's health. (And as I wrote this, Darling was announced as Friday's starter against Boston.)

Who's hot: Vincent Hinostroza
If I was going to put Kero on this list for primarily a singular game, I had to put Hinostroza on here as well. He rallied the Blackhawks back to a win by converting a breakaway about five minutes into the third period Tuesday. He then was the recipient of Kero's great pass for a game-winner later on.
Hinostroza can be a very important bottom-six player for the Blackhawks. His speed would be tough to contend with on most lines, but he's generally going to fair a lot better against grunt-type guys versus bona fide stars. If the Blackhawks could just settle on linemates for him, his scoring would likely continue to rise.
Who's not: Duncan Keith
Keith just hasn't seemed all there of late. Again, this could be a product of the Blackhawks typically not being all there in January, as they use this time to save up some energy for a playoff run. It could also be a product of Keith's offseason knee procedure.
Keith recorded no points in the last three games and posted a minus-1 rating. He and defensive partner Niklas Hjalmarsson have had trouble carrying the puck much, with Keith posting Corsi-for marks of 45.16 and 44.19 against the Avs and Wild, respectively (no one needs me to tell you puck possession wasn't much of a thing against Washington).
Keith is usually the guy who's pushing the offense from the blue line. It's no surprise the offense, then, has seen its struggles as Keith has struggled.

Who's hot: Michal Kempny
I could put Hossa or Brian Campbell here for reach 600 and 500 career assists, respectively, but I'm going to go with Kempny. He had one point in his last two games (he was a healthy scratch for one), but he's just been playing really solid defense.
Whenever he draws back into the lineup, he seems to wind up playing fourth-defenseman minutes. Which is obviously really confusing considering he keeps getting healthy scratched, but if Q is going to appropriately utilize the guy when he is out there, I guess that's something.
Kempny posted a really solid 62.86 Corsi-for against the Wild and followed that up with a 68.97 mark against the Avs. He was on the ice for the most scoring chances for the Blackhawks at 20.
Kempny just plays really strong at-home defense and knows how to get the puck turned the right way. He's like a Marcus Kruger for your blue line. So Q, please stop healthy scratching him.
Who's not: Jonathan Toews
Twitter has gone rampant once more in vilifying Toews as a plague upon the Blackhawks. While that's absolutely ridiculous, he has again fallen into a bit of a slump after appearing ready to break out.
Pairing Toews with Ryan Hartman and Richard Panik, two guys who don't do much to create scoring chances other than bulldozing toward the net, wasn't going to push his production much. Unfortunately, that line existed at today's morning skate, so Toews is going to have to find a way to work around it.
Add to that the last three games saw him post a motley 42.9 percent success rate on faceoffs and him finishing as a minus-2 for those three games, and the two non-scoring items Toews is relied on for have also seen a bumpy ride. No reason to believe he won't correct it all, but a change in linemates will probably be required.
This article originally appeared on