Twitter Explodes After Jared Goff is Named Rams Starter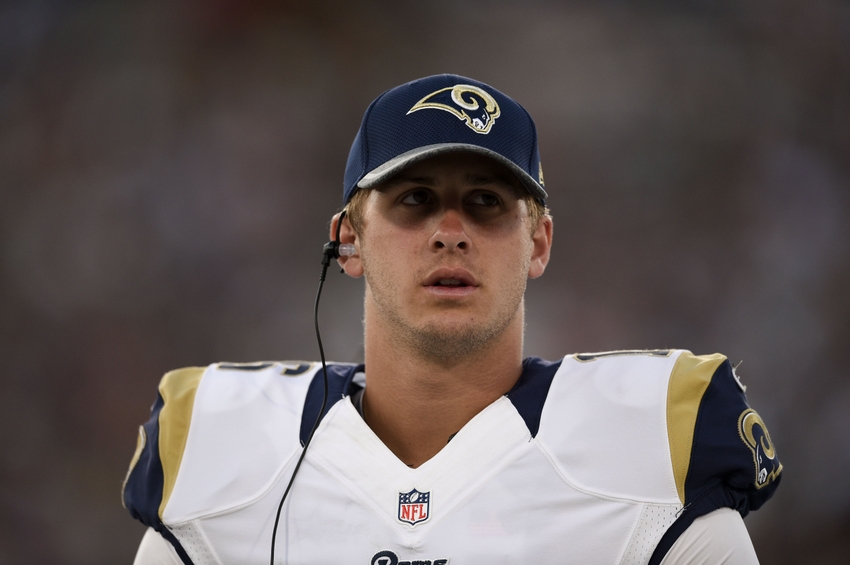 With big news comes big reactions, and that's exactly what we saw on Twitter after it was announced that Jared Goff would start Sunday for the Los Angeles Rams.
A report by ESPN's Chris Mortensen saying the Los Angeles Rams were making the switch to Jared Goff in Week 11 set the NFL world on fire.
Here's the original tweet from Mort:
Jared Goff will start Sunday for the @RamsNFL against @MiamiDolphins in front of a home crowd, per team sources. QBs were informed this am.

— Chris Mortensen (@mortreport) November 15, 2016
The news was surprising considering Rams head coach Jeff Fisher announced just yesterday that Case Keenum was still the team's starter.
The Reaction
ESPN Stats & Info dropped some knowledge on just how bad the Rams' quarterbacks have been the past two seasons:
Why are the Rams starting Jared Goff? Perhaps because their QBs have struggled mightily the past two seasons: pic.twitter.com/ivy9KFUk9L

— ESPN Stats & Info (@ESPNStatsInfo) November 15, 2016
NFL Network's Adam Rank doesn't think very highly of the move:
Jared Goff to start.

You've just replaced the Creed CD with Nickelback. Congratulations.

— Adam Rank (@adamrank) November 15, 2016
Talk about optimism:
I wasn't playing. Jared Goff is starting on my fantasy team. It's about to be 🔥 pic.twitter.com/0TOhFd0dXw

— King LV 👑 (@LVstackiN) November 15, 2016
Jeff Fisher's motives for going to Goff now were questioned:
Jeff Fisher was just waiting to switch to Goff when you least expected it and stopped caring or thinking it made a difference. #Rams

— Mike Tanier (@MikeTanier) November 15, 2016
The Rams are hoping they get a lot of this out of Goff:
Big arm.
Even bigger expectations.

It's @JaredGoff16 time in Los Angeles. https://t.co/RXAeUp7NZF

— NFL (@NFL) November 15, 2016
One fan doesn't plan on selling his season tickets anymore. Smart guy:
@LizHabib Awesome! Just took down my season tickets from stub hub. Can't wait to go Sunday

— Ramsey Mora (@moracomp) November 15, 2016
Can Goff keep Kenny Britt's great season going, while also helping Tavon Austin to get involved?
OTOH, Keenum developed strong chemistry with Kenny Britt and resurrected Brian Quick's career. Can Goff keep that going?

— RamsHerd (@RamsHerd) November 15, 2016
Cue the funny gifs, please
When your number one overall draft choice is finally deemed good enough to play… In week 11. pic.twitter.com/oSYWJhFPoI

— SeattleRams (@seattlerams_nfl) November 15, 2016
— TurfShowTimes (@TurfShowTimes) November 15, 2016
Jared Goff given the start this Saturday against the Dolphins at home. pic.twitter.com/Id3hLQkBa7

— Call me G (@_WesG) November 15, 2016
@joshuaneuman and @eriqgardner learning the news that Jared Goff will be starting for the Rams on Sunday… pic.twitter.com/zdqYjlZWiy

— GreatestShowOnGrass (@LARamsPodcast) November 15, 2016
Jared Goff currently: pic.twitter.com/EiELi8uHWd

— RAW DAWG (@a_glover15) November 15, 2016
And the rest of it
NFL News:
-Vikings release Blair Walsh
-Rams to start Jared Goff
-Johnny Manziel up to backup janitor
-Bears fans at .98 Blood Alcohol level

— NOTSportsCenter™ (@NOTSportsCenter) November 15, 2016
What if Jared Goff is actually good tho?

— TJ Smith's WarRoom (@WarRoomTJ) November 15, 2016
This article originally appeared on