Philadelphia Eagles Week 10 rookie review: Jalen Mills coming into his own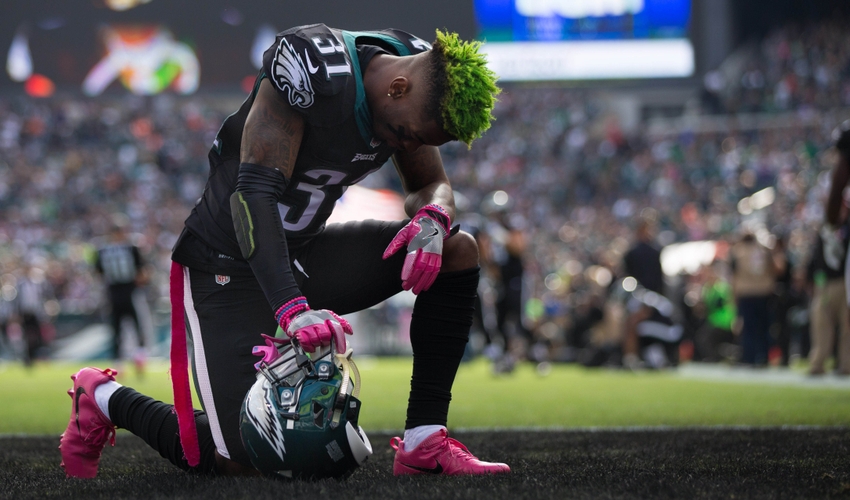 Several Philadelphia Eagles rookies had successful showings against the Atlanta Falcons.
Believe it or not, we're over halfway through the regular season. With nine games played this season, we now have a good idea of where some of the Philadelphia Eagles' rookies are in their development. Some are further ahead than others, but they've all seen roles this season, big or small.
Let's start with the rookie with the biggest role on the team, the quarterback, and see how he fared against the Atlanta Falcons Sunday.
Wentz's play has fallen off a bit since his magnificent start to the season, but that doesn't mean he hasn't been impressive. Wentz continues to show why the Eagles drafted him with second overall pick in this year's draft.
Against the Falcons, Wentz had no issues moving the ball and, as always, made several highlight reel throws. However, Wentz made several smart throws that really stuck out. Here's one of them:
The play action fake drew in the linebacker on this play. Wentz sees this and quickly darts a pass to Jordan Matthews for a solid gain. Wentz's awareness has been terrific all season and this is just a small example of it from Sunday.
Seumalo still doesn't play a very large role in the offense, but he did make a few cameo appearances against the Falcons as a sixth lineman Sunday.
On this play, Seumalo does a good job selling the run to the right and effectively seals off Atlanta's edge rusher, allowing Ryan Mathews to bounce the run outside and pick up a big gain.
It's a small start for Seumalo, but it's a start nonetheless.
Smallwood is having himself quite an impressive rookie campaign. The West Virginia product picked up 70 yards on 13 carries Sunday, averaging 5.4 yards per attempt.
The Eagles' running back situation is still a bit curious. Ryan Mathews and Smallwood received heavy workloads this week, but that hasn't been the case on a consistent basis. Darren Sproles has led the team in carries multiple times this season as well. The tandem of Mathews and Smallwood worked so well this week that it would be a bit of a head-scratcher for the Eagles to give Sproles, a third and fourth down specialist, the lion's share of the snaps against Seattle.
More from Inside the Iggles
After a horrendous NFL debut against the Washington Redskins in Week 6, Vaitai has stepped up in a big way as he fills in for suspended right tackle Lane Johnson. He's had his fair share of rookie mistakes since his catastrophic debut, but Vaitai has gone from being a liability to a competent presence on the offensive line. He still has a lot of ground to cover, but Vaitai's drastic improvement in recent weeks is a great sign.
Of all the Eagles rookies, Mills may have been the most impressive.
Mills was tasked with covering arguably the top wide receiver in the NFL in Julio Jones and, according to Pro Football Focus, held him to four receptions for only 48 yards. Against veteran cornerback Nolan Carroll, Jones had three receptions for 57 yards.
The fact that Mills, a seventh round rookie, was able to contain one of the top football players in the world as effectively as he did speaks volumes. Cornerback is the most difficult position for a rookie to master and while Mills still has plenty work to do, he's come a very long way in a short amount of time. It's really hard not to like this kid.
This article originally appeared on