NFL Quarterback Power Rankings 2016: How You Like Kirk Cousins Now?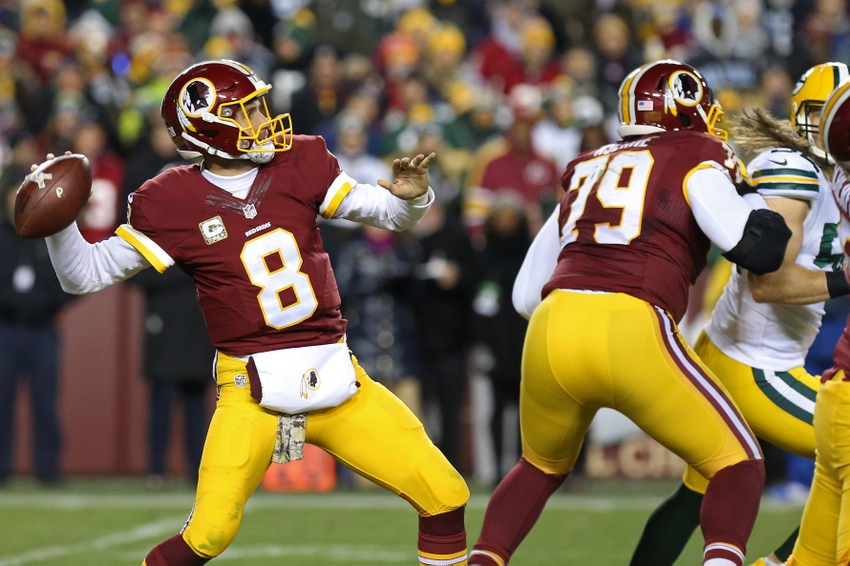 NFL Quarterback Power Rankings for Week 12 of the 2016 season as Kirk Cousins continues to look like a star.
No matter how many times I write about the Cleveland Browns quarterback situation in the NFL Quarterback Power Rankings piece, it still remains comical. Once again, the Browns had more than one quarterback taking snaps. You seriously can't make this stuff up anymore. It is actually becoming sad more than comical because they lost, again. They have the worst quarterback situation in football, which is a direct correlation to their winless record.
Outside of the Browns sad situation, Week 10 featured 28 starting quarterbacks because four teams were on their bye (New York Jets, Atlanta Falcons, San Diego Chargers, Denver Broncos). With no ties this week, 14 quarterbacks won and 14 lost.
For the second consecutive week, the 28 quarterbacks did not do too well throwing the football as a collective. They threw for 6,731 yards, which was 118 yards less than last weeks 28 starters. They also threw one fewer touchdown pass with the 43 they threw in Week 11. On the bright side, they only threw 17 interceptions, seven fewer than last week, and were sacked seven less times (55).
Now that we have that out of the way, lets get to the rankings. Which quarterbacks are trending up and which quarterbacks are moving down in this week's edition of the NFL Quarterback Power Raking?
Previous Rank: 27 (-5)
Week 11 Statistics: 7-14 (50%), 128 yards, 0 TDs, 0 INTs
Week 11 Final Score: 9-24 (L)
Season Statistics: 126-192 (65.6%), 1,369 yards, 6 TDs, 2 INTs
Season Record: 0-8
Sitting at 0-8 as the starter, Cleveland Browns rookie Cody Kessler's record doesn't even tell the full story. You could argue it is because he is on the Browns and that his team stinks, so it is not fair to evaluate him. Or, you could face the facts: Kessler is not the answer in Cleveland and it is time to move on already.
Some fans feel that Kessler has shown some promise, but the only thing he has shown me is that he can't handle the NFL and it's hard-hitting ways. They are trying to protect quarterbacks more and more and even with the new rules, Kessler can't seem to finish a game.
He was once again knocked out of the game with an injury, a concussion this time, his second of the season. It remains to be seen if Kessler will even play again this year, but for now, he is the No. 32 ranked quarterback. We will see Josh McCown again under center in Week 12, so Kessler will at least not find himself as the last-ranked quarterback heading into Week 13.
Previous Rank: 31 (NC)
Week 11 Statistics: 16-30 (53.3%), 206 yards, 2 TDs, 0 INTs
Week 11 Final Score: 17-30 (L)
Season Statistics: 86-162 (53.1%), 1,144 yards, 7 TDs, 2 INTs
Season Record: 0-5
San Francisco 49ers quarterback Colin Kaepernick continues to kneel during the national anthem and continues to stink as a starting NFL quarterback. Is it a coincidence? Maybe, but one thing is for sure; Kaepernick isn't very good.
In his defense, he did play the New England Patriots this past week, so it was almost a guarantee he would lose the game. However, even when he did something good, he did it poorly. On his first touchdown pass, he had his tight end wide-open, but made an inaccurate pass that almost was intercepted. All he had to do was put more touch on the pass and throw it in front of his target to make it an easy touchdown.
His second touchdown was an easy wheel route to his running back, but it was also in garbage time when the game was already out of hand. So, while he may be drawing attention still for his kneeling, his play hasn't. There is no doubt the 49ers need to draft a quarterback in the 2016 NFL Draft and Kaepernick probably won't be playing in San Francisco, if anywhere at all.
Previous Rank: 30 (BYE WEEK)
Week 11 Statistics: BYE WEEK
Week 11 Final Score: BYE WEEK
Season Statistics: 175-291 (60.1%), 2,028 yards, 12 TDs, 7 INTs
Season Record: 7-2
The Denver Broncos could be happy to have their bye week so they can get some much needed rest, but I am happier because I do not need to watch film on their quarterback, Trevor Siemian. I am no trying to be mean, only truthful; Siemian shouldn't b a starter in the NFL.
Denver may be trying to win with just defense for the second-straight year, but Siemian isn't even good enough for that. He is a liability at quarterback and they need to make the switch to 2016 first-round pick Paxton Lynch.
As Siemian struggles to play well, the Oakland Raiders are running away with the division. The Broncos are going to need win a Wild Card spot, but I honestly think they have a shot to miss the playoffs if he doesn't start playing better.
Their defense is elite, so they just need someone who can make some throws and score some points. I understand they want that to be Siemian, but it's not and they need to accept that sooner rather than later.
Previous Rank: 29 (NC)
Week 11 Statistics: 22-35 (62.9%), 202 yards, 2 TDs, 2 INTs
Week 11 Final Score: 19-26 (L)
Season Statistics: 250-415 (60.2%), 2,623 yards, 18 TDs, 13 INTs
Season Record: 2-8
Oh how sad it has been to watch the Jacksonville Jaguars stink it up this season. Before the year kicked off, I thought they had some real potential to be solid and make a playoff run. I even went as far as to say they could win the division. As you can see and you know, people make mistakes and believing in the Jags was a mistake.
The biggest reason it has been a mistake: the terrible play from their quarterback, Blake Bortles. He was supposed to have a big year. Talking with someone in the preseason about Bortles, I said, "Bortles throws too many picks for my liking." Well, I should have listened to my eyes before lauding Jacksonville because that is exactly the case this year.
He threw two more interceptions in Week 11, giving him 13 total on the season. He is on pace to end with 21 interceptions, highlighting his poor play. That would mean he has increased his interception total every year since he entered the league in 2014. Bortles may be 24 years old, but it is time for the Jaguars to accept they missed on him and move on.
Previous Rank: 28 (BYE WEEK)
Week 11 Statistics: BYE WEEK
Week 11 Final Score: BYE WEEK
Season Statistics: 21-34 (61.8%), 182 yards, 1 TD, 1 INT
Season Record: 0-1
I have been vocal about the idea that the New York Jets should start Bryce Petty at quarterback this season. Now, it isn't because I think Petty is the answer and is going to help the Jets win football games. It's because Ryan Fitzpatrick is that bad and Geno Smith tore his ACL.
Sadly for the Jets, Petty stunk it up in his first career start. He did not do much well and it showed the Jets they have a quarterback problem. And if you have a quarterback problem, you have a problem that will lead to a top draft pick.
That top draft pick will be huge for the Jets because they are going to need to think long and hard about selecting a quarterback with it. They drafted Christian Hackenberg with their second-round pick this past year, so whoever is evaluating quarterbacks on that team should double check their film study. Missing on a first-round quarterback will set this franchise back even further, so they need to make sure they get it right.
Previous Rank: NR
Week 11 Statistics: 17-31 (54.8%), 134 yards, 0 TDs, 0 INTs
Week 11 Final Score: 10-14 (L)
Season Statistics: 17-31 (54.8%), 134 yards, 0 TDs, 0 INTs
Season Record: 0-1
Finally! It was Jared Goff time in Los Angeles. The Los Angeles Rams made a move that they should've made weeks ago, benching quarterback Case Keenum, who was previously ranked No. 32 in these NFL quarterback power rankings, to start 2016 number one overall pick, Goff.
Keenum had played terribly, so the big question was that how much worse could Goff do? Well, sadly I can't even give you a real evaluation because Goff looked like his coach was scared to even let him play the game.
Jeff Fisher has the title "head coach" for the Rams, but he should also have some sort of title that reflects his ability to make this team mediocre. Goff and the Rams took an early 10-0 lead, but Fisher and company decided to play not to lose the game, instead of to win it.
Goff's debut was a major disappointment, throwing for only 134 yards and no scores. He only completed 54.8 percent of his passes, even though a high percentage of those throws were short and checkdowns. He takes on the New Orleans Saints next, so hopefully the Rams coaches let him air it out against that sorry pass defense.
Previous Rank: 25 (-1)
Week 11 Statistics: 26-39 (66.7%), 243 yards, 1 TD, 1 INT
Week 11 Final Score: 20-27 (L)
Season Statistics: 216-363 (59.5%), 2,061 yards, 12 TDs, 10 INTs
Season Record: 6-4
Another week down and another week it looks as if the Houston Texans may made a terrible purchase this offseason. They needed a quarterback, so you can't hate them for trying to find one. But you can hate them for picking the wrong one.
Instead of drafting a rookie quarterback, the Houston Texans decided to go through free agency to find their guy and Brock Osweiler fell right into their laps. He was a defending Super Bowl champion, backing up Peyton Manning in the big game, and had had seven career starts for the Broncos.
The team that had him his entire career decided to let him walk, even though they did not have a quarterback. But that did not stop the Texans from throwing him $72 million and here we are. Sitting at No. 26 in the ranking is Osweiler. He continues to play at an okay level, showing he isn't elite in any way and he actually hurts more than he helps.
We were all excited to see how DeAndre Hopkins played with a better quarterback, but he has actually played worse with Osweiler. They need to get him figured out soon or more losses will follow.
Previous Rank: 24 (-1)
Week 11 Statistics: 20-38 (52.6%), 198 yards, 2 TDs, 2 INTs
Week 11 Final Score: 24-30 (L)
Season Statistics: 227-369 (61.5%), 2,642 yards, 13 TDs, 10 INTs
Season Record: 3-5-1
The more I watch Arizona Cardinals quarterback Carson Palmer play in 2016, the more I believe that 2015 was a true outlier in his ability. I already predicted that Palmer wouldn't have a dominant year again in 2016, but I did not expect him to be this bad.
He has only led his team to three victories and I would argue it wasn't even him leading them. He was just riding the back of Cardinals running back David Johnson. Johnson has shown he is an elite running back this season and, if it weren't for Palmer playing so poorly, Johnson could be in the MVP talk.
Palmer threw for 198 yards and two scores on Sunday, but his two interceptions were killers. He has now throw 10 picks this season, only one fewer than he threw all of last year. If he doesn't start playing better and continues to look this bad, how can the Cardinals not take a quarterback in the draft? And I am not talking about a guy to sit behind Palmer; I am talking about a new guy to take over in 2017.
Previous Rank: 22 (-2)
Week 11 Statistics: 17-30 (56.7%), 252 yards, 1 TD, 1 INT
Week 11 Final Score: 16-22 (L)
Season Statistics: 81-137 (59.1%), 1,059 yards, 4 TDs, 5 INTs
Season Record: 1-4
In 11 NFL seasons, current Chicago Bears starting quarterback Jay Cutler has only started 16 games in three of those years. Now, I am not mathematician, but those numbers aren't good. He has been injured a ton and he already missed a few games in 2016. However, Cutler may never play for the Bears ever again after Week 12.
There is no debate that this would be Cutler's last season in Chicago because he has been terrible. In the 102 games he has started for the Bears, he is 51-51. That isn't what you want to see from your starter, but it is what it is at this point.
Cutler stunk it up in Week 12, blowing a lead to the New York Giants and doing nothing to help his team win. He injured his shoulder, though, which could keep him out the remainder of the season. If it does, the last time we saw Cutler in a bears uniform wasn't pretty.
The Bears may be the worst team in the NFL, outside of the Browns. And they will most likely be starting their third quarterback this season. That isn't a formula for success…
Previous Rank: 26 (+3)
Week 11 Statistics: 24-34 (70.6%), 172 yards, 2 TDs, 1 INT
Week 11 Final Score: 14-10 (W)
Season Statistics: 197-299 (65.9%), 2,289 yards, 12 TDs, 8 INTs
Season Record: 6-4
As always, let's start by saying I am one of the most critical people of Miami Dolphins quarterback Ryan Tannehill. I am beginning to find out that not only are Russell Wilson and Tim Tebow fans crazy, but Tannehill fans are trying to get on that level. Last week I had a couple of people argue that Tannehill has been one of the better quarterbacks in the league. But lets be real people, he hasn't at all.
In Week 12, they Dolphins may have won their sixth game. Tannehill may have led them back, but an elite quarterback wouldn't have let it get to that point. To make it worse, Tannehill had 55 of his 172 yards passing on the last drive of the game, meaning he had 117 yards entering that drive. Yikes!
Tannehill did throw for two scores, with the first being more about his receiver Jarvis Landry's effort to get in the end zone than anything Tannehill did. However, I am always one to give credit where credit is due and his game-winning touchdown pass was money in the bank. He threw the ball perfectly and I love to watch beautiful throws like that.
But good quarterbacks aren't judged by the one throw they make. Tim Tebow made a great throw in the playoffs to win the game, but he also threw about 10 there terrible ones in the same game. Tannehill needs to start improving because he showed that his talent isn't elite yet again on Sunday. Sorry, Tannehill fans; the truth hurts.
Previous Rank: 19 (-3)
Week 11 Statistics: 24-43 (55.8%), 207 yards, 1 TD, 2 INTs
Week 11 Final Score: 12-16 (L)
Season Statistics: 233-360 (64.7%), 2,760 yards, 11 TDs, 6 INTs
Season Record: 3-6-1
I have been very vocal about teams quarterback situations when I feel the backup could do better than the starter. I have done that since the first quarterback power rankings piece I have written and I am about to do it again.
Dear Cincinnati Bengals,
Your starting quarterback, Andy Dalton, is the reason you currently stand at 3-6-1. He has played terrible this season and his Week 11 performance proved that. He may have thrown for a ton of yards so far in 2016, but he has only thrown for 11 scores in 10 games. It is time to finally make a move that you should have made earlier.
Bench Dalton! Put in A.J. McCarron and give him a chance to show more of what he can do. If he isn't the answer either, good. That means you will lose more games while trying to better your football team than the mediocrity that Dalton brings and you will now have a chance to draft a top quarterback. If he is the answer, good. You do not lose in the situation where you move on from Dalton, so move on!
If Dalton stinks it up again in Week 12, don't be surprised to see McCarron start in Week 13 against the Eagles.
Previous Rank: 21 (NC)
Week 11 Statistics: 24-31 (77.4%), 261 yards, 1 TD, 1 INT
Week 11 Final Score: 17-19 (L)
Season Statistics: 203-302 (67.2%), 2,077 yards, 9 TDs, 4 INTs
Season Record: 6-3
The Kansas Chiefs are 7-3 and their starting quarterback, Alex Smith, is 6-3 (missed one game due to injury). But I am going to ask you a question and I want you to think about it for a second: Do you think Smith is more responsible for their three losses or six wins with him starting quarterback?
Yeah, you get it now. Smith is just so average, that it's hard to evaluate at times because you have to go in understanding he isn't a true quarterback. It may be a lame label, but it fits Smith better than any quarterback; he is a game-manager. There is no debate about it. He manages the games when the Chiefs are winning and has no ability to win football games when they are losing.
He is on pace for 16 touchdown passes if he were to play a full 16-game season. So yeah, that isn't very good for an 11-year veteran quarterback. He needs to start playing better and try to show that, though he is a game-manager, he can still win you football games when you need him most.
Previous Rank: 20 (NC)
Week 11 Statistics: 23-35 (65.7%), 269 yards, 1 TD, 0 INTs
Week 11 Final Score: 17-27 (L)
Season Statistics: 260-414 (62.8%), 2,643 yards, 10 TDs, 9 INTs
Season Record: 5-5
People have called Baltimore Ravens quarterback Joe Flacco many names, but one that always stood out was "Cool Joe." Yeah, they stole it from Joe Montana, but I always found that comical because, outside of his amazing Super Bowl run, has Flacco really been worthy of a nickname like that?
If I had to give him one in 2016, it would be "Below Average Joe." Yes, I know he is still coming back from a torn ACL and that he probably isn't even 100 percent still, but he has been so average it hurts to watch. The Ravens had the Cowboys right where they needed them, but Flacco couldn't finish them early in the game. Dallas isn't made to come back in games, so while they were up 7-0, Flacco had two chances to make it 14-0, but came out flat. It allowed the Cowboys to score and make it 7-7 and that was all she wrote. Flacco went 3-of-6 for 38 yards on those two drives, which both ended in punts.
All year Flacco has been missing opportunities and that is why his team is 5-5. He needs to start playing better and leading them to victories. He is on pace for 16 touchdown passes and 14 interceptions. Those aren't numbers an elite quarterback puts up in their ninth season.
Previous Rank: 23 (+4)
Week 11 Statistics: 20-28 (71.4%), 169 yards, 1 TD, 0 INTs
Week 11 Final Score: 30-24 (W)
Season Statistics: 217-311 (69.8%), 2,191 yards, 12 TDs, 2 INTs
Season Record: 5-4
The Minnesota Vikings had lost their last four games heading into Week 11. Luckily for them, the pain of losing has finally stopped, defeating the Arizona Cardinals 30-24. I mentioned that I was critical of Tannehill earlier, but I am even more critical of Sam Bradford.
Bradford has always been mediocre and I still think he is. But he played a solid game on Sunday. He may have only thrown for 169 yards and one score, but it's what he didn't do that I loved the most. He didn't press the issue of needing a win and throw interceptions. Whenever Bradford needs to push the ball down the field and win a game, he usually fails because that isn't his game. We are seeing that Bradford is more of a game-manager than anything—and that is okay.
He just needs to make sure he doesn't turn the ball over if that is going to be his role and he will be okay. His only touchdown pass was a perfectly placed back-shoulder throw. Bradford needs to do more of that for the Vikings and he can climb even higher.
Previous Rank: 18 (NC)
Week 11 Statistics: 19-27 (70.4%), 166 yards, 0 TDs, 1 INT
Week 11 Final Score: 16-12 (W)
Season Statistics: 181-295 (61.4%), 1,935 yards, 10 TDs, 4 INTs
Season Record: 5-5
After losing three-straight games, the Buffalo Bills finally got back into the win column in Week 11. Their 5-5, middle of the pack record is a great representation of their quarterback, Tyrod Taylor.
Taylor has played well at times, but he has also played poorly too. Just like the question I asked with Alex Smith, I will ask it with Taylor. Has he been more responsible for their five wins or their five losses? And just like Smith, it's the losses that fall more on the shoulders of the quarterback in this case. .
They won this week, but he had 166 yards passing and one interception. Those aren't numbers you are looking for from your starting quarterback, especially against a poor defense like the Bengals. Taylor needs to improve his game and start throwing the ball better. He did complete 70.4 percent of his passes. Bt even if that number is lower because he is taking more shots, that is fine. He just needs to give the Bills a passing game.
Previous Rank: 17 (NC)
Week 11 Statistics: 21-36 (58.3%), 227 yards, 2 TDs, 0 INTs
Week 11 Final Score: 22-16 (W)
Season Statistics: 246-386 (63.7%), 2,708 yards, 17 TDs, 10 INTs
Season Record: 7-3
It has been a weird year for the New York Giants, but I am sure their fans and their organization aren't complaining. They are currently 7-3, but if you watch them play, it doesn't feel like they are a 7-3 team. Almost every game they play is close, even against bad teams like the Chicago Bears in Week 11. They won the game 22-16, but they played poorly.
A big part of that comes from the odd play from their quarterback, Eli Manning. I used the word odd because Manning hasn't even been the Manning we are used to seeing. His accuracy has been poor and he hasn't looked like an elite quarterback. He threw for two scores on Sunday, but one of them was because his receiver dominated the defensive back and was wide-open.
I think Manning is an elite quarterback, but he hasn't shown that in 2016. That is why he is currently No. 17 in the power rankings and I feel like that is the right spot for him. It may be an odd year for him, but if he gets back to his elite form, could this be another Super Bowl run for him and the Giants?
Previous Rank: 15 (-1)
Week 11 Statistics: 14-33 (42.4%), 192 yards, 1 TD, 0 INTs
Week 11 Final Score: 23-20 (W)
Season Statistics: 175-310 (56.5%), 2,186 yards, 11 TDs, 7 INTs
Season Record: 4-5
Truthfully, I wanted to drop Carolina Panthers quarterback Cam Newton even farther down the power rankings, but I just couldn't find anyone worth moving up higher. He is lucky, though, because his game against the New Orleans Saints on Thursday Night Football was terrible.
For starters, he was inaccurate all night. He missed tons of passes and just did not look good throwing the football. He only completed 42.4 percent of his passes and has only completed 56.5 percent of them all season. Newton ended the day with 192 yards passing and one score.
That one score was a ridiculous dime by Newton and an amazing catch by Ted Ginn Jr. Right before halftime, Newton threw a rainbow right to the back off the end zone and Gin was able to run under it and get his feet in bounds. Outside of that throw, Newton was bad. He definitely isn't back to his 2015 NFL MVP form, but maybe he will be able to find that again before the year is over.
Previous Rank: 14 (-1)
Week 11 Statistics: 15-28 (53.6%), 262 yards, 2 TDs, 1 INT
Week 11 Final Score: 24-17 (W)
Season Statistics: 236-375 (62.9%), 2,827 yards, 19 TDs, 8 INTs
Season Record: 5-5
Indianapolis Colts quarterback Andrew Luck is on pace to throw for 30 touchdowns and 4,523 yards. But it is the 13 interceptions that seems to jump out at you. Expectations ruin football and the expectations are hurting Luck. 4,523 yards, 30 touchdowns, and 13 interceptions is a solid season, but not when you're expected to be one of the best quarterbacks in the NFL.
Not when, two years ago, Luck threw for 4,761 yards and 40 scores. Luck did throw 16 interceptions that year, but you didn't even think about them because he was so good in other facets of the game.
He threw for two touchdowns in Week 11, but his second one should have been an interception. It also should have been an easy read and an easy touchdown. However, Luck was late and should've paid for it. It was an easy pre-snap read of Cover-0, so Luck should've known his receiver TY Hilton would be open early. He locked on the wrong target, but luckily found Hilton wide=open. His poor ball should've been picked, but Hilton secured it for the touchdown. Plays like that frustrate you when you watch Luck.
He has been good, but he hasn't been great the year. He needs to be great and start improving or it will get easier and easier to pick little things like that second touchdown pass out and explain why it wasn't good, even though it ended good.
Previous Rank: 16 (+2)
Week 11 Statistics: 18-31 (58.1%), 272 yards, 1 TD, 0 INTs
Week 11 Final Score: 26-15 (W)
Season Statistics: 221-335 (66%), 2,714 yards, 11 TDs, 2 INTs
Season Record: 7-2-1
After starting the first seven games of 2016 with only five touchdown passes, Seattle Seahawks quarterback Russell Wilson has now thrown for six in his last three games. Along with those six impressive scores, he hasn't thrown an interception, which is obviously huge.
In Week 12, Wilson played a solid game against a dominant defense. He threw for 272 yards and one score. The touchdown pass was impressive on his part as he escaped the pocket, but his tight end Jimmy Graham did the rest to get him a score. If it weren't for that touchdown, it wouldn't have been a great day for Wilson. His best play of the game wasn't even a throw; it was a trick play that resulted in him catching a touchdown pass.
He has improved his play over the last three games, but he also needs to improve even more. If the Seahawks are going to win the Super Bowl, they will need more than one touchdown pass in a game. He is on pace for 18 touchdown passes, which to his standards, that isn't good. However the arrow is trending upward, so look for him to put together some big games over the next couple of games.
Previous Rank: 10 (-3)
Week 11 Statistics: 23-45 (51.1%), 218 yards, 2 TDs, 2 INTs
Week 11 Final Score: 15-26 (L)
Season Statistics: 225-356 (63.2%), 2,339 yards, 11 TDs, 7 INTs
Season Record: 5-5
3-0 to start the year feels so long ago for the Philadelphia Eagles and their rookie quarterback Carson Wentz. They took him with the second overall pick after making a ton of moves just to get that pick, but it looks like he was worth whatever they paid.
Yeah, the Eagles have now lost five of their last seven, but Wentz isn't to blame for that. He has been playing like a rookie at times, which is expected, but he has also made some pretty incredible throws. In Week 11, against the Seattle Seahawks, Wentz did better than his number suggest.
He ended the game with 218 yards, two scores, and two interceptions. He threw a 57-yard touchdown on a screen pass that was called back for an illegal formation. Moreover, he also had what would have been a 30-yard pass dropped. His receivers dropped four passes through the game. So if those are caught, or the first two plays that I talked about don't happen, Wentz ends the day with 300-plus yards and three scores against the Seahawks in Seattle. I think anybody would be okay with that, even with the two interceptions.
He plays on Monday Night Football this week against the Green Bay Packers, who have a beat up secondary. Wentz needs to bring his A-game and push his team to a win.
Previous Rank: 12 (BYE WEEK)
Week 11 Statistics: BYE WEEK
Week 11 Final Score: BYE WEEK
Season Statistics: 229-369 (62.1%), 2,886 yards, 20 TDs, 11 INTs
Season Record: 4-6
If you look at his stats, San Diego Chargers quarterback Philip Rivers may not have the best numbers. However, that is why you do not just go off of stats when evaluating a players performance. Because honestly, Rivers has been awesome this year. Outside of his terrible four-interception fourth quarter in Week 10, Rivers has gained a ton of respect in my book.
He has played this year with his top two weapons injured, yet he has still managed to will his team to four wins. The Chargers aren't a very good team and the only shot they have at winning is if Rivers plays out of his mind.
He is on pace to end the year with 32 touchdowns and 4,618 yards. If I were to tell you that, without his best two targets and a middle of the pack defense, Rivers would put up those numbers and win six or so games, you wouldn't believe it. That is why he is the No. 12 quarterback and deserves some respect this season.
Previous Rank: 13 (+2)
Week 11 Statistics: 24-39 (61.5%), 331 yards, 1 TD, 0 INTs
Week 11 Final Score: 19-17 (W)
Season Statistics: 228-378 (60.3%), 2,680 yards, 20 TDs, 10 INTs
Season Record: 5-5
After having the No. 1 pick in the 2015 NFL Draft and taking quarterback Jameis Winston, the Tampa Bay Buccaneers look like they could be on the right track in 2016. They only won six games last year, but they have already won five through 10 games this season.
A big part of their win-loss record is their quarterback, Winston. When he is on, they have a shot to beat a lot of teams in the NFL. But when he is off, forget about it. Winston needs to play lights out for this team to win and, if he does, they actually are a fun team to watch offensively. Winston is on pace to throw for 32 touchdowns, which would be 10 more than the 22 he threw last year. He currently has 20, so even though he has six games to go, he is already close to breaking that mark.
He will have a hard test in Week 12, though, facing the Seattle Seahawks. If he can get a big upset victory over the Seahawks and play well, Winston will be in the top 10 next week. He will also show that the Buccaneers made the right choice taking him with the No. 1 overall pick.
Previous Rank: 11 (+1)
Week 11 Statistics: 26-41 (63.4%), 351 yards, 3 TDs, 0 INTs
Week 11 Final Score: 24-42 (L)
Season Statistics: 259-410 (63.2%), 2,761 yards, 25 TDs, 7 INTs
Season Record: 4-6
I am tired of hearing that Aaron Rodgers is the reason the Green Bay Packers are 4-6. If you believe that, you just don't understand the game of football. Yes, Rodgers has struggled at times, but he has also struggled with no run game and the defense knowing he is throwing the ball almost every single play. To make that worse, the Packers defense is terrible because they are banged up with injuries.
So, blaming Rodgers makes no sense and is just a lazy claim. He has had some up and down performances this year, but four of their six losses have come when Rodgers has scored three or more touchdowns. But yeah, I guess it is his fault…Or, you know, not at all! He has throw for 25 touchdowns this season, putting him on pace for 40, while he is also on pace to throw for 4,418 yards.
He has thrown seven interceptions, which is only one fewer than last the entire 2015 season. But again, teams know he is throwing the ball all game, so it is unfair to just look at the number. Rodgers is still one of the best in the game and people need to stop hating on him and appreciate his game
Previous Rank: 8 (-1)
Week 11 Statistics: 25-38 (65.8%), 290 yards, 2 TDs, 0 INTs
Week 11 Final Score: 17-24 (L)
Season Statistics: 228-355 (64.2%), 2,772 yards, 23 TDs, 8 INTs
Season Record: 5-6
Over the last seven games, Tennessee Titans quarterback Marcus Mariota has scored 21 touchdowns. That is three touchdowns per game, putting him pace for a 48 touchdowns season if he did that for 16 games.
There is no more debating the talent Mariota has, he just needs help around him. He has been doing this with no true No. 1 wide receiver, yet he continues to flourish throwing the football. Mariota does have an elite rushing attack, as DeMarco Murray has been phenomenal all year, but Mariota is no slouch.
He has thrown for 23 touchdowns overall this season, putting him on pace for 34 on the year. He only played in 12 games last season, throwing for 19 touchdowns, so he has already surpassed that in one fewer game. For a young quarterback, the most important aspect of their game early in their career is to progress and that is exactly what he has done. He is a top 10 quarterback this season and will be a for a very long time if he continues to get better.
Previous Rank: 9 (+1)
Week 11 Statistics: 27-36 (75%), 301 yards, 3 TDs, 0 INTs
Week 11 Final Score: 27-17 (W)
Season Statistics: 214-316 (67.7%), 2,640 yards, 17 TDs, 2 INTs
Season Record: 9-1
After getting his ninth win of the season, the Dallas Cowboys' quarterback Dak Prescott sits at No. 8 in the power rankings. All year long, I have been talking about how the Cowboys are winning with Prescott and Prescott isn't winning for the Cowboys. I still stand by that, but Prescott has been putting up solid numbers with the dominant weapons he has.
Prescott may not be the best passer in the NFL, but what he is good at doing is finding the open guy for the Cowboys. A lot of it comes from play design and the threat that rookie running back Ezekiel Elliott will bust through the line for a long run, but that isn't fair to knock Prescott all the time for that.
His two touchdowns to Dez Bryant were mainly about having an elite wide receiver and letting him make the play, but he did have a solid touchdown throw to Cole Beasley. He rolled right and threw a strike to the pylon of the end zone.
The Cowboys are currently the best team in football and many feel that Prescott and Eliott deserve a lot of that credit. However, if I had to vote for MVP today, I would vote for the Cowboys' entire offensive line. They have opened the holes for Elliott and have given Prescott the time to throw. It has been the perfect balance so far this season. But I really want to see what happens if the Cowboys get down big, early. Can Prescott succeed when they defense knows he has to throw? We may never need to find out, though, as this team has Super Bowl written all over them.
Previous Rank: 7 (NC)
Week 11 Statistics: 23-36 (63.9%), 167 yards, 0 TDs, 0 INTs
Week 11 Final Score: 24-9 (W)
Season Statistics: 228-353 (64.6%), 2,524 yards, 20 TDs, 7 INTs
Season Record: 5-4
The Pittsburgh Steelers played the Cleveland Browns in Week 11, but they played them differently than they have played other teams this season. Their quarterback, Ben Roethlisberger had knee surgery this season and has still been playing. Thus, this looked like a game they knew they would win.
What I mean by that is they looked like they were preserving Roethlisberger and allowing him time to heal while playing. They decided to let their running back Le'Veon Bell touch the ball 36 times (28 carries, eight receptions on nine targets). By doing so, they dominated the game, but Roethlisberger also ended with 167 yards passing and no touchdowns.
You could argue he doesn't deserve to be up here. But I feel that, after the season he has submitted so far, matched with getting knee surgery and still being dominant; Roethlisberger deserves to be here. He will need to put up better numbers agains the Indianapolis Colts next week if he will stay in the top 10, but I believe he will.
Previous Rank: 6 (NC)
Week 11 Statistics: 35-44 (79.5%), 285 yards, 2 TDs, 1 INTs
Week 11 Final Score: 20-23 (L)
Season Statistics: 298-420 (71%), 3,277 yards, 26 TDs, 8 INTs
Season Record: 4-6
Stop me if you have heard this one before—the New Orleans Saints lost a game, but their quarterback Drew Brees played a solid game. That seems to be the norm for the Saints and it is sad to see talent like Brees' wasted on such a bad roster. He has been one of the most dominant quarterbacks of our time, but hasn't had help over the last three years.
He is on pace to throw for 5,243 yards, which would be his fifth time over 5,000 in a season. Brees is also on pace for 42 touchdowns to add with his 5,000 plus yards. If Brees was on a better team, we would be talking about an MVP season here. But since the Saints are wasting his talent, we are talking about how poor Brees has to be on this team.
He will definitely be a first ballot Hall of Fame quarterback one day, which is great, but he would much rather be winning right now and having fun. His team, the defense in particular, has done nothing to help.
Brees threw for 285 yards and two scores on Thursday Night Football, but the Saints still lost. It was their second loss in a row. They do play the Rams in Week 12, so hopefully the defense can step it up against a rookie quarterback and get Brees a chance at the playoffs.
Previous Rank: 5 (NC)
Week 11 Statistics: 24-33 (72.7%), 278 yards, 0 TDs, 0 INTs
Week 11 Final Score: 26-19 (W)
Season Statistics: 238-351 (67.8%), 2,651 yards, 18 TDs, 5 INTs
Season Record: 6-4
We are 10 games into Detroit Lions quarterback Matthew Stafford's eighth NFL season. Even though he has put up big numbers before, this could be the best he has ever played. He may not have even thrown for a score in Week 11, but Stafford did something he has never done in his career: lead six game-winning drives in his career.
Stafford's Lions have won six games and all six of them have come by way of a Stafford game-winning drive. The thought of that is ridiculous, even more so when you consider Stafford's previous career high for game-winning drives in a season was five.
If the Lions are going to win, it is because Stafford is going to lead them. He has been amazing this year, throwing for 2,651 yards and 18 scores. Detroit is currently No. 1 in their division and you can thank Stafford for that. There is no doubt that the Lions wouldn't be in this position if it weren't for Stafford. He will need to throw some touchdowns next week if he is going to stay this high, however I had to keep him because his league leading six game-winning drives are legit.
Previous Rank: 4 (NC)
Week 11 Statistics: 21-30 (70%), 375 yards, 3 TDs, 0 INTs
Week 11 Final Score: 42-24 (W)
Season Statistics: 258-384 (67.2%), 3,091 yards, 17 TDs, 7 INTs
Season Record: 6-3-1
If you haven't seen it by now, you are missing out. What I am referring to isn't the elite game that Washington Redskins quarterback Kirk Cousins played on Sunday Night. Instead, it's what he did after it. Approaching his general manager, the same GM that did not give him a big contract this offseason, Cousins screamed in his face multiple times, "How you like me now?"
I do not know about you guys, but Kirk; I don't just like you more now, I love you! That was one of the most epic postgame videos Cousins deserves every moment of that. People have questioned him all year and instead of curling up like a ball, Cousins balled out.
He threw for 375 yards and three scores on Sunday Night, leading his Redskins to a huge 42-24 victory. They now sit at 6-3-1 and in striking distance of a wildcard spot for the playoffs. He is averaging 365 yards and two touchdowns over his last three games. His is showing that he is one of the top quarterbacks in the league and the Redskins are probably wishing they paid him last year.
If you like him now, Washington—pay the man!
Previous Rank: 3 (NC)
Week 11 Statistics: 21-31 (67.7%), 295 yards, 3 TDs, 1 INT
Week 11 Final Score: 27-20 (W)
Season Statistics: 255-385 (66.2%), 2,800, 20 TDs, 4 INTs
Season Record: 7-2
He did it again. Oakland Raiders quarterback Derek Carr showed everyone that he is the real deal and the Raiders are real contenders in the NFL. Outside of a terrible decision and throw to give him his fourth interception on the year, Carr looked great.
The pick came right after halftime and it was one Carr would like to have back. They ran a play-action pass and instead of just taking the sack from the instant pressure he had, Carr chucked it deep and threw a pick. It led to seven points, so Carr will need to watch the film and understand he can't make mistakes like that when they are in the payoffs.
Carr threw a 75-yard touchdown in the game, but the big play wasn't the most impressive part. What made it so impressive was the fact that the his target was his third read on the play. He went through his progressions and found the open guy. Stuff like that is what earns you MVPs and takes your team deep into the playoffs.
His third touchdown pass was to win the game, but it was more about the play his receiver Amari Cooper made than the throw Carr made. However, he still ended the day with 295 yards, three touchdowns, and another Raiders win.
Previous Rank: 2 (BYE WEEK)
Week 11 Statistics: BYE WEEK
Week 11 Final Score: BYE WEEK
Season Statistics: 236-346 (68.2%), 3,257 yards, 24 TDs, 5 INTs
Season Record: 6-4
After a red-hot start to the 2016 NFL season, MVP candidate and starting quarterback of the Atlanta Falcons, Matt Ryan, cooled off in Week 10. The Philadelphia Eagles defense got to him, but he was a dropped pass away from having a chance to win the game. Luckily for the Falcons and Ryan they got to take the week off to prepare for their next game after the tough loss.
Ryan has been so dominant the season and still has put up ridiculous numbers. If we would simulate the rest of the season off of the numbers he has currently put up, Ryan is on pace for 5,211 yards, 38 touchdowns, and only eight interceptions. Those are legitimate MVP numbers and Ryan hasn't disappointed all year.
Even though their record doesn't say it, he has a tough game in Week 12 against the Arizona Cardinals. Their defense can fly around and make any quarterback look silly at times. Therefore, Ryan needs to keep up his elite play and dominate them. If he can do that, he will remain a top quarterback, but he better play well because Cousins and Carr are pushing for his No. 2 spot.
Previous Rank: 1 (NC)
Week 11 Statistics: 24-40 (60%), 280 yards, 4 TDs, 0 INTs
Week 11 Final Score: 30-17 (W)
Season Statistics: 145-206 (70.4%), 1,915 yards, 16 TDs, 1 INTs
Season Record: 5-1
After losing his first game of the season in Week 10 and failing to throw for a touchdown for the first time the season, Tom Brady was back to his elite form in Week 11. Yes, I know he was playing the San Francisco 49ers, but Brady balled out again.
For the fifth time this season, Brady threw for two or more scores, bringing his touchdown total to 16 through six games. That would put him on pace for 42 touchdown passes through a 16-game season. Brady also did not throw an interception and looked crisp even though it was raining.
The game featured two quarterbacks on different ends of the spectrum. You have Kaepernick, who is No. 31 in these rankings, and you had Brady, who is No. 1 again. No matter what your opinion is on Brady, just face the facts that he is the greatest of all time. He continues to impress me, even at the ripe age of 39.
If Brady can keep playing like this, the Patriots will win another Super Bowl and Brady's legacy will grow even bigger. And I don't want to hear about cheating. From a film standpoint, Brady is so good it makes it fun to watch every throw he has made this season.
This article originally appeared on